My weekend trip to Mumbai just to attend MAMI was surely a good one as it feels like the kid-in-a-candy-store, watching world cinema on silver screen back to back and getting introduced to hundreds of new things, which add to your experience. Maybe I'll find it weird or dis-interesting or plain boring, but that also helps me know my taste for films.
GOOD THOUGHTS, GOOD WORDS, GOOD DEEDS
The director Bettina Ehrhardt was present at the screening of the film, along with her team and shared her experiences of spending time with Zubin Mehta. The world is full of such great artists and people, and it is only through such mediums, you get to know those people and their significant work. Zubin Mehta and his life story deserves a larger audience and he really inspires to do good. The film gives an insight into the world of orchestra and the difference music can make. the Indian Parsi considers Tel Aviv his land as much and has been honoured as the Music Director for Life by two orchestras. The beautiful music created by a good conductor, the art of making people feel good and not letting success to your head, is what can be learnt from Zubin Mehta. Glad to start the weekend on a good note.
WINDOW HORSES
An amazing animation film which shows the journey of a young poet discovering the truth about her family – past and present. The director Ann Marie Fleming has created Rosie Ming as an endearing character and her journey to Iran to a poetry festival opens up another side of that country and the beauty of the poetry of that land. The other characters and their influence on young Rosie's poetry also shows how impressionistic poets are. It is as much a watch for adults as it is for the children.
MAN WITH A MOVIE CAMERA
The hosting of this restored classic by Kiran Rao and the synthesis with a live orchestra made this movie experience a unique and exciting one. The quartet rendered amazing music that synced in with the movie scenes perfectly and lent a sort-of climax at the end of each different episode. The experiments with the camera by Dziga Vertov showed his passion to explore the the process of filmmaking, while it also gave a glimpse of the lifestyle of people in that period in Moscow, Kiev and Odessa. It was exciting know that Yelizaveta Svilova's (his wife) mind-machine data set editing of 18000 frame shots was sans any technological help. No wonder, this documentary has been named as the best quite a few times.
DEATH IN SARAJEVO

The last one for the day, Death in Sarajevo was listed as one of the must-watch and it proved to be quite a watch. Parallel scenes of political disagreements, behind-the-scene drama of hospitality sector, the increasing tension of an impending strike, asking for help from tough guys who handle the situation in their own way and other factors make it an interesting watch. It is ironical how while the guest is preparing his speech about the nature of Europe and its triumph, there is trouble simmering beneath him. Danis Tanoviç's allegorical creation is hard-hitting. With a heavy heart of missing Asghar Farhadi's The Salesman and The Personal Shopper, I still looked forward to catching up more movies the next day!
THE GOLDEN WING

This is only the second movie by the Assamese director Bobby Sarma Baruah and she has beautifully projected the artist and her art, letting us in on the character and her feelings. Despite being born in the royal family of Dhubri district of Assam, Pratima Baruah was fascinated by the rustic ballads of the mahouts and the boatmen and buffalo herders and commoners from the village. She went against the disapproval of her family of mingling with the masses and brought the folk songs much recognition and acceptance due to her efforts. She he worked with great names like Ritwik Ghatak and Dr. Bhupen Hazarika and rightfully earned the Padmashree honour among other titles. She gave life to the dying and vanishing folk songs and folklore of the region purely by her love for them and untiring efforts. It felt great to be introduced to folk songs of a different region, which brought out their culture and ideology. The access to these songs is exclusive as they are unavailable except for this collection from All India Radio records.
CHRONICLES OF HARI

Not to be passed off as another transgender movie, this movie portrays the inner turmoil of an artist who is popular for playing female roles. The director Ananya Kasaravalli shows different perspectives of Hari's lives through filmmakers Sharmila and Sundar's efforts of knowing more about the person and understanding his psychology. While Hari started questioning his being a man, he faces problems in his family and societal acceptance. But the self-acceptance and grit with which he starts cross-dressing despite facing neglect, and the determination to start life anew defines the character. The acceptance of such a son by his mother is endearing, although the twist of his mother trafficking girls into the city is disturbing. It also forces you to question your views and acceptance of such a person.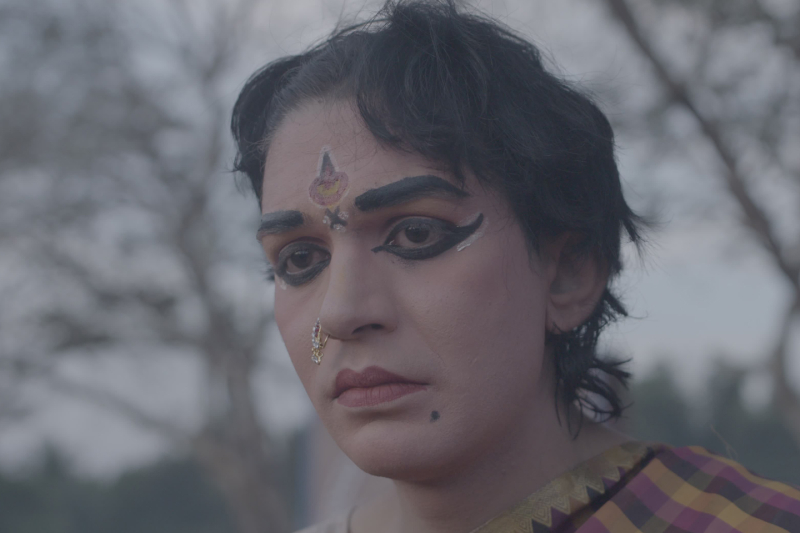 HEMA HEMA
This film takes you to a different world, and projects an idea which is on the contrary to the current world's greed of fame. Like a cult, this group of individuals meet every 12 years for a fortnight and remains anonymous by wearing masks. As Agay, the head says, anonymity is power and it brings out the reckless curious side of the humans. The story proceeds to the antagonist mistakenly raping a woman and killing a man, and then returning after 24 years out of guilt, to find the woman he raped and learning that she died during childbirth and that the daughter might be his, so he sets on to find her. The movie is mysterious, of a different time and place and outlandish enough to provide a unique experience.
AFTER THE STORM

The best was reserved for the last as this highly acclaimed movie was to be watched at the retro theatre Regal with its yesteryear feel and charisma. The movie is a story of broken characters of a family, all struggling to move on with their lives. The Japanese Auteur Hirokazu Kore-Eda has created a reflective and emotional piece wherein you relate to every character and he still manages to infuse humour at all times, keeping it light. How a typhoon makes a family come together and a stormy night full of communication brings a morning of beautiful bonding just like a fresh lush estate washed after a rainy night. The soundtrack in the ending credits was just as amazing.
Author:

Suruchi Bhavsar
Not exactly a movie buff, but an enthusiast who tries to explore and indulge into cinematic experience that internet+industry has to offer. A fan of MAMI film festival and Mumbai city, an amateur writer, surrounded by movie-crazy friends, I am somebody who never gets movie references and I am just realizing I am late to the party and has lots to catch up, lots!