The 25 Finest Hindi Films Of The Decade (the 2010s): Since parallel Hindi cinema succumbed to the influx of money and muscle and deterioration of a director's creative control in filmmaking during the late 80s and 90s, content, relevance, and realism took a backseat in the biggest film industry of India. Hindi films increasingly lost their artistic appeal. The advent of the 21st century, exposure to global cinema, and growing sensibilities allowed some filmmakers to experiment and push for a change. The need was of a complete transformation and those willing were far too few. Nevertheless, the second decade of the century witnessed the arrival and growth of some very important filmmakers and with them, some very important films, that deserved the tag of greatness.
Below is a compilation of 25 finest Hindi language films of the decade of 2010 that you can proudly recommend to any audience in the world and ensure your credibility.
Honorable mention:
ARJUN: THE WARRIOR PRINCE | ARNAB CHAUDHURI | 2012

Indian animation cinema is cursed with conservative mindedness of audience for the medium, the obsession of animators to only treat children as their target group even when the fruits are measly, and the lack of interest shown by the film society itself, comprising film critics, ardent cinephiles, and filmmakers. The last great Indian animation film I remember, Ramayana: The Legend of Prince Rama (1992), was made by Japanese animators. The last Indian animation film I watched, Bombay Rose (2019), was only decent.
The inclusion of this film in this list as an honorable mention isn't forced to impose its superiority. There can be many better Hindi films from the decade. But Arjun: The Warrior Prince deserves a mention for attempting something that must have been attempted long back. Its production constraints prevent it to capture the entire Mahabharata and the life of the warrior prince. The film is episodic. And a fast-paced retelling. But it succeeds in its incorporation of Indian elements, and the style of animation it adapts. Only if our animation was a flourishing industry, Arjun: The Warrior Prince would have been longer, greater, and finer, and probably one of the best Hindi films of the decade in an absolute sense.
25. ALIGARH | HANSAL MEHTA | 2015
Hansal Mehta's Aligarh shares its soul with Philadelphia (1993). That being said, Aligarh exists in the socio-political environment of Indian society to expose its deep-rooted homophobia and hypocrisy. The tale is true and tragic. Driven by one of the finest male acting performances of Indian cinema by Manoj Bajpayee as Prof. Ramchandra Siras, Aligarh finds sorrow in symphonies, and love in silence. It wants to tell a story that conveys our failure as a society. It succeeds while we fail.
Also, Related to Hindi films of the decade (the 2010s) – Top 15 Hindi Films of 2016
24. MADRAS CAFE | SHOOJIT SIRCAR | 2013
The most overwhelming aspect of Madras Cafe is the way it tells its tale. The most underwhelming aspect of Madras Cafe is the way it tells its tale.
The aforementioned comment sounds paradoxical in its brief form. However, it isn't. I was overwhelmed at the way Shoojit Sircar executed a very important and volatile chapter from Indian political history without resorting to bias and without submitting to routine elements for thrill induction. The screenplay and its tone escaped the jingoistic route. At the same time, the idea of narrating it through a confession being made by the protagonist was weak.
Hits largely outweigh the misses in this spy-action thriller that has meticulous screenwriting given its political environment. As a closer-to-reality spy thriller that doesn't have a false display of heroics, Madras Cafe definitely deserves its place among the best Hindi language films.
23. NEWTON | AMIT V. MASURKAR | 2017
Newton is an ideal hero who doesn't want to tread anything other than the narrow path of righteousness. He refuses to give in to the definitions of practicality. He wears the badge to honesty, takes pride in it. He only knows one way for his duty. He doesn't care for the eventual outcome. He doesn't want to jump or swim the shoulders of those around him. He wants to walk, irrespective of the hazards.
Morally rigid characters in Hindi cinema have always been a popular plot device. They have been killed as supporting characters for the hero's awakening. They have succumbed to the system time and again so that they work as a potent motivation for the game-changer. Or they have existed as superhumans, able to kill armies of villains. Ray, in one of his later films Ganashatru, allowed such a character to exist as the protagonist and breathe till the last, terminating the film on an optimistic end.
Amit Masurkar finds himself much more challenged in the increasingly corrupt environment of today. Nevertheless, he successfully creates Newton who should have been more common and much more human in our cinema. Newton's rigidity might polarize you ideologically but you will never conflict with his intentions. No matter how much we gel in the practical world, boasting world wisdom to be materially satisfied, we all yearn for an ideal system. Newton gives a glimpse of what the system can be but isn't.
22. BARFI | ANURAG BASU | 2012
Barfi is a tale of the fulfillment of love along with its unrequited portions. It celebrates love through the purity of its characters who act selflessly for each other, without diplomatic intentions. Ultimately, Barfi becomes a compassionate tale of a beautiful relationship and the extraction of maximum happiness from satisfaction.
On the technical front, Barfi is full of merits. Anurag Basu has his brand of aesthetics. His mise en scene is full of lustrous shades of colours, resembling those of Wes Anderson's films. The production design adds as much to the warmth one experiences as the script does.
I have my set of reservations against the film for it treads on the thin line between inspiration and plagiarism in many sequences, stumbling to the other side. But indigenous elements compensate for all disturbances you have and hence, Barfi proudly makes it to our list of best Hindi films of the decade that went.
21. RAMAN RAGHAV 2.0 | ANURAG KASHYAP | 2016
For numerous reasons, Kashyap's fictionalized account of a real-life serial killer of 60s Mumbai is unsettling. He operates without a preachy moral compass. He doesn't intend to reward some awakening. He writes a cat and mouse chase and ends up establishing the idea that cold blood is not an exclusive fuel of psychopaths. It can run in the veins of any man driven by apathy and absolute selfishness. There is no specific appearance for its detection. Raman Raghav 2.0 is everything we don't want to face or know about. Reality is not much stranger than this fiction.
20. PIKU | SHOOJIT SIRCAR | 2015
Piku is one of those rare mainstream films that provide entertainment without taking their audience for granted. Shoojit Sircar and Juhi Chaturvedi know how to create illustrious comedy out of mundane routines of life. The key to their successful attempts is their ability to create strong characters and allow them room for development through the course of their films. Piku was Juhi Chaturvedi at her screenwriting brilliance until October happened. There are abundant charm and humour in this film, defining life in its unique way.
19. HIGHWAY | IMTIAZ ALI | 2014
Highway is Imtiaz Ali's most socially relevant work, arguably. It makes courageous choices through its events and dialogues to comment upon the class divide and socio-economic hierarchy and eventually be much more than a romantic tale of Stockholm Syndrome. People are essentially unknown to themselves. The greatest distance that lies before them to tread is the distance between their material and spiritual existence. Imtiaz builds a highway to allow the journey, a journey of self-exploration that pulls us out from suffocation and rewards us with a breath of pure air.
18. LOOTERA | VIKRAMADITYA MOTWANE | 2013 

The potency of aesthetics is often exploited and seldom utilized. When the faith is feeble and the tale is hollow, artifice is employed. But when a heart is at work to write a story with an innate lustre and sketch its inhabitants with purity, a Lootera is created. A film that is soft on senses, like a blend of two seasons, a calm display of conflict, and an exhibition of the most beautiful of efforts. It's everything unique about my culture. It's everything Indian, and yet, universal. It's an affirmation to the idea of employing poetry to drive a narrative. It's a film that flows like a song. A film to fall in love with.
17. DELHI BELLY | ABHINAY DEO | 2011
The quintessential adult comedy of errors from Bollywood, Delhi Belly is aware of its characters, their idiocy, and their motivations. The satire is exaggerated on purpose and the film takes pleasure in treating its characters like objects.
It tries to escape contrivance in the screenplay but doesn't rise like an absolute success in the department. However, there are enough quirky and thrilling events to keep one hooked until the chaos settles. The salient element of this comedy is the constipated part of Delhi, far from neon lights and shining structures.
16. ROCKSTAR | IMTIAZ ALI | 2012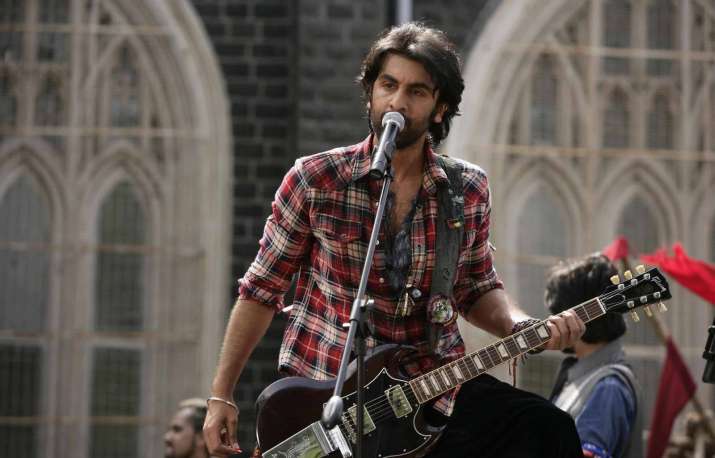 Imtiaz Ali is often accused of repeating himself. Two young wanders hopelessly meandering through the travesty of life to realize they are in love, which eventually leads to self-discovery. Rockstar is no different, but what separates this from the rest of his filmography is the emotional & spiritual nuances he deftly seeds in the non-linear structured narrative. The heftiness in the narrative comes from the painstakingly sketched characterization of his protagonist – Janardan Jakhar, played with a measured intensity by Ranbir. The heartbreaking romantic journey of JJ meets head-on with his artistry passion for music that propels him in a divine realm. That's the realm hardly any other popular film-maker has captured in the decade.
Play songs of Rockstar on Spotify
15. SHANGHAI | DIBAKAR BANERJEE | 2012
Shanghai is a politically angry film that champions a deft screenplay devoid of escapist tropes and dilution. It is aware of the vicious cycle of corruption and power dynamics. It is aware of the strengths and weaknesses of its characters. It allows politics to cut politics and ignites a very important debate we are mostly ignorant about. One of the biggest merits of the film is its cinematography that captures the tension of the film's environment with accuracy.
Shanghai's relevance will never be weakened in our system. And that is an uncomfortable fact to know.
14. SONI | IVAN AYR | 2019
Not only Soni is as courageous as its protagonist but it is an unadulterated piece of cinema that doesn't succumb to the requirement of pleasing or spoonfeeding its audience. Nor does it take them to be of a lower intelligence quotient when it serves them with discomfort. It is as cold as the current reality, the dismissal of which is only an act of sheer ignorance and escapism from which is impossible. Soni examines the state of our system and our society to render its inherent gender discrimination naked.
Similar to Hindi films of the decade (the 2010s) – The 50 Best films of 2019
It exposes the bias, the disparity, and the vulnerability the other half of the society is subjected to and dissolves the idea that power makes people equal for Soni and the likes of her are given power but aren't allowed to fully explore its realms. It is a report card of the progress we have made. It isn't loud in its exposition but surely is brave in the way it sketches its characters and the culminating anger in them. It reminds us that beyond the fancy ideas of how cinema can represent our police, lies the reality in which policewomen and policemen exist as humans who are mocked, threatened, and tortured by the same system in the same ways and to be a woman among them is only worse.
13. BADLAPUR | SRIRAM RAGHAVAN | 2015
Rage can be prolonged when fueled by the desire for vengeance. But when does satisfaction arrive? Is it in the act of taking revenge or in the sense of its fulfilment? Badlapur challenges popular ideas and establishes how guilt is much more chronic than any rage can be.
In a muted battle of wits, Raghu and Layak run parallel rather than chasing each other. One receives unsolicited trauma, the other asks for it and embraces it. Strength gets diluted in retribution and victory becomes obscure. Badlapur doesn't attempt to champion one's expectations, it defies them.
12. AANKHON DEKHI | RAJAT KAPOOR | 2013
Bauji believes that the finest way to deal with doubt is reliance upon visual perception. What is seen, can't be disputed. Faith should stand straight on the foundation of experience. Life should become simpler and supposedly, conflictless. But does it?
Aankhon Dekhi employs absurdity to deal with existentialism to convey an extremely profound message to its audience. Driven by a spellbinding performance from Sanjay Mishra, this is one of the most ambitious Hindi films of all time in terms of thematic density.
11. TITLI | KANU BEHL | 2014
The power to make a choice is an illusion to all of us who have always been dictated. But its illusionary appeal is never equivalent to powerlessness. Wings may take their time to grow. The phase of metamorphosis may render us vulnerable.
But an escape is only realized when we take a leap of faith. Titli is about making the toughest of choices that succeed or precede guilt, agony, and fear. It is about moulting the fragile armour of masculine ego and pretence. At the end of the day, the world is only as ugly as we make it.
10. UGLY | ANURAG KASHYAP | 2014
This Hindi language thriller is what I define as a morally devastating account of the outcomes of ignorance, selfishness and hedonistic approaches of humans in the ugliest of situations. Ugly acts as a mirror whose glare is blinding to its audience if looked at with both eyes open.
Anurag Kashyap's film is a technical marvel, on the other hand, considering the processes involved which not only make this an honest and grittily realistic film but also allow it to suspend our disbelief in the strongest of ways. Let Ugly frustrate you, haunt you and treat you with one of the bravest pieces of Hindi cinema.
9. THE LUNCHBOX | RITESH BATRA | 2013
Ritesh Batra finds love in the most overlooked elements of life. We live, we love, we experience, and yet, we fail to realize that the origin of our love, the source of its intensity, and the channels through which it flows aren't always bumping heads, maniacal persuasions, and protruding veins, respectively.
Conventional ideas have been so much exploited that we have caught fancy for stereotypes, attempting to mimic each and failing badly when the lego pieces don't join together in the way we plan. But love doesn't fail there. It happens. To each of us, in some way. Ritesh Batra realizes it. And hence, he creates his love song from one of the countless possibilities that are rare but never implausible. He never rushes. He has a patient approach. Because falling in love is a slow, tender experience.
8. OCTOBER | SHOOJIT SIRCAR | 2018
Unfortunately ununderstood unadulterated portrayal of unrequited love. October was the most mesmerizing cinematic experience I had in the year than went. It is a mild fragrant morning breeze that arrives to refresh your senses. October restores your faith in the beauty that cinema is capable of encapsulating. It is aesthetically charming, auditorily soothing and calming to the mind. October deserves but love which remained unrequited in its selfless marrow.
7. KAPOOR AND SONS | SHAKUN BATRA | 2016
The love that exists in a family is not that of a caramel glaze, sweet from the outermost shell while being able to reflect what you project. The love flows in the fibres of familial bonds and keeps the family alive, however inimical the environment becomes. Kapoor and Sons manifest a family in its most organic shape. You feel the heat that is generated from abrasion. You feel the warmth that follows their moments of harmony. You feel a family.
Related to Hindi films of the decade (the 2010s) – Kapoor and Sons Review
6. UDAAN | VIKRAMADITYA MOTWANE | 2010
Udaan is not about defiance, abuse, or escape. It is not about rebellion, success or making dreams come true. Udaan is about growth. The metamorphosis of every adolescent into an adult, not through the attainment of a certain age or physical ability/attribute but a fearless leap, a conscious choice, the first successful control of one's action and not just the desire of it. Udaan is a letter to each parent and every child, simultaneously, reminding them of their capabilities.
Udaan is one of the strongest debuts of a director. Vikramaditya Motwane created a space for himself that can only be occupied by him.
5. HAIDER | VISHAL BHARDWAJ | 2014

Haider is a political poem, a literary slap, a writer's fury and a raised finger at apathy. It is a work of fine craft, excelling at each department of filmmaking. Arguably the finest film of Vishal Bhardwaj's filmography, Haider also extracts Shahid Kapoor's career-best performance, pitching him against the likes of Tabu and Kay Kay Menon. The film itself is a character as much as it is about the character. This film will exist to remind all artists of an artist's duty while staying committed to their craft and it will be a matter of immense pride if any Hindi film in the future surpasses Haider when it comes to literary adaptations.
4. MUKTI BHAWAN | SHUBHASHISH BHUTIANI | 2017
Mukti Bhawan or "Hotel Salvation" is beyond what is played on the screen if one can invest himself in the film completely. It won't keep you on the edge of your seat, nor will it get you excited or mesmerized, it won't set you on a laughter mode either but its consumption demands your focus and your complete investment to dig into the underlain philosophies and complexities.
Mortality is a truth hard to embrace and impossible to be predicted. Mukti Bhawan tells the story of a son whose father is reluctant to leave his breath and attain salvation in the holy city of Varanasi and the turmoil which our characters go through the film makes us wonder if choosing what can't be chosen is possible.
This film is not just one of the best films of the decade but also a criminally underrated and underseen Hindi film of our generation.
Similar to Hindi films of the decade (the 2010s) – The 50 Best Films Of 2017
3. GANGS OF WASSEYPUR | ANURAG KASHYAP | 2012
Gangs of Wasseypur is the pinnacle of Kashyap's craft. You can recognize a film for its content, you can praise a film for its technical finesse, you can adore a film for its melodies, or you can take pride in a film for the strong performances it extracts from its actors. Then there is Gangs of Wasseypur that exists as an almost perfect film. It works as a school for filmmaking for those who aspire to learn and works as the ultimate source of entertainment for those who want to be humoured. You can describe this film with casual adjectives only to read its brilliance inadequately described.
Gangs of Wasseypur condenses a huge period of more than 50 years into a little more than 5 hours and the edit is so fine that you don't mention the time when you sit for a run. It is an honour to mention how Anurag learns from City of God and Goodfellas to edit this film but maintains the originality. It slows down in a very Tarantinoesque manner when it throws random conversations for us to savour. Inspirations are quite evident.
Then there's the highly relevant music of the film. A gem of an album that attaches its ingredients at precise places to render the film soullessly raw at some places, and gives it a heart at others. There are ample needle drops and profound conversations to cheer yourself with. Not only Gangs of Wasseypur is a tribute to the crime genre but also to Indian cinema in many ways. Miraculous screenwriting creates sequences that mould the very roots of culture to blossom an umbrella under which humans fall. And hence, Gangs of Wasseypur, an epic saga of a small town, become universal.
2. MASAAN | NEERAJ GHYAWAN | 2015
When the funeral pyre is burnt into ashes, the identity, attributes, colour, and deeds of the individual are reduced to irrelevance. When the very complex compound that is human is reduced to ashes, what is left is a simple mixture that is pure. Masaan is a pure cinematic ground on which, contrary to the meaning of this word, art breathes into life. Neeraj pulls out the most imperative complexities of humans and weaves a tale of life and death around it in a flawless manner, one that flows without a hindrance and one that doesn't succumb to the burden of the complexities it was carrying.
People will have different choices for cinema is highly subjective of art but Masaan is one film that is cherished, deservedly so, unanimously. It will pass through your soul like a thundering train and you will shiver like a rail bridge.
Also, Related to Hindi films of the decade (the 2010s) – Top 10 Hindi films of 2015
1. SHIP OF THESEUS | ANAND GANDHI | 2012
My immediate cognitive response to Ship of Thesus when it ended was of bewilderment. Not only that I was wondering how a group of artists can put together their abilities and intellect to churn out something such as this film but I also took immense pride at the profound philosophical expression this film provided without any creative or commercial compromises, in my country where filmmakers heavily exploit creative license to make commodities than art.
Ship of Theseus flows through one's consciousness like a meandering river and creates several ox-bow lakes on the soul in the process. It doesn't run its hyperlinked narrative in parallel but separates each story within itself to provide separate experiences. It sketches a set of interesting characters with interesting ideas and goes on to transform itself into an enriching experience during which you constantly find yourself pausing to let things sink in. Ship of Theseus carries a treasure that is every bit worthy of exploration.
People have their preferences but Ship of Theseus is largely a convergence of majority of cinephiles when it comes to naming the best Hindi film of the last ten years. It can arguably be the best Hindi film of the century and one of the best of all time. Ship of Theseus does great justice to the superlative adjective.