Dead To Me (Season 3): Recap, Review, and Ending Explained
Dead To Me (Season 3): Netflix sees one of its hardest, most heartwrenching goodbyes yet with Dead To Me closing shop. We've been a part of the peculiar journey of the oddest platonic soulmates, Jen and Judy, ever since the two's meet-cute at a grief circle. It was the best of times, and it was the wildest of times. No one had expected that a mutually evolving friendship that started and progressed with crimes and lies would leave you howling when it's time to part ways. Even with their murders and deceit and rich-white-women privileges, Liz Feldman's dynamic duo has grown to be one of the most remarkable celebrations of friendship and love and has etched a heart on our memories Judy style.
Let's look back at what has transpired so far to bring the polar opposite friends into further depths of crimes and personal growth. Wholesome bohemian Judy befriended short-fused Jen after accidentally killing her husband, Ted. After the secret got revealed, Jen ended up murdering Judy's jackass husband, Steve, in a fit of rage. And to bring more misery into the mix, there came the goofy, unstable twin brother of Steve. Steve's twin Ben and Jen's dysfunctional romance ended in a hit-and-run caused by a drunk Ben himself, leaving Jen and Judy injured and bleeding in the car.
Season 3 of Dead to Me had a lot on its plate with tying up all the loose ends and doing right by the two women who have had more than their fair share of bizarre troubles in the past few years. Way more emotional and tragic than the last two seasons, the finale finds a gloomy nook to unfold the story of love and lies. Get your kleenex ready to take a look. 
Dead to Me (Season 3): Recap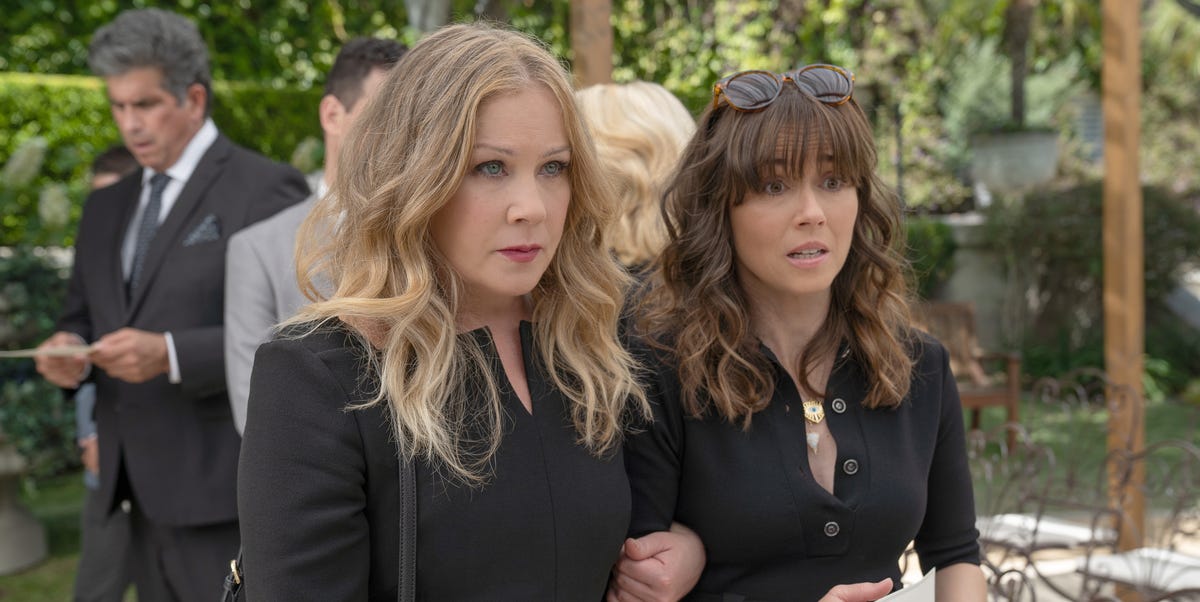 Jen (Christina Applegate) is pulled back into the reality of her banged-up state in the hospital from subconsciously sunbathing on a beach with Judy (Linda Cardellini). Jen sustained more severe injuries from the car crash, but Judy got away with a few scratches. While the two are sent for a CT scan, Steve's (James Marsden) body is surrounded by the cops, and anxious Perez (Diana-Maria Riva) tries to cover her tracks by attempting to incriminate the Greek mafia of the murder. However, Nick (Brandon Scott) is confused as to why the Greek mafia would etch a heart on a tree beside the body (oh, Judy!).
After the crash, still pretty out of it, Ben (also James Marsden) shows up at Jen's house, and Charlie (Sam McCarthy) answers the door. Ben has no clue that he hit the car that was supposed to be Charlie's birthday present. Already messed up from reading the letters Jen had left, Charlie clearly isn't in the headspace to inquire after Ben's bloody state and drives him to the hospital. 
Devastated to learn that Judy's scan has shown incomprehensible shadows that may be cancer, Jen ignores Perez's calls about the police discovering Steve's body. Soon enough, though, Judy learns of the same, running into Ben on her way back from pocketing a bottle of painkillers.
Back home, Jen and Judy get an unpleasant confrontation with Charlie, who needs an explanation for the letters. Weaving a more complicated web of lies, Jen plays a safer hand by telling him that Judy had an affair with her late husband, but she chooses to forgive her for that. Meanwhile, Nick and Perez visit Jen's house, and Perez finds a private moment to let Jen know that the FBI has taken over the investigation. Bully for Jen, FBI MVP Glenn Moranis will be investigating the case. 
Judy is met with the worst possible revelation when she discovers that she may have cancer. Waiting for a more thorough test result, Sceptic Jen prays for Judy at the church and impulsively takes on the task of making a thousand paper cranes. Back home, Judy tries to hide that she has cancer, and the two plan to find and burn the bird figurine that Jen used to bludgeon Steve with. They don't know that Ben left the broken bird at the bar and Nick found it. While returning the bird to Ben, Nick notices the broken tail and instantly connects it to the piece of wood found in Steve's head. Perez tries her hardest to manipulate Nick into letting it go, but he's like a dog with a bone about it.
Judy pays Glenn a visit to try and nudge him toward the "Greeks did it" direction, but if anything, she makes him even more suspicious. Ben returns the bird to Judy, hoping she will fix the broken tail. The murder duo finally finds the opportunity to destroy the evidence but little do they know that Glenn is keeping an eye on them.
Journeys end with lovers meeting-but. That's not the case with Jen and Judy. After learning that she has to take three months of chemo, Judy runs into Michelle, and the two end up in bed together. Sharing secrets comes in the form of Michelle telling Judy that she plans to open a restaurant in Sonoma and Judy returning the favor by telling her that she has cancer. Sitting in the car after Steve's funeral, Ben being a mess ends with him coming clean to Jen about the hit and run. What should've been a painful shock feels like a relief from her secret guilt to Jen. And like Judy and Michelle, Jen and Ben also find comfort in each other's arms.
Judy's plan of taking the chemo alone and keeping the whole ordeal from Jen doesn't work out as she confesses everything to Jen, who promises to be there for her throughout. Folding the paper cranes while getting chemo, Judy tries to be her usual sunflowery self to comfort Jen, who is dealing with her own PTSD of having to go through the same thing with her mother. At the end of the three months of chemo, however, Judy learns that she is terminal and nothing can help her at this stage. The shocking news is all around, with Jen learning that she is pregnant with Ben's child. 
Knowing that she most likely won't be there to help Jen with her new baby, Judy tries to fix her up with Ben. To ruin her plan, Nick and Perez appear at their door and arrest Ben for the hit-and-run. Glenn meets his fateful end and vanishes all the evidence he has collected against Jen and Judy. Knowing that she doesn't have much time left, Judy starts getting her affairs in order which begins with her meeting her mother and saying goodbye. Her mother, understandably suspicious of her sudden plans to go to Sonoma, visits Jen's house to see Judy. Meanwhile, Judy is at the station confessing to Steve's murder to set Jen free.
Realizing what she may be doing, Jen shows up at the police station and plays Nick's empathetic side into letting Jen go for a clinical cancer trial. What was supposed to be Judy, in house arrest, turns into the two friends taking a trip to Mexico. The path, however, isn't without its thorns. Running into the Greek mafia is undoubtedly not something the duo expected, but they manage to get away thanks to Judy being a surprisingly smart badass. In Mexico, basking in the sun, Jen is brought back into the circumstances of her last dream. Knowing that she will soon have to say her final goodbye to her best friend, who she loves more than anything, Jen gives in to doing everything Judy wants for the last trip they'll ever take together. 
Dead to Me (Season 3): Ending Explained
Judy hides how much pain she's really in to spend her last golden days with her best friend. They spend their days dancing, eating, reminiscing over what was, and secretly thinking about what will never be. Scared of the sea and having the perfect excuse not to go sailing, Jen sits with Judy on the beach and learns about her odd childhood. It indeed shows how fascinating love and friendship can be even after spending every waking moment of years together. There's so much of Judy that Jen is yet to learn. Her passion for cats comes as a surprise too. And even better, unlike Judy's childhood cat that ran away and never returned, they find a cat that paws the door to get in.
Looking through the property, they come across the mustang that hit and killed Ted. Surprised that Steve had put it back together after they took it apart, Judy apologizes to Jen about the trigger. But Jen sees a beautiful car with no past. As though that very mustang was never a part of anything terrible.
After an amazing night of singing and bonding over Mexican food, Jen finally sees how much pain Judy is in. The two can't say enough about how much they love each other. The following day, Jen finds a note and Judy's bracelet right beside it. She walks out of the door and finds Judy's footsteps leading into the sea. She knows that Judy is gone. Jen takes the car, and as another sign of love from Judy, she takes the cat.
Back home, Jen walks into the church and looks up at the thousand paper cranes that Judy had made. Ben shows up at the church excited beyond imagination about the baby. When asked if Judy is here, Jen looks up at the cranes and says yes. Judy will always be in everything beautiful and bright that Jen has in her life. 
Ben and Jen start their lives together with their new baby, Joey. At the grief circle, teary-eyed Jen is still in her usual sassy form while telling someone off for suggesting that she should've named the baby after Judy. "This isn't a Hallmark movie." And that remark plays on two levels. Jen isn't one for being corny, even when she loves someone. And also that Jen and Ben's happy ending isn't an ending at all, with Jen getting ready to come clean to Ben.
Dead to Me (season 3): Review 
A foolproof recipe for the strongest of bonds created through countless ups and downs, deaths, and gasps, Dead to Me is a fascinating dark comedy that did not need to keep things light to be funny. Nor did it need to make clowns of the struggles the two lead characters were going through. Straying quite far from the stereotypical edginess the subgenre is known for, Dead to Me has created something refreshingly new and brave in its endeavors. Christina Applegate carries the whole weight for chuckles with her impeccable physical comedy. And to match up her sassy intrigue, Linda Cardellini is the picture of sunshine, butterflies, and all things sweet. Since the first moment of the awkward hug between these two, we knew this would be a strange ride. What we didn't realize was how much we would end up caring for the odd friend and how sad we would be to see them go. 
Season three draws the curtain on the crazy ride we took with the two unlikely friends as they grew closer and forged an incredible bond. Granted, the bond was made through lies, secrets, and deception; their journey had them work through grief, anger, frustration, and disappointments. Feldman's most significant achievement lies in creating two characters so strikingly dissimilar from one another that nobody would see them getting along and placing them in awful situations designed to make them codependent. But what starts as toxic and self-serving turns into a genuine, loving relationship where the two would sacrifice anything for one another.
The show provides a noticeable pattern of dependence between the two friends. In the first season, Judy hides her criminal secret from Jen and gets close to her out of guilt. The second season had Jen keeping Judy in the dark about her crime of rage and, again, eventually, confessing to her. What starts as a dishonest effort finally brings them to the emotional crossroads of coming clean.
By season three, their friendship had reached the kind of unconditional sense of safety where nothing they could do would ruin the relationship. And to fill that vacuum, Feldman shrewdly uses the love they have for one another as their reason to keep the new secrets hidden. Protecting the other becomes the pivotal point of the secrets instead of self-preservation. By the time the show ends, it transforms into a tragedy. Judy's cancer is perhaps to give the fans closure before the final goodbye. And no matter how much Judy wished for Jen to live a good life, it wouldn't be fair for her to have that without her partner in crime. Jen's final self-destructive decision is her conclusive proof of love.
---
---
Dead To Me (Season 3) Official Trailer
Dead To Me (Season 3) Show Link: IMDb
Where to watch Dead To Me