Holy Spider (2022) Explained: Directed by Ali Abbasi, 'Holy Spider' is a Persian-language crime thriller based on true events. It follows a fictional female journalist investigating a serial killer who is on the hunt for sex workers and has killed 16 women from 2000 to 2001 in Mashhad, Iran.
Zahra Amir Ebrahimi won the Best Actress Award at the prestigious Cannes Film Festival this year for her stunning portrayal of this fierce journalist. The film was later selected as the Danish Best International Feature Film entry at the 95th Academy Awards. While presenting the tale of the hunt of the infamous 'Spider Killer,' the makers present its wider sociological impact in the diaspora.
Holy Spider (2022) Movie Plot Summary & Movie Synopsis
A young woman leaves her child and her messy house and starts walking through the streets. Somewhere on her way, she gets her makeup done, gets into a man's car, and has sex with him. Afterward, she gets some opium from a lady on the streets, to whom she still has not paid for her last purchase. They both smoke and then she gets engaged with another client who pays her a meager amount. She sits frustrated and angry about this experience, smoking when a man on a bike invites her. He takes her to a particular place, and she senses something strange about it and tries to run away. He gets hold of her body, strangles her, leaves her body on the city's outskirts, and drives away as if nothing happened.
Cut to and we see a woman coming down from a bus with her bags and looking for a taxi. She is Arezoo Rahimi (Zahra Amir Ebrahimi), a journalist who came to Mashhad to learn more about the terrifying serial killer. While reaching her hotel, the driver tells her about the terror caused in the city by the spider killer. In the hotel, the receptionist asks her some trivial details. But since she is looking for a room as a single woman, he questions her relentlessly until she shows her ID card as a journalist, which makes her viable in his eyes to live by herself as a woman. He tells her to cover her hair properly, and she refuses to act according to his moral policing.
She goes to her room, wears a burqa, and gets on a bus to go meet a local journalist – Sharifi (Arash Ashtiani), who has been covering the subject of spider killers. He notes sensing a particular pattern in the killer's behavior, who calls his office every time a gruesome act has occurred. He suspects that the killer calls him for his crimes to become public. But he doesn't want to be known as a murderer but as a man killing prostitutes for a righteous cause. Meanwhile, we look into the life of Saeed (Mehdi Bajestani), a married man with two children. He works in construction and spends his days in labor with his family.
After her conversation with Sharifi, Rahimi speaks with a police officer, suggesting their department's inadequacy in finding the killer, while sharing her observations that could lead them toward him. The male police officer gets offended by her way of conduct. She still manages to make him give her a chance to look through the case files. When she shares the details with her colleague over the phone, they try to shape it in a way that would make the readers want to invest their time in reading it.
Saeed keeps up with his routine – where he roams around in a particular part of the town with frequent visibility of prostitutes. He asks one of them to hop on his bike and then takes them to a remote location to strangle them and end their lives. Sharifi points out the pattern in the kills, where he ties double knots on their necks with their headscarves. Rahimi finds the lack of action surprising despite the dead bodies floating in the same waterbody for a while. She suspects a powerful entity is supporting the killer. In the court of religion, the judge (Nima Akbarpour) advises her not to spread fear in society while what she does is share her observations – expressing the fear that is already present.
With a history of his family members being in the army fighting for their nation, Saeed finds his life purposeless. He doesn't want his life to be normal. He wants to be remembered for something noble. With his family, he spends time without even a hint of remorse for killing his victims. Even when a body is lying in his house, rolled inside his carpet, he covers up this matter from his wife as if he is an expert at it. He also visits the sights of the murders when the police go to recover the bodies. Meanwhile, Rahimi meets a prostitute to get her point-of-view over the merciless killings. She gets a sense of her mental state, addiction her social stance.
Afterward, Rahimi gets followed by a person on a bike herself and somehow manages to escape this scare. She meets a relative of one of the victims who feel that prostitution justified the loss of her life. While such unflinching responses shook her, Rahimi kept up with her pursuit to catch the spider killer. She eventually gets an insight into a person coming every Thursday, roaming around the streets, and then picking a woman on his bike. The bodies are then dropped near the same Khin-e Arab road.
Since she doesn't trust the police to help them out with finding him, Rahimi decides to stand there, dressed up by herself. Saeed picks her up and takes her to his home. While he tries to strangle her, just like every other time, she resists and pulls out a knife she had brought along. He gets scared but still persists in his efforts. Since the fear of the blade doesn't seem to work, she starts shouting for help. The shouting terrifies him, and he requests her to stop doing so. Meanwhile, she manages to leave his house, whereas he lies on his floor, manically laughing – as if he wants to be caught to be recognized in public as a martyr.
Holy Spider (2022) Movie Ending Explained
Does the 'spider killer' get convicted for his crimes?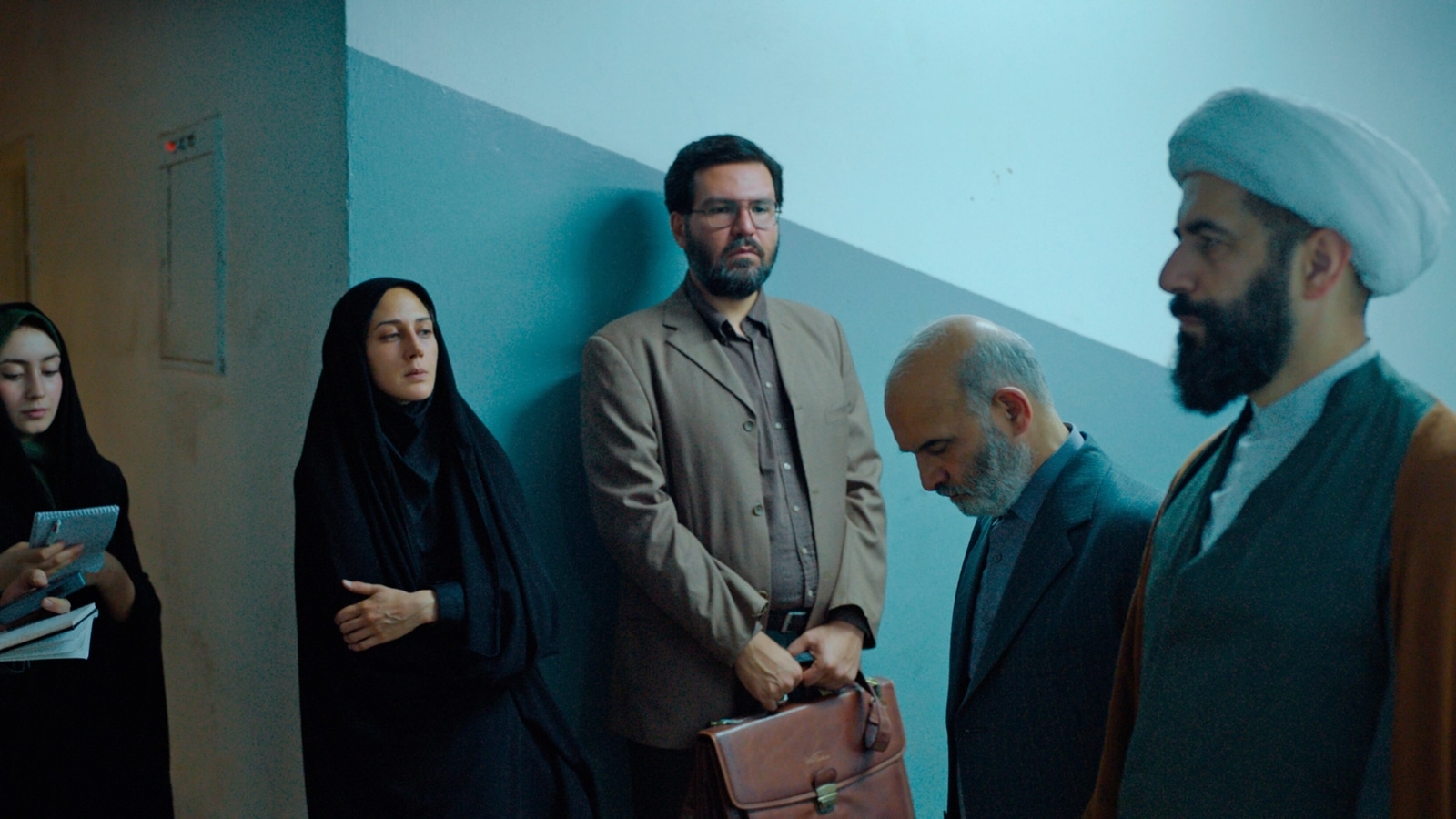 Soon after Rahimi's escape, Saeed gets captured by the police force. Even then, he goes with them with a cunning smile. Despite the arrest, Rahimi considers it just the beginning of convicting him. She believes he will find a way to get out due to the religious forces outside who would justify this vile man's behavior as clearing the scum from the streets. As she suspected, the murderer is given a moral clean cheat by such forces and a lot of locals. In contrast, despite being in their profession, prostitutes are seen with disdain because of the same social forces that can't provide them opportunities to procure even the necessities.
Saeed's son gets taught how justified his father's behavior is to the point he starts feeling proud of what his father has done. He sees the strong public support for his father and gets strangely motivated to act in the same way. Meanwhile, Rahimi and Sharifi visit the victims' relatives to make them speak against the killer in court. They are ashamed of their daughters and understand that a trial would not help bring them back.
Due to their weak financial conditions, they would instead sign anything for money. While Rahimi starts feeling more and more helpless, Saeed's wife tries her best to free him from custody. She is determined that he has done nothing wrong and imbibes the same on their children. Seeing the crowd, she understands they are supporting Saeed for the sake of their personal, momentary relief and not out of genuine concern for their family.
When Rahimi interviews Saeed in prison, he unflinchingly confesses to killing 16 women and shows no guilt in noting that Rahimi would have been his next victim. While his attorney tries to sway the case to his side by stating his unstable mental state, he starts rambling about his religious motives that he feels nothing immoral about, which makes it harder for his family to free him.
Later, a few people from positions of authority try to relieve his stress. They mention acting a certain way in the court since the media is closely monitoring them. They assure him of a safe way out of the prison. On the day of his punishment, he gets a faux sentence of 100 lashes. He assumes that his release would be a cakewalk after this and walks to the place of execution with a smile on his face. While he starts walking towards the exit, a guard pulls him back to the leash, and he dies within a few moments.
After that, Rahimi decides to head back to the city. While traveling through the bus, she starts going through her camera footage and stops at the one where Saeed's son narrates the details of how his father performed the murders. The kid shares minute details without an iota of fear or terror about the gruesome nature of these acts. On the contrary, he embraces his father's vision and mentions that he would continue it after him. By choosing this particular way to end the narrative, Holy Spider presents a frightening, albeit all-too-real, the conclusion of how such grim morals get forwarded to the younger generations, leaving no sign of hope of a thought of sanity.
---
---
Holy Spider (2022) Official Trailer
HOLY SPIDER (2022) MOVIE LINKS: IMDB ROTTENTOMATOES

HOLY SPIDER (2022) MOVIE CAST: ZAHRA AMIR EBRAHIMI, MEHDI BAJESTANI, FOROUZAN JAMSHIDNEJAD, ARASH ASHTIANI
Where to watch Holy Spider