Revisiting Gangster Squad: Was it All That Bad?
Released in the winter of 2012-2013, one would think Gangster Squad, a film about the real-life police squad that took down Los Angeles gangster Mickey Cohen would be a popular film. After all, one appealing aspect of Gangster Squad is its cast. Sporting an all-star cast including Josh Brolin, Ryan Gosling, Nick Nolte, and others, the film has a likable cast and seemed destined for success. Everybody loves movies set in Los Angeles in the 1940s, right? One would think. Yet, Gangster Squad currently holds a thirty-one percent rating on the Rotten Tomatoes. But maybe looking at the film once again could help us rethink it artistically and historically.
The film takes place in Los Angeles in 1948 and follows the exploits of real-life Los Angeles Police Department (LAPD) Sergeant John "Jack" O'Mara and police chief Bill Parker (Josh Brolin and Nick Nolte, respectively) in their quest to apprehend gangster Mickey Cohen (Sean Penn). O'Mara headed a unit known as the Gangster Squad. In the film, the police force performed actions that would be considered illegal today. Even the real-life O'Mara told the Los Angeles Times: "We did a lot of things that we'd get indicted for today.
Sergeant O'Mara works to recruit a number of police officers, including another real-life LAPD sergeant, Jerry Wooters (Ryan Gosling). O'Mara asks the recruits if they are willing to forgo usual police procedures. Their only goal is to tear down everything Mickey Cohen has built.
Brolin's O'Mara appears to take the job because of civic pride. He believes that his city had changed and does not like these changes: "I came back from the war and I didn't even recognize it [Los Angeles]," O'Mara says."Brothels, vice, blood in the streets."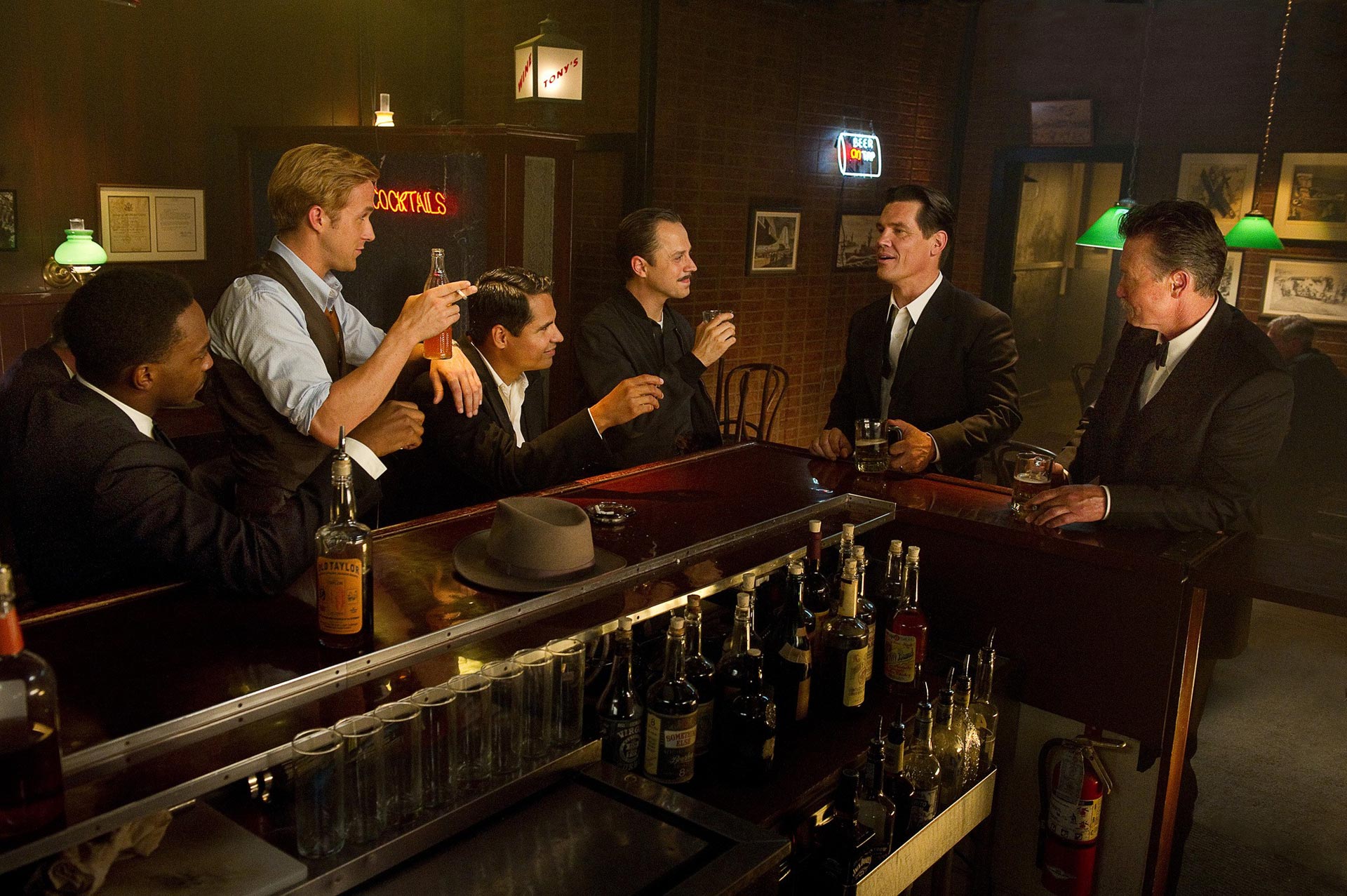 He wants to take the necessary steps to change it back. At the end of the film, he accomplishes this. "The mob has never had a foothold in Los Angeles," he states. "I'd like to think I played a small role in that." That might be true in some instances, but in reality, there's still organized crime in Los Angeles (and plenty of it). Yet, that doesn't take away from all the hard work these officers performed both in real life and in the film.
In the end, O'Mara and his officers take down Cohen. The whole film is very stylized and quite beautiful to watch. Director Ruben Fleischer certainly had a very particular vision for Will Beall's script. The film's direction and writing evoke great Los Angeles crime films of the past such as Chinatown. In fact, at one point during the film, O'Mara and his men pursue the film's one-eyed assassin in LA's Chinatown.
The actors truly bring their – A games to the picture. Brolin, Gosling, Penn, Nolte, Emma Stone, Anthony Mackie , and others all shine in their roles. Brolin and Penn are particularly good and Penn's performance seems like it had elements of award-worthiness. Another person who particularly shines is Robert Patrick as police detective Max Kennard. He provides the film's heart and soul alongside Stone's Grace Faraday.
Perhaps this film may have received more praise if it had been released in the past. Unfortunately, Gangster Squad was also the victim of bad timing and outside circumstances. It had a link to shootings in an Aurora, Colorado movie theater in July 2012. The Gangster Squad
trailer depicted
people shooting guns behind a movie screen, so the film's studio, Warner Bros., pulled the trailer from theaters and reshot that scene for the film.
The Gangster Squad trailer originally played before a showing of the film The Dark Knight Rises. Like The Dark Knight Rises, Gangster Squad is a solid film that deserves all the praise in the world. Gangster Squad reminds us of simpler times when there were good guys and bad guys. It definitely is a film with complexity but it doesn't seek to make any statements beyond honoring the Gangster Squad and what it accomplished for the city of Los Angeles. As Brolin's O'Mara says: "It's not paradise … but it is the City of Angels."
Author

: Tommy Zimmer
Tommy Zimmer is a writer whose work has appeared online and in print. His work covers a variety of topics, including politics, economics, health and wellness, addiction and recovery, and the entertainment industry.