Royalteen is a new Norwegian film that just started streaming on Netflix. Directed by Emilie Beck and Per-Olav Sørensen, it tells a story of a teenager who moves to a different town and aims to start a new life. Co-written by Ester Schartum-Hansen along with the director, it follows Lena on her chaotic journey mapping out the new school environment while being haunted by some things that happened in her past. The film is based on a book written by Randi Fuglehaug and Anne Gunn Halvorsen and tries to capture the essence of what it feels to be in the shoes of someone like the protagonist at her tender age.
Starring Ines Høysæter Asserson in the lead role, it conveys the plight of Lena, who tries to navigate her life in the new school and make sense of all the things happening in her life. In this young adult drama, she moves to Oslo, whose reasons aren't clear right away.
On her first day at the new school, she finds an instant emotional connection with Karl Johan (played by Mathias Storhøi) – who is a prince from a royal background. Despite that, their romance blooms slowly through a series of ups and downs. Yet, one thing is clear. She isn't completely honest with him about the nature of her move to this city. And through one or the other instances, her past trauma bursts out unimaginable, making him more and more curious about her.
Not much later does Karl get a clarification of something about Lena that seems clear to the viewer from the beginning. The baby she holds dear and religiously takes care of is not a brother like what she explains to her classmates but means much more. Mistakes from her past lurk in her present situations, where she often finds it difficult to deal with the troublesome aspects of her reality.
The reason her parents uprooted their entire lives, found different jobs in this new city, and moved there is for her to get a fresh start and to get over the harshness of whatever happened to her in the previous town. Yet, that does not make it easier for her, whose past literally sneaks up on her in the form of her old friends whom she had not dealt with the right way while working as a tabloid writer. Life in the limelight is a past for her and she wishes to keep it that way for her sanity.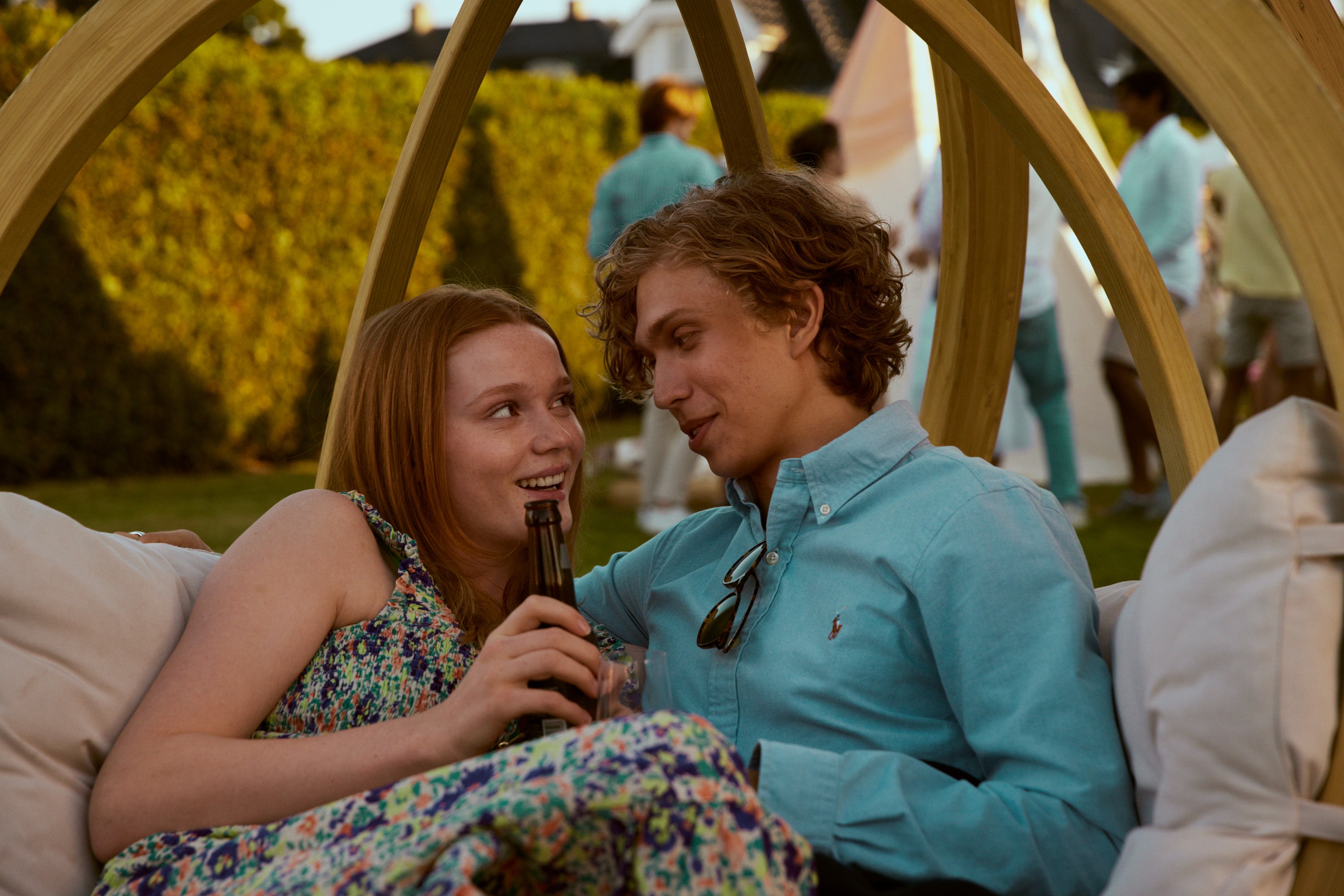 In this new life, Lena has to deal with the class differences that separate her from Prince Karl's world. With one biting remark after another by Karl's sister, Margrethe (played by Elli Rhiannon Müller Osbourne), she becomes more resentful towards herself from a socio-economic perspective. The reason for Margarethe's concern towards her brother's partner is to maintain the status quo of her royal family. And the duel between her and Lena occurs because of her pitiable attitude. Karl's and Lena's emotional involvement with one another remains secondary to her.
The premise of Royalteen is a reiteration of the same old tropes that do not offer anything new on their own. The commentary and critique regarding class differences remain surface level since it operates solely as a driving force in the conflicts between Lena and Margrethe. The writing seems more like a daily soap than a mature drama. Nevertheless, the film stays consistently engaging, and the credit for that largely goes to the direction besides the acting performances. The scenes work due to their unhurried pace where the camera lingers over their faces or movements and is given warranted attention.
Even if the film churns out a formulaic Hollywood script of a teenage drama with done-to-death tropes, it executes the sequences without an overpowering background score like most studio films. Besides, scenes work on an emotional front since actors get enough room to breathe and to make us empathize with them. Be it the plight of Lena to get over her terrible past or the urge of Karl to look beyond the status quo to find a meaningful connection with Lena; actors bring so much to the table to make us resonate with them. While the old, tired tropes may bore you, the performance will ensure your emotional involvement in their narratives.
ROYALTEEN (2022) OFFICIAL TRAILER
ROYALTEEN (2022) LINKS: IMDB, ROTTEN TOMATOES

CAST: Ines Høysæter Asserson, Mathias Storhøi, Elli Rhiannon Müller Osborne, Veslemøy Mørkrid
Where to watch Royalteen