Everything We Know About Emily In Paris (Season 3): Emily in Paris has been one of the most loved shows on Netflix in the recent past. Created by showrunner Darren Star who has been previously associated with hit television shows like '90210' (1990-2000) and 'Sex and the City' (1998-2004), the series gained immediate international success on its release. Following Emily, an American marketing executive's recent relocation to the city of love, Paris, the show details her adventures and cultural clashes in her personal as well as professional life as she navigates, love, friendship, and career in a new country.
The show had everything to make it a much beloved and instant hit among the audiences; picturesque locations, fashionable clothes, and a healthy dose of romance and comedy. It is thus unsurprising that the show became a guilty pleasure hit of saccharine sweetness and is eagerly awaited by audiences. That is not to say that the show has been without criticism, it has been called out for depicting a stereotypical portrayal of the French and having a frothy narrative. Criticism aside, the light romantic comedy series makes up for great escapist television and has been a favorite among audiences, having been nominated for various television awards for its past two-season run.
Netflix renewed the much-loved television series for a third and fourth season in January 2022 following enthusiastic reception among the audiences of the second season of the show which was released in December 2021.  Netflix shared the news of production has commenced for the upcoming Season 3 of the hit show on 1st June 2022 through the show's official Instagram handle. 
Where Were We Last?
Season two ended on a cliffhanger and last we saw Emily she was deliberating between the tough question of leaving Paris and returning to her marketing job in Chicago or accepting Sylvie's offer of leaving her job at the Savoir and starting her own firm.
There is also drama in her personal life with Gabriel being back together with Camille and living with her right downstairs to Emily's apartment and a new romance brewing with Alfie who decides to stay back in France for Emily. Emily is well and truly at crossroads with some tough decisions to make both on the career front and love front.
What is 'Emily in Paris: Season 3' About?
The Official synopsis for the season reads "One year after moving from Chicago to Paris for her dream job, Emily finds herself at a crucial crossroads in every aspect of her life. Faced with two very different paths, Emily will have to decide exactly where her loyalties lie — at work and in her romantic life — and what those decisions mean for her future in France, all while continuing to immerse herself in the adventures and surprising twists and turns that life in Paris provides."
The synopsis hints that Emily is at a crossroads both with respect to her love life and career and will have to make important choices, most importantly with respect to her love triangle with Alfie and Gabriel. One thing is for sure Emily's stay in Paris will send her on more adventures.
We can expect this season to also focus on the supporting characters as they get a chance to grow. Lily Collins in an interview with Vogue France shared that "The first season was about Emily, and the next one is about her personal identity Season 3 offers the other characters the opportunity to develop their characters."
Who is in Emily in Paris (Season 3) Cast? 
'Emily in Paris: Season 3' will see the return of all major cast members. Lily Collins reprises her role as the protagonist Emily Cooper. Ashley Park returns as Emily's best friend in Paris, Mindy Chen. Lucas Bravo is back as Gabriel, a chef and Emily's neighbor and love interest.
Lucien Laviscount is returning as Alfie, an English banker in Emily's French class and her romantic interest. The audiences will see more of Alfie this season as Lucien has been promoted to the main cast. Philippine Leroy-Beaulieu reprises her role of Sylvie, Emily's boss at the Savoir.
Camille Razat will return as Camille, Gabriel's girlfriend. Samuel Arnold, Bruno Gouery, and William Abadie return to the cast as Julien, Luc, and Antoine respectively. Netflix also announced two guest stars for this season in October 2022, Paul Forman as Nicolas de Leon, and Melia Kreiling will join in the role of Sofia Sideris.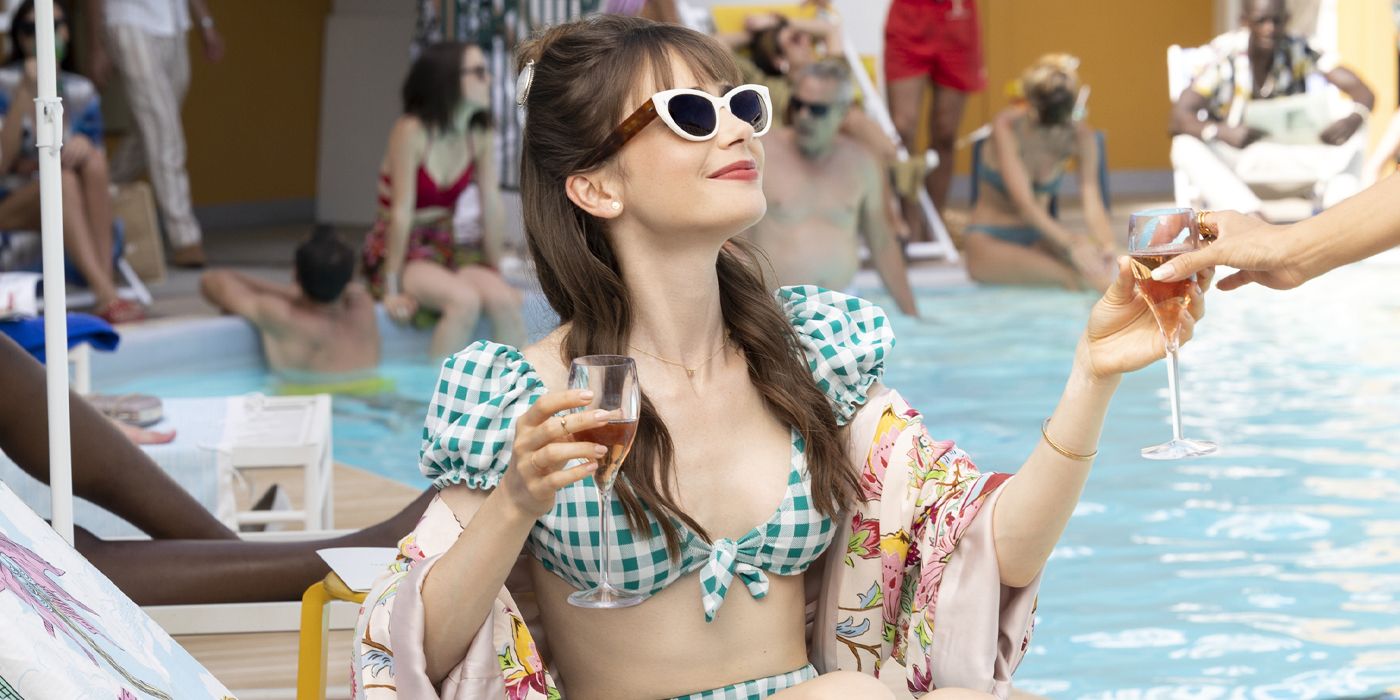 Emily in Paris (Season 3) – Release Date and Where to Watch
The third season of this immensely popular romantic comedy television series will hit the streaming giant Netflix at Christmas time. Emily will return to her Parisian escapades on Netflix when the latest season releases globally on 21st December 2022.
What are the Episode Titles for this Season?
Netflix shared the episode titles for the season, while the streaming site is yet to give us a proper trailer the titles for individual episodes for the season are little morsels of insights into what the season has in store.
Season 3 Episode 1: I Have Two Lovers
Season 3 Episode 2: What It's All About…
Season 3 Episode 3: Coo D'état 
Season 3 Episode 4: Live from Paris It's Emily Cooper
Season 3 Episode 5: Ooo La La Liste 
Season 3 Episode 6: Ex-en-Provence
Season 3 Episode 7: How to Lose a Designer in 10 Days 
Season 3 Episode 8: Fashion Victim
Season 3 Episode 9: Love Is in the Air 
Season 3 Episode 10: Charade
Watch the Trailer for Emily in Paris: Season 3
While fans are still waiting eagerly for a full-length trailer to get an insight into what their favorite characters are up to, Netflix has shared the first look as to what the season might entail in the form of a Date Announcement teaser. In the teaser, we see Emily still in Paris and cutting her hair into bangs in an instinctive moment. We all know what a girl getting bangs means in traditional tropes of a Hollywood rom-com; she says, "They're just bangs. Sometimes people cut bangs when everything is fine", indicating everything is just the opposite and things are all topsy turvy chaotic in Emily's love and work life. You can watch the colorful teaser here:
The trailer for Season 3 of Emily on Paris dropped on 30th November 2022. The trailer is all about choices and Emily pondering over how one gets to know if they are making the right one. The trailer promises some picaresque and romantic locations while Emily is about to make the hardest decision ever. She seems especially wary and cautious as her last romantic decision came to bite her in the, let us be French and say derrière. Watch the trailer for Season 3 here:
Emily In Parsi (Season 3) Netflix Show Links: IMDb