"Gerry" is an obscure film. On one hand, it's incredibly frustrating and dull, on the other hand, it's strangely liberating and worth keeping in your memories for at least a quarter mile of your life's highway. While the plot of the film is as thin as a trail in a vast landscape of nothingness, the indecisive ability of Gus Van Sant's most under-seen film calls for consideration.
To sum the film up, it's about two men – both named Gerry, taking a hike into the far lands that reach a destination that's probably well known. Half-way through their trail, they encounter a few other people and hence decide to take a curvy path, agreeing that "Everything's gonna lead to the same place." After a little back and forth and a lot of walking, the men decide to go back instead of reaching their destined point. This is where they realize that they no more know where exactly did they park their car and their decision of not taking enough with them seem like a decision for worse.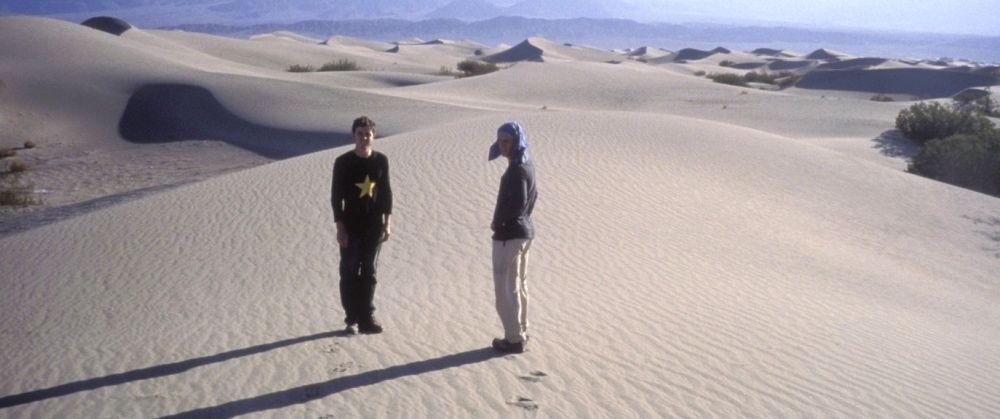 There are two ways of looking at "Gerry." The first is the obvious and most likely compromise, that the film is basically a showy-art-house drama about two people walking to nowhere. Gus Van Sant, actually ensures that his 103-minute film feels like twice it's length. Which instantly cancels out all the viewers who don't want to look beyond what the surface shows. The other way, which I also prefer to call as the 'spiritual trail to Gerry-lization' allows the viewers looking for a more deeper meaning to walk along this tiring journey, inhaling all the sadness & learning a thing or two.
Having said that, both the ways of looking at Gerry are absolutely correct. If you look at life, pretty much anything can have two meanings. Which brings us to the big confusion and eventual loss of understanding. Written by the only people in question and behind the camera (i.e Gus Van Sant, Matt Demon & Casey Affleck), "Gerry" is a manifestation of the thoughts that come to us just before the nightmares. The thought where our whole life feels like a big desert of nothingness and the voices in our head also stop helping. The most important thing that Gus Van Sant is trying to propose here is, to shut that voice of yours that's lagging you behind, only then can you find the path that you had lost.
The film begins with the "Spiegel im Spiegel" (probably the saddest music I've heard), as the two Gerry blast through on a deserted highway. Harris Savides's camera takes a long wide shot of the car and then slowly descends to show us the two protagonists not speaking anything, formulating a sense of isolation from the fast moving world. The two Gerry's make stupid decisions during their quest to find a path. Much like life, "Gerry" is about how lost people feel when their life doesn't give them a pathway. Does taking solace into nature suffice that thirst? Or do we need to look within? "Gerry" doesn't propose any clear answers, and why should it?