Netflix is full of original content and is primarily well-regarded for its TV series. Whilst you might be familiar with the mainstream ones like Stranger Things and Black Mirror, I'm here to tell you that their best in-house show is Godless. A seven-part miniseries, Godless is a Western created by Scott Frank (The Lookout, Logan) and produced by Steven Soderbergh (Out of Sight, Erin Brockovich, Logan Lucky). If the names behind the show still haven't convinced you to watch it, here are 10 reasons why Godless is the best series on Netflix:
1. It's full of women
The Western genre is known for being primarily a male one and Godless, despite not changing that completely, challenges some of its norms. Set in a town populated almost entirely by women, the series has often been described as a 'feminist Western', but Scott Frank (creator, writer, and director) didn't plan it to be. "I wasn't interested in making a giant feminist statement. I don't know that I have the right to," he said. Whilst the show isn't exactly the feminist series it was marketed to be, Godless has many interesting female characters, all of which are complex, intense and have fulfilling backstories. However, Frank highlights that only "a third of the story is about the town full of women", the rest of the show's time deals with other plots and themes. So it's not really a feminist piece, it's mostly a Western with a great deal of active female characters, which is already a welcome change from the stereotypical women's roles in the genre.
2. The cast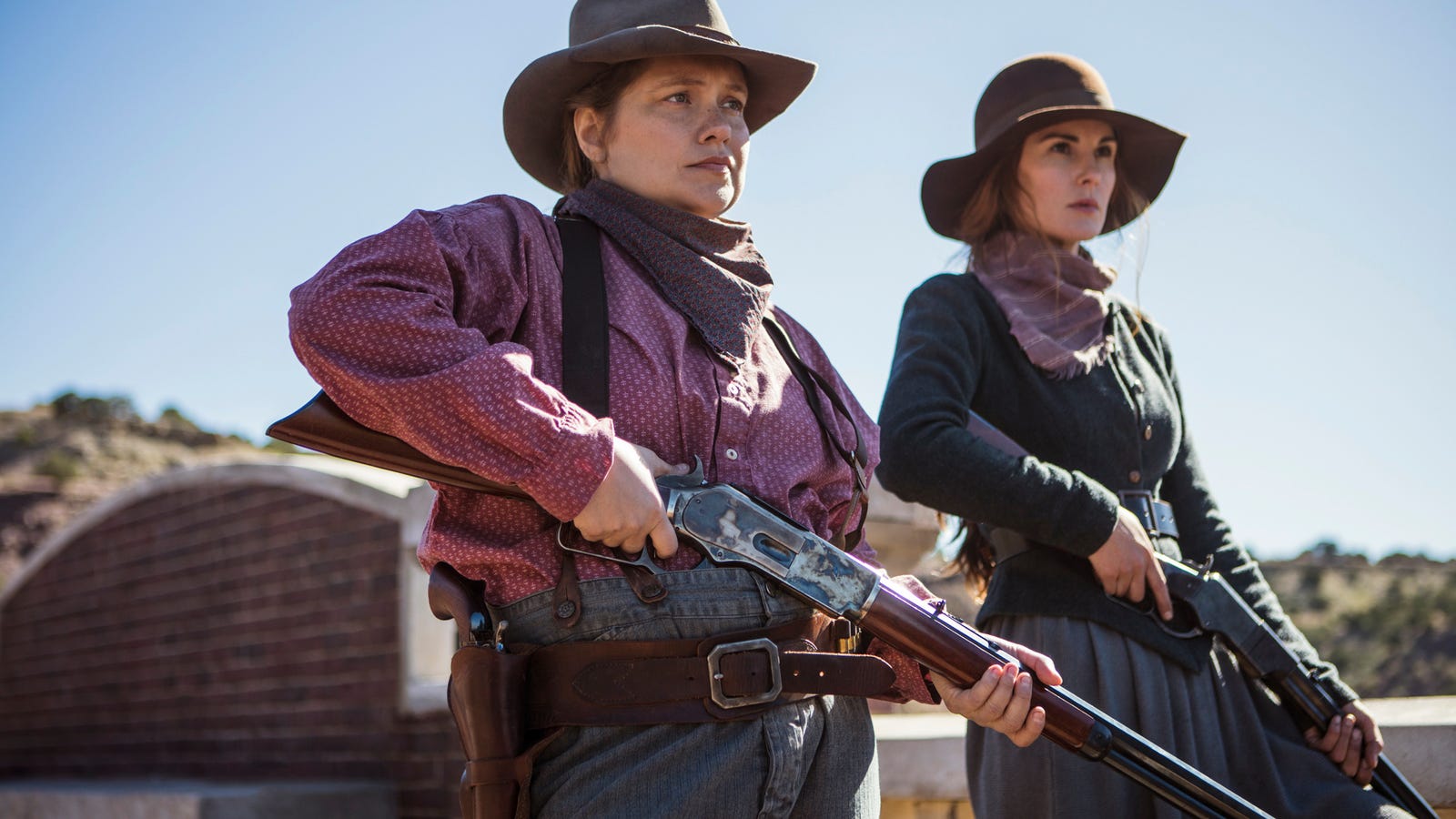 It's not uncommon for TV series nowadays to have an ensemble cast; since The Sopranos, the television format has consistently been attracting established stars from the big screen to the small screen. In Godless' case, Netflix gave Scott Frank total control of casting decisions, which is how he got a hold of such tremendous actors like Jack O'Connell, Michelle Dockery, Jeff Daniels, Scoot McNairy, Merritt Wever, Thomas Brodie-Sangster, Sam Waterston and more. "It was a very liberating thing to be able to cast the best actors we could find," Frank said of his ensemble cast. Not only was he grateful to have such big names on his show, but the feeling was mutual by the performers; Frank said that "all of the actors would come up to me at some point and say 'I always wanted to do a Western,' including the women." Their eagerness to be involved in the project can be reflected on their brilliant performances; O'Connell, Wever, Daniels, and Wever were all nominated for acting awards, with the latter two taking home the prize for their respective categories.
3. Its format
Godless was originally intended to be a feature film, but when Scott Frank was developing the script, he soon found himself writing a 178 pages long film. Westerns are already hard enough to get made, let alone what would've been a three-hour one. So after 12 years of going from door to door in Hollywood trying to get his film made, Netflix saved the project and turned it into their first in-house limited series. It's long enough that, in the words of Frank himself, "you can have a deeper dive with everybody", but not long enough that you have to dedicate yourself for months in a roll to catch up with the entire series. Basically, it's the ideal length to binge-watch.
4. It questions religion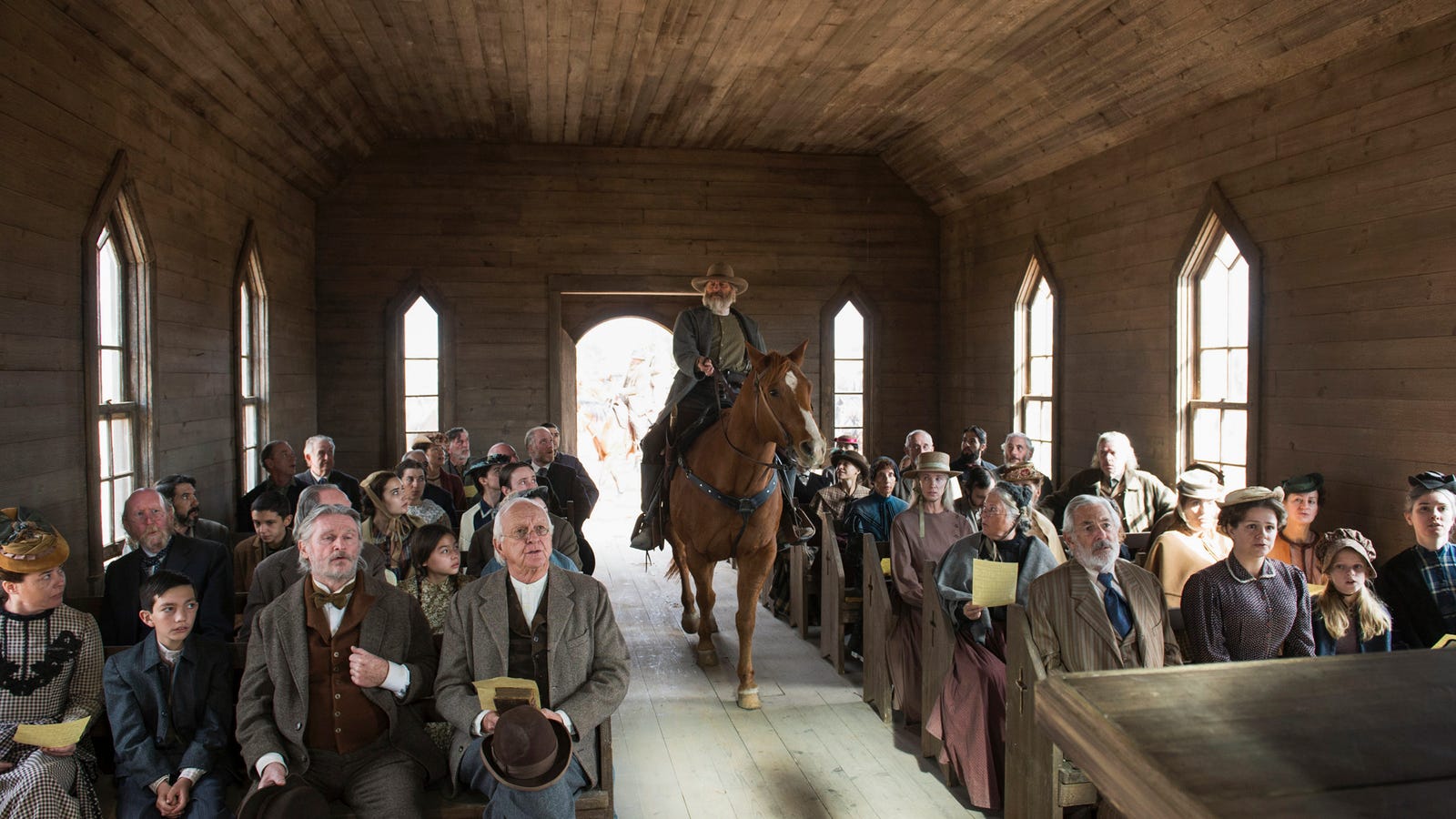 Unlike many Westerns and period pieces in which faith is crucial to give hope and comfort to its people, Godless explores the chaos of life in the Old West. Although religion does play a role in the show, it's mostly the lack of it that haunts the narrative. In a land of man-made laws and ethics, cruelty reigns. Frank Griffin, who is referred to as a "pastor" several times during the series, stands for the figure of God. Bending the ethics and even the Bible to his will, he does what he pleases, undoubtedly believing to be doing the righteous thing. In one particular scene, he finds a sick house full of people infected by smallpox. He goes inside, he feeds them, he prays with them, all of that before murdering each and every single one of them. In that sense, Griffin is both God and the Devil, representing a soul conflicted with chaos and redemption. Scott Frank said Griffin was "using religion in a way that I felt was so destructive to sort of rationalize his own bad behavior". Griffin applies his faith and the Bible to his masses of rape and murder, highlighting that you might be a man of God and still be godless.
5. The cinematography
Inspired by painter Frederic Remington and photographer Edward Curtis, Steven Meizler brought the Old West to life in Santa Fe, New Mexico. The mise-en-scène was heavily centered around the desolate landscape of the deserts, mountains and forests, which made Meizler's job easier. Filming in widescreen, the expanded width of the screen allowed him to display breathtaking Western vistas, empowering the countryside to be more than a backdrop, but also a character itself. By using Red Dragon cameras and the lenses Zeiss Superspeed primes and Angenieux Zooms, his intent was to make the scenery look as vivid as possible by using a lot of natural light. "As far as the lenses go, I thought the softness, size, flaring and veiling properties combined made the lenses the right tool to capture the Old West, and when I married with the Red, I think you can create magical images," Meizler explained.
6. Jeff Daniels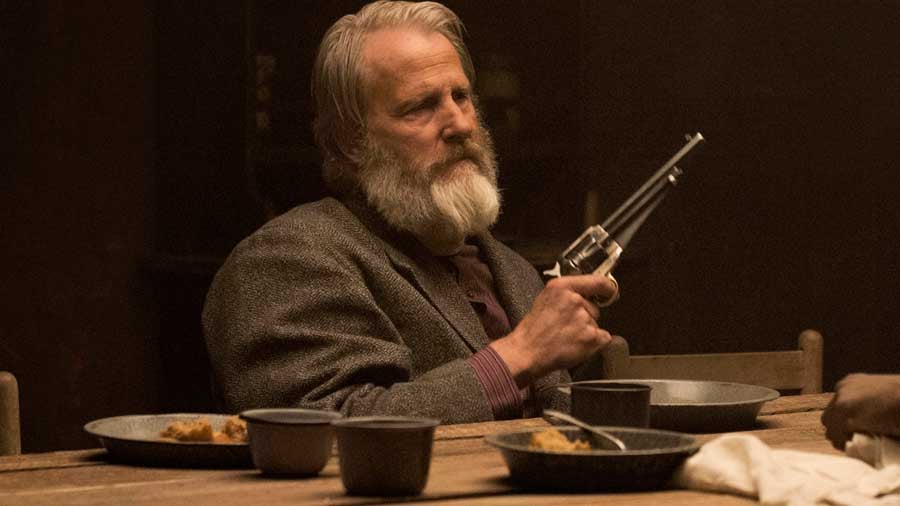 Whilst everyone in the cast of Godless is equally efficient in their roles, Jeff Daniels is the one to truly stand out. Portraying the menacing one-armed Frank Griffin, Daniels is absolutely terrifying yet delightful to watch. Not your typical Western outlaw, Griffin is full of contradictions; it's hard to understand what he's doing and it's even harder to understand what he will do next. "He's a very dysfunctional, confused, mentally unstable person wandering around the 1880s. That's Frank's normal: put a bullet in the guy's head and then quote the Bible. Just another Thursday," Daniels said of his character. Ruthless and perseverant, Griffin is the kind of person that doesn't give up, and so is Daniels; on the second-to-last day of shooting, the actor was thrown off his horse and broke his left wrist. But he refused to go to the hospital until everyone wrapped up on schedule. For his commitment, dedication and brilliant performance, Daniels won an Emmy Award for Outstanding Supporting Actor in a Limited Series or Movie. During his acceptance speech, he thanked Apollo, his onscreen horse.
7. It's a commentary on fathers and sons

Although the series was promoted as a Western about a town populated by women, Godless is, at its core a tale about fathers and sons. The main relationship explored is one of Roy Goode and Frank Griffin. Roy, an orphan, is taken in by Frank and his gang. Despite being an outlaw and killing women and children, Frank offers Roy his version of love, one that the boy doesn't take in so kindly. So when Goode betrays his father figure and his group, Frank is gobsmacked. Griffin himself, Jeff Daniels, explained that "in Frank's world, in Frank's reality, in Frank's normal, it's a stronger bond to have taken a child and raise him than it is to actually bear that child," said Daniels. "Frank thinks that's a stronger bond, and 'How dare you betray that?' When [Frank] sees [Roy] in the series it's, 'What are you doing?' But then that becomes an out-and-out betrayal of someone who Frank views as his son. A the end of the day, when he realizes Roy isn't going to come back, then it's 'you versus me'."
8. The score
Carlos Rafael Rivera is responsible for much of the emotional baggage of the limited series. His score was inspired by the likes of Bernard Herrmann, Sara Watkins and even Stanley Myers' score of The Deer Hunter (1978). Using primarily the classical guitar and the cello, Rivera matches the emotional intensity of the show with his subtle, deep music that carefully explores the nuances of each character. "Godless Main Theme", "Roy's Gift" and "Mary Agnes & Callie" are some of the most memorable pieces that highlight the humanity and the beauty of the actors' performances. The score received two Emmy nominations.
9. It says a lot about America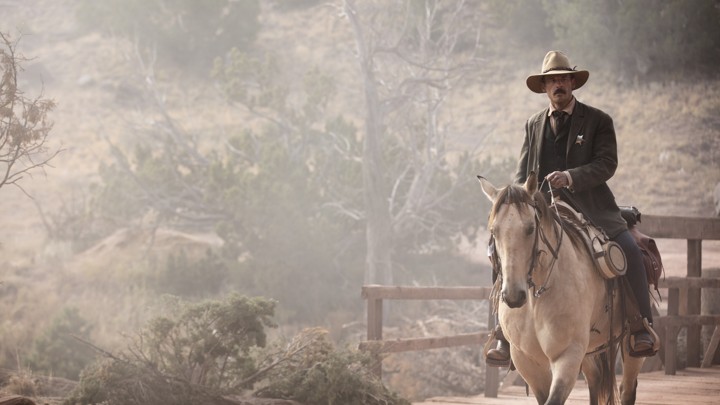 No genre is as American as the Western. Not only it's set in American soil, but it perpetuates the conservative values, aspirations and sensibilities that the US was founded on. This mythological idea of the Old West creates visions not only about the country's past, but also about its present. Scott Frank says the Western is "a source of the American character in a way that is both romantic and mythic, very attractive, not altogether true or accurate, but seductive and entertaining. Sometimes good guys are also bad guys, because all the laws and mores are still being formed and determined." Nowadays, the American reality is very much the same; with all the friction between liberalism and conservatism, freedom and order, and individualism and collectivism, the US is still a godless country. As the show's title emphasizes, there's the absence of a higher power in the Wild West, as there is in modern America. "God? What God? Mister, you clearly don't know where you are. This here's the paradise of the locust, the lizard, the snake. It's the land of the bleeding and the wrathful. It's a godless country. And the sooner you accept your inevitable demise, the longer you all are gonna live." Frank Griffin's words were about a historical time in which blood and cruelty ruled over virtue and kindness, but they could've easily been about the present American society.
10. It revives the Western genre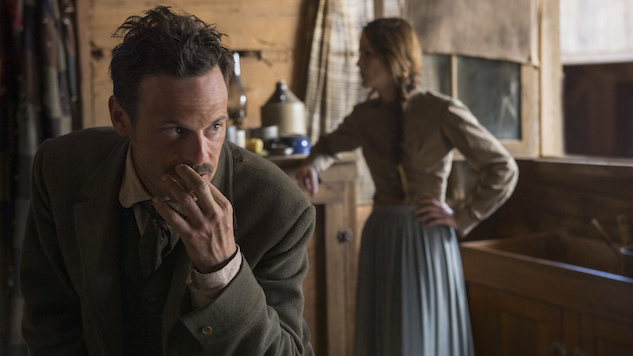 Since the decline of the genre in the 1980s and the consequently reduced amount of cowboy-related content released nowadays, it's always a pleasure to see a modern Western featuring classic elements such as outlaws, lawmen, train robberies, gunfights, horses, saloons and all the genre clichés we know and love. That was exactly Scott Frank's intention when writing the series: "I wanted to embrace every single Western cliché I could think of and that was the fun of it," he said. With all the traditional components in it, Frank also found a place to challenge the notion of the Old West and its principles: "I knew I was gonna take a lot of old ingredients and then try and locate them in somewhat of a fresh context." The thematical exploration of a town populated by women, of a homosexual relationship, of a white woman who married a Paiute man and of a father and son relationship makes Godless an authentic yet fresh Western. It's an encouraging revival of the genre that doesn't make the mistake of its fellow films of glamorizing the era it's portraying.