In most of the western countries, aspirations and dreams of an individual are often perceived by one's own choice. Their ambitions stem from their deep interest in a particular subject than being an obligation for earning and for future stability. Even their movies showcase these dreamy artists, actors working at cafes, bars, whatnot as a way towards their pipe-dreams. Whether they fulfill their wishes or not, there's very little pressure to 'perform' these duties as there's a comparatively lesser hurdle to get a job for a well-educated person. In India, the situation is significantly different. An Engineered Dream speaks about the same.
As most of the Indians know there are two options that take forefront while choosing what a child would want to be in the future. The ultimate resorts are most commonly to pursue Engineering or to be a Doctor. Between the two options, the prior is preferred solely on their demand from the market and eventual income-possibilities. Also, it's much cheaper education than the one needed to become a doctor. Besides, Indians have this weird fascination about fulfilling the parent's dream. It is more or so, considered as a ritual to pay for the support and affection given by the parents since birth. So, it's not really strange seeing one of the professors from such institutes describe the end of their course as some sort of 'rebirth'.
___________________________________________________________________
____________________________________________________________________
The director, Hemant Gaba, has earlier worked on the topics related specifically to Indian sensibilities. Whether it was Japan in Nagaland or Shuttlecock boys, he showcased the affiliations rooted in Indian values. Similarly, 'An Engineered Dream' speaks about the Kota institutes that closely depict and narrate our country's obsession for better grades. There's very little personal emotion of students involved in the process. It is apparent through the students who participate in the race, against their own will. Rather, it's better to say that there are only a few who are genuinely interested in being an engineer. The documentary tries to get into the mindset behind these dreams.
Kota is the biggest hub of engineering entrance coaching centers in India. The main objective of these coaching centers is to get their students, the highest ranks for the entrance exams to IITs (Indian Institute of Technology). We meet students with different abilities in the film and get to know 'behind-the-scenes' of their studying processes.
One of them, Suraj Yadav is a bright student who appears to be able to fulfill the dream with the best grades possible. So, his eventual All India Rank doesn't come as a surprise. However, he seems to have very little knowledge about what he's getting into despite getting those grades. Most of the times, his father speaks on his behalf, which isn't particularly evil considering his affection towards him. But again, his pursuit is based upon his father's unfulfilled dreams. He isn't stressed out as the other students introduced in this film. However, he is manufactured to the point that he hasn't seen TV programs since his fourth grade. His professor from Kota institute further gives his example to the students, as a model for perseverance.
___________________________________________________________________
____________________________________________________________________
Another perspective is of Ali Faraz who's highly optimistic because of his diligence. He doesn't even demonize the system or his parents and rather praises his mother to have raised him to be constantly competitive. His attitude, no matter how admiring, doesn't reflect in his grades. As a result, he's giving this exam for the second time only to fail his own expectations.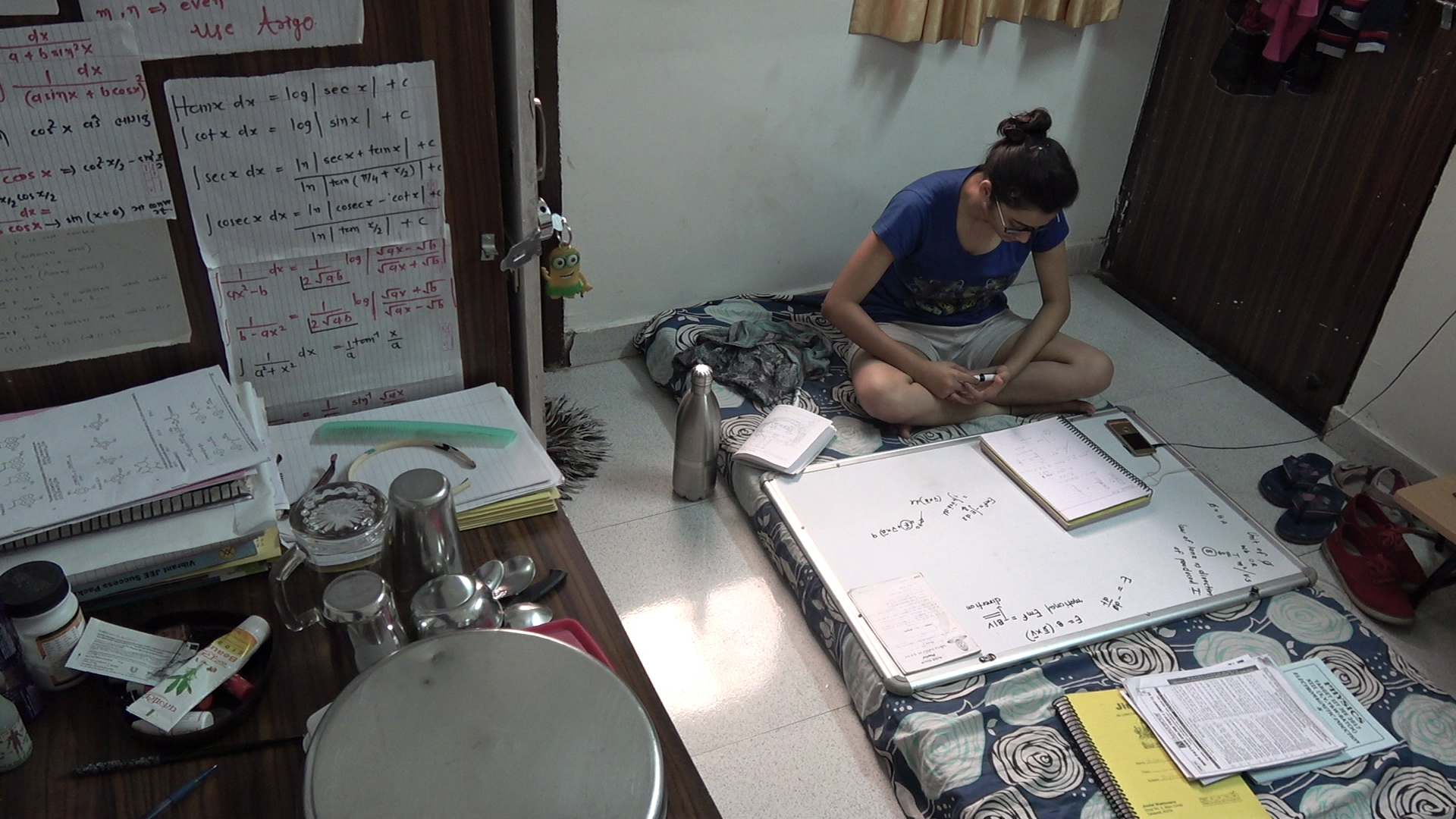 The other two outlooks are from an ordinary student Shubha Shingala and endlessly humorous Shaswat Singh; both of whom are attempting it for the second time. While Shubha is trying her hard to achieve success for her mother, Shaswat seems to have grown out of those known traumas. He even goes on to joke about suicide as if it's a casual thing in their conversations. More than their aspirations, we get to see the day-to-day problems of these aspirants from his point-of-view. Whether it's constipation because of the nasty food from Kota or addiction to porn for the resulting dopamine, he depicts that side of the spectrum. Meanwhile, Shubha engages with another core of students who fail no matter the hard-work or perseverance.
For any person who's remotely related to one of such students, the documentary will stand tall as the honest depiction of engineering aspirants, let alone IIT applicants. It covers almost all types of students, encompassed in this hurdle. The wistfulness towards these pipe-dreams is visible through their writings on the walls of temples. The resulting 'glory' of achieving the high rank is apparent through the celebrations. On the other hand, eventual heartbreaks are shown with the traces behind. So, the film works as an objective lookout around the nitty-gritty preparations of these students. It's minimal while showcasing the burdens and gives witty insights which will go unnoticed without emotional involvement. Only if it had dug even deeper than the already known struggles, it could have become more than what it is.
★★★
An Engineered Dream Trailer
An Engineered Dream – IMDb