She Said (2022) Review: "I can't change what happened to you in the past, but together we may be able to use your experience to help protect other people." New York Times journalists Megan Twohey and Jodi Kantor's tireless work had brought the celebrated Hollywood mogul Harvey Weinstein close to paying for his innumerable crimes against women. 5 years ago, one article heavily impacted the enabling and hush-hush workplace culture that gags any woman trying to speak up about harassment and misconduct. MeToo was born–and even though it evidently couldn't fix everything–countless women did find the tune to match their voices to and speak up about their trauma.
"She Said" is based on the book of the same name written by the two incredible journalists it encompasses without being anchored by unnecessary dramatization. It focuses loyally on the steadfast efforts made by Kantor and Twohey, who worked nonstop until they had enough constructive accounts of harassment incriminating the protected Hollywood producer. It certainly wasn't an easy road, but it was a road worth taking. Maria Schrader dedicated her feature-length representation to documenting Twohey and Kantor's self-sacrificing commitment that provided the brave women who were wronged a safe space to open up while acknowledging why it must be incredibly hard for most to come forward. 
She Said Plot Summary and Movie Synopsis
In the thick of Trump-campaign, New York Times journalist Megan Twohey (Carey Mulligan) meets with Rachel Crooks (Emma O'Connor) to encourage her to go on the record about the harassment she has faced from Donald Trump (voiced by James Austin Johnson). Comforted by the sense of not being alone because Jessica Leeds is also on board, Crooks decides to speak up about her scarring experience. The article comes out, but nothing changes. Trump is elected for the Oval, and Crooks receives a threatening envelope containing human excrement. Defeated with the idea that the victims' voices and her work had no impact on the decision of the majority, Megan feels doubt for a while. She is harassed over the phone by Trump and on television by Bill O'Reilly (original archive footage). Five months down the line, New York Times' extensive article about the women that were sexually harassed by The O'Reilly Factor's host finally jars the advertisers enough for them to back out and subsequently pushes Fox to fire the long-protected abuser.
NYT's O'Reilly victory forms a ripple effect that makes editor Rebecca Corbett (Patricia Clarkson) urge the reporters to exhaustively look through the matter of workplaces protecting the abusers. Journalist Jodi Kantor (Zoe Kazan) joins the conversation with actress Rose McGowan's (voiced by Keilly McQuail) tweet about being raped by a bigshot Hollywood producer. Although the tweet doesn't name Harvey Weinstein (Mike Houston), the hints strongly suggest that the perpetrator is, in fact, the Miramax mogul who has also recently dodged a harassment charge filed by Ambra Battilana Gutierrez. Kantor fails to make McGowen come forward as the actress still relives her bitter past experience with the New York Times.
Kantor frantically reaches out to assistants and employees that worked at Miramax, and while almost all of them suggest that they had, in fact, been harassed by Harvey, none of them are willing to come forward. Ashley Judd (played by the actress herself) speaks to Kantor in detail about how rejecting Weinstein's sexual advances got her blacklisted from projects. While Judd would like nothing more than to bring Weinstein to justice, she's not ready to sacrifice her career by going on the record. Kantor gets very similar accounts of horrifying treatment from Rose, who was just 23 when she was raped by Weinstein. Battling postpartum depression, Megan Towhey comes back to work for a much-needed breath of fresh air. Rebecca decides it would be good for Megan and the investigation if she joins Kantor in her war against Weinstein.
Every move made by the journalists is stopped by every part of the system that is thoroughly composed to protect the Weinsteins of the world. Every roadblock comes in the form of policies made with no regard to the victims' experiences, and laws bent to safeguard the powerful people, and innumerable payouts that bought complete silence. Twohey meets with another assistant whose promising career was taken from her too early. She had to accept the settlement that insisted on her silence. To dig deep into the area of how many settlements Weinstein had given out, Twohey ambushes Miramax's ex-CFO John Schmidt (John Mazurek). But he very conveniently decides to keep his mouth shut. 
What Twohey and Kantor essentially discover in their investigation is that there's an entire system in place that wholly enables the continuity of abuse. They can't retrieve any information from the police reports of crucial claims. They can't access the names of the victims that did want their abuser to face the charges. Countless settlements that were predominantly done outside of court took away any possibility of the misconduct ever coming out. Even EEOC does not have a system in place where employees can look up the sexual harassment claims that were made against their employer. No one was protecting the victims. To make matters worse, Lisa Bloom (Anastasia Barzee), an attorney whose book Weinstein is producing, gets in touch with Kantor to shamelessly deny McGowen's accounts and call her a pathological liar.
Gwyneth Paltrow (voiced by herself) provides the investigation with her own experience that echos the similarities with that of Rose. But lest it becomes a sex scandal, Paltrow is apprehensive of going on record. At that point, Kantor and Towhey have three admissible reports of settlements that victims had received and three follow-up possibilities with Laura (Jennifer Ehle), Rowena (Angela Yeoh), and Zelda (Samantha Morton). While Laura's critical health struggle halts her from getting involved and Rowena is unreachable, Zelda speaks up about her experiences at Miramax. She reveals haunting details of what went on in Weinstein's hotel room and how Miramax had strategically silenced every victim and consequently ruined their careers. That no one would hire someone who had left Harvey is echoed in every victim's words. Harvey sends his attorney Lanny (Peter Friedman), to the NYT office. While he attempts to reduce the claims to minor misconduct, he eventually gives Twohey the idea that there were roughly 8-12 settlements. 
She Said Ending, Explained
How did the two journalists expose Harvey Weinstein?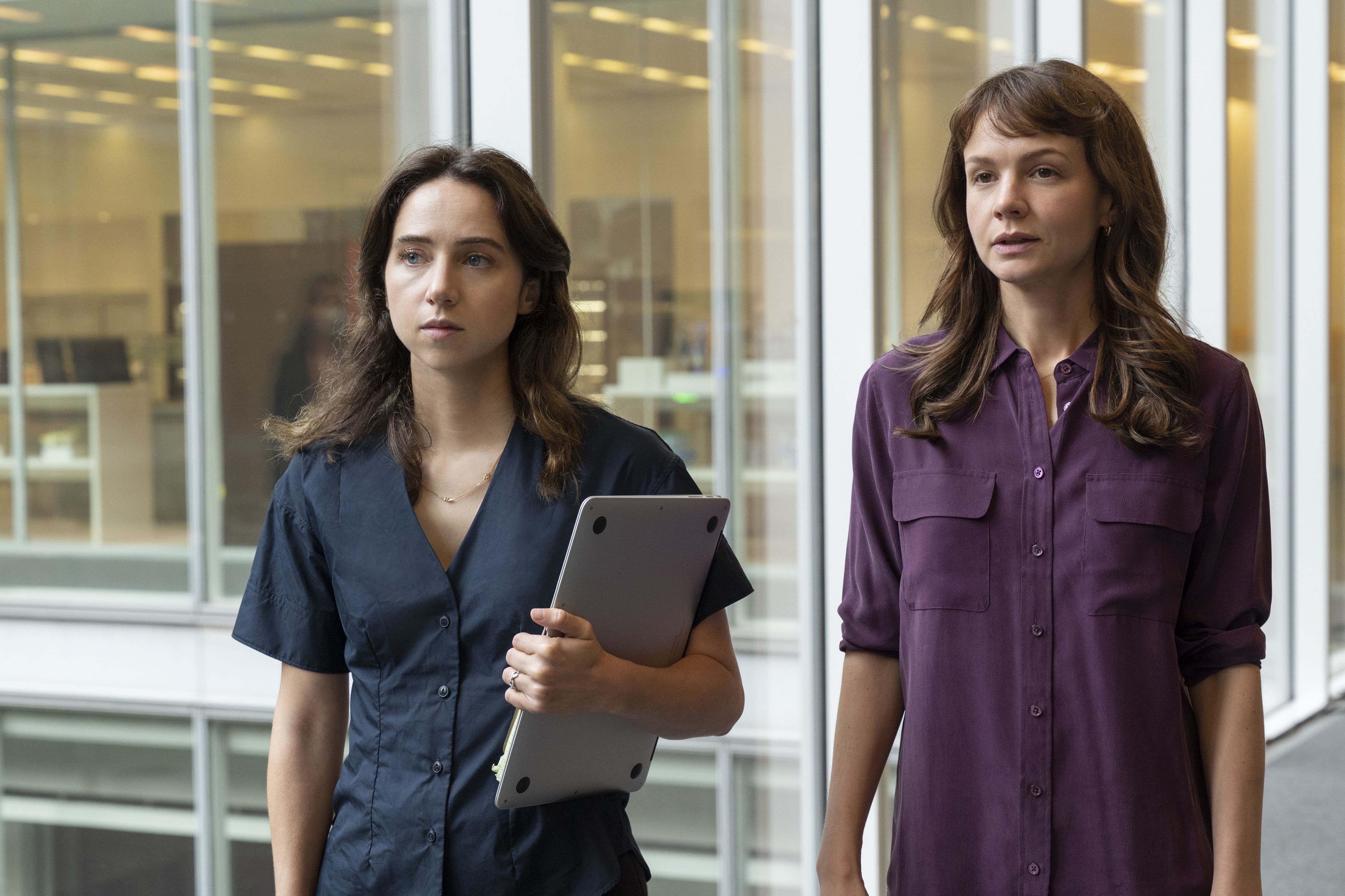 The news of the Weinstein story has spread out. Jodi Kantor receives a useful anonymous tip from a former Miramax employee. She meets with the Weinsteins' accountant Irwin Reiter (Zach Grenier). Reiter evidently doesn't have a good relationship with Harvey and has no issue speaking about the settlements that Weinstein had given out. Reiter reveals that the board at Miramax compulsively protected Weinstein and helped him with his indiscretions. An employee had left a detailed memo about the toxicity at Miramax. The issue was unsurprisingly shoved under the rug, and Weinstein continued his monstrosity in his safe haven. Riled up after reading the actress' detailed experience with Weinstein, Reiter decides to give NYT complete access to the incriminating memo.
Getting their hands on Lauren O'Connor's memo makes it possible for them to start working on their report. Any of the actresses going on the record would've increased its credibility to a great extent. Kantor continues to convince Ashley to come forward and join the article. With Ashley's promise that she'll give it a thought, they proceed to start writing. Weinstein is given two days to respond to the allegations. On his call with NYT's then executive editor Dean Baquet (Andre Braugher) and the reporters, Weinstein demands to know who may have gone on the record. He's specifically interested in knowing if they have spoken to Paltrow.
With Weinstein denying Lanny's statement that there were 8-12 settlements, Twohey reached out to 101 Studios CEO David Glasser (Jason Babinsky) for assurance that the figure was correct. Pushing the investigation to its primary strength, Ashley Judd decides to record her experiences. A manipulative call from Miramax angers Laura into reconsidering her stance. On the brink of a complete mastectomy, Laura feels that she doesn't want her daughters to grow up in a world where abuse goes unpunished. With Laura joining with her accounts, Kantor and Twohey's article has nothing standing in its path anymore.
With the article now ready, NYT pushes Weinstein for a statement. Weinstein and Laura Bloom continue to discredit the actresses and disregard the investigation with a passion. Weinstein also goes to Variety and Hollywood Reporter to express his shock. Having no other option left, Weinstein sends his statement in for Twohey and Kantor's article. After pulling the quote that declares his upcoming absence from the company, NYT publishes the article. Countless more accounts of harassment follow the publication of the article. In 2020, Harvey Weinstein was finally put behind bars for his crimes. 
She Said Review
Schrader's film will connect on multiple levels with its audience, depending on their experiences. It wouldn't at all be a reach to declare with certainty that every woman out there has faced some sort of mistreatment. Be it the smallest of disrespect that we've sadly taught ourselves to be nonreactive to or the most traumatizing encounters that can still go unheard in the wrong circumstance. It is tricky to tell the story of voicing out without slightly guilting the ones that can't. And that is where the director has been more than a stronghanded ally to the wronged. "She Said," in its endeavor to resonate how the ones that chose to scream out their anger finally put a pathological abuser behind bars, never once blamed the ones that were silenced.
Told in a way that would gain nothing from flare or amplificated resonance, the tight-knit thriller relies on the cascading struggles of Twohey and Kantor. From the start, it isn't just a job for them. Flowing over the unbelievable work hours and taking a toll on their personal lives, the project that isn't about just bringing Weinstein down but also about making a lasting impact on the abusive workplace culture becomes the air they breathe. Kantor is mostly away from her little girl, and Twohey yanked herself out of her postpartum to immerse herself completely in the battle. It is significant to note how their respective husbands are depicted as an everpresent support system, but the narrative doesn't go out of its way to overly appreciate the sacrifice that women all over the world make daily and thanklessly. It is only normal that the men will take over in the household. It is only normal that a couple would work as a team. 
Mulligan and Kazan's fiery impact is flawlessly followed by the impressive performances of Patricia Clarkson and Andre Braugher. Motivating the consistent and frustrating journalistic pursuit of Kantor and Twohey, the two editors of the New York Times exist as the grounded, quiet providers of weapons they need. Smartly approached with muted successions of back-bending progress, Rebecca Lenkiewicz's script avoids blowups or shows of expressive vigor. Instead, "She Said" strengthens its ground on the depiction of the impressive journalistic journey that hits deadends way too many times but finds its way forward nonetheless.
What very impactfully gets an eye-opening exploration is the issue of the system guarding the wrongdoers. Every time every investigation or approach made by the journalists would hit a brick wall, there was a sense of doom and hopelessness. "She Said" doesn't intend to make sense of the "why" but establish the "this is how it is." And at the end of its road, you are left with the unsettling feeling of all that still needs to be done–all that still needs to change–and all those who still need to pay. 
---
Related:
---
Watch She Said Official Trailer
She Said Movie Links: IMDb