The 15 Best Indian Films of 2016
"WHAT IS MEANT TO HAPPEN, HAPPENS. NO ONE HAS ANY CONTROL OVER IT. SO IT'S BETTER TO JUST BE HAPPY, ISN'T IT?"
Indian cinema has been experimenting a lot in recent years and has been quite successful so far. New actors and directors have made their presence felt. Importantly, audiences are opening up to new ideas, experiment in narration, though it goes horribly wrong in some cases. Films like Kismath (Malayalam), Waiting (Hindi), Dhanak (Hindi), Sairat (Marathi) paved the path for films having simple narration & characters rooted in the real world. These films were driven by characters played by non-superstars.
 Honourable Mention : Kismath (Malayalam) , Waiting (Hindi) , Kali (Malayalam), Phobia (Hindi), Action Hero Biju. 
Comment your thoughts on the list. How many films have you seen from the list?
15. The Violin Player | Hindi | Drama
The Violin Player is an intense drama about a brooding artist at its center looking for an opportunity to showcase his talent. The writer & director, Bauddhayan Mukherji,  very smartly captures the paranoia of the struggling violin player inside his eroded four walled shabby house in the opening scene.  The film is layered if you see beyond the mystery about a shady director asking the violin player to follow him for his first ever solo performance. What is even more interesting that the solo violin piece itself forms the emotional catharsis of a sincere artist & a lost man.  
14.  Pelli Choopulu | Telugu | Romantic Drama
Telugu film industry has been churning out nasty commercial films having unrealistic characters and amplified drama for any normal humans to handle, and objectifying the women in every other film is the worst part. Pelli Choopulu flips the above two thing that is synonym to Telugu films and serves us a feel good romantic film that has empathetic characters having real life problems. Prashant is a dreamer and aspires to be a chef but his father has a different plan for him, Chitra is a strong headed woman who thinks practically. When they cross the path accidentally, they learn about life and dreams from each other. You know how the film will end but the characters are written from a heart of commoner, and you fall for them, you root for them, you just want them to be happy. A simple film that addresses issues with & around arrange marriages, and how it crushes dreams and aspiration of a person.  
13. Kammatti Paadam | Malayalam | Crime Drama
Eranakulam's green lush is gradually turned into a land of crime & alcohol cartel for political and personal mileage.  Kammattipaadam's  quite smartly handles the emotional pathos of friendship put to the test midst of the rise of crime where trust, love, and loyalty are hanging by a thin thread. The film has its own share of flaws, it has an incoherent screenplay but that is compensated by the strong performances of all the actors & some remarkable characterization that will be etched in mind for long. Rajeev Rai focuses on how people from the lower strata are reduced to a mere object in the hands of not so powerful men for their own agenda. How the elimination of such group has shaped the Ernakulam's underbelly.The film's narration is strongly supported by the soundtrack  & cinematography that evokes the sense of agony & anger. Vinayakan's performance is the highlight of the film. He has given one of the best performances of 2016.
12.  Kuttrame Thadanai | Tamil | Mystery Thriller
Kuttrame Thandanai has a smartly written narration that seems to be an ode to Dostoyevsky (Kuttrame Thandanai translates to Crime is Punishment) but it has the influence of Hitchcock's visual technique & claustrophobic mystery. The lead protagonist is a credit card overdue collection agent who is suffering from a tunnel vision. Director Manikandan vicariously puts us in the head of the protagonist and weaves the psychological crime drama around a murder in the shabby society. How our conscious choices under the critical circumstances -not under the moral radar – shape our life & how we can't escape the repercussions of it, forms the crux of the story.
11.  Pink | Hindi | Drama Thriller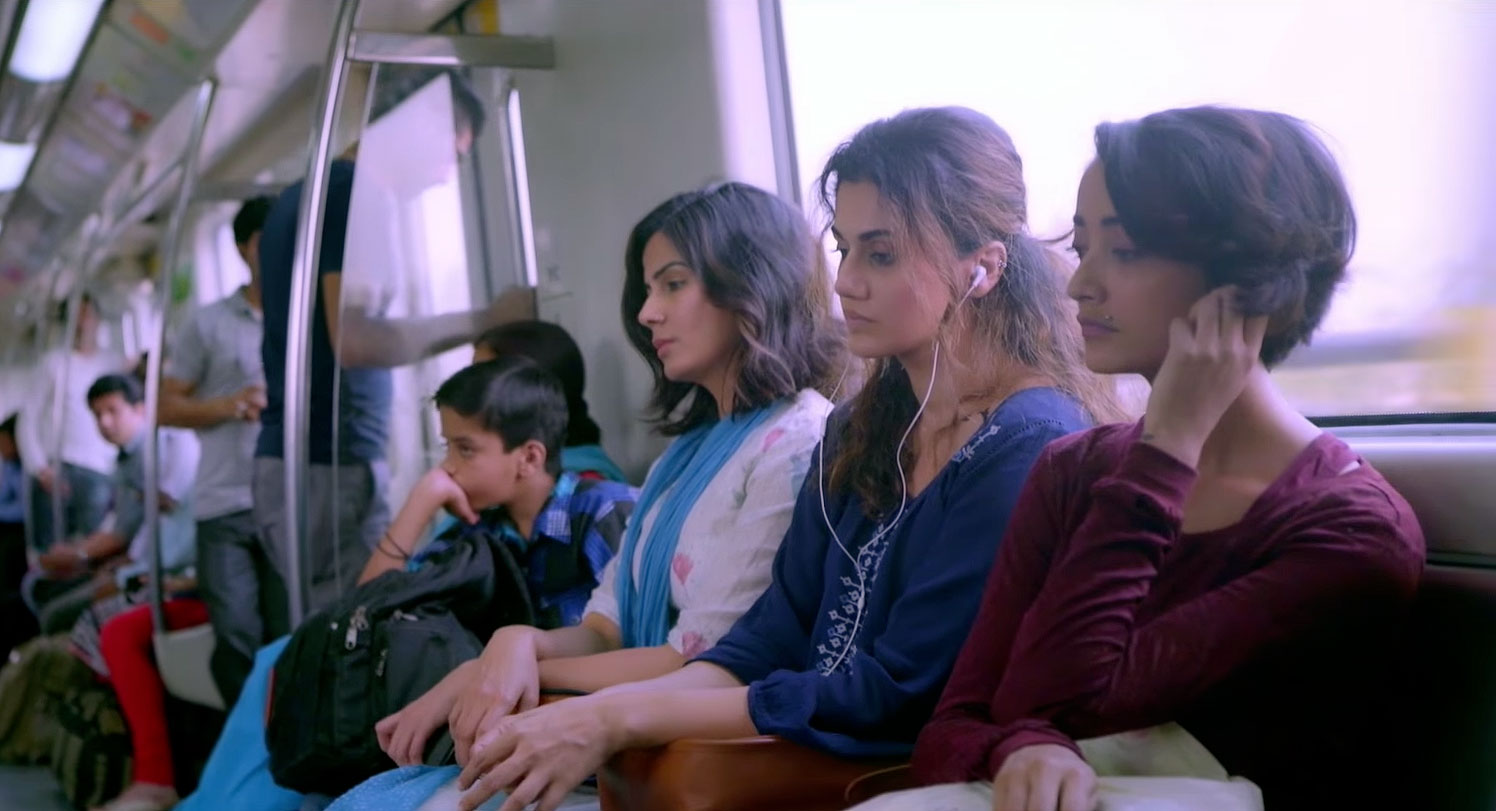 Pink is an intense courtroom drama that takes a microscopic look at the difference between consensual sex & molestation. It does so without any inhibition, preachiness, and glorifying feminism. The strength of 'Pink' lies in the way three female characters are written; anyone could relate with them and importantly, their problems are real. They don't feel like characters from a fiction film, instead, they seem like regular girls from our friend circle or neighbor or possibly our own relative. 'Pink' essentially raises some uncomfortable but factual questions about hypocritic modern society, without being overdramatic that most of the other films suffer in the similar genre.
10. Dangal | Hindi | Sports Drama
Nitesh Tiwari makes sure to fictionalized the drama that plays on audience's heartstring. The greatest strength of Dangal lies in its unabashed & natural performances by the entire cast and well-choreographed wrestling scenes that feel as real as if watching a live match. So even when the entire second half starts to falter and we clearly see the forced drama injected in the screenplay making it uneven & sometimes cringe-worthy, it is impossible to take your eyes off from the screen. The earnest performances by all the four girls keep you glued to your seat.
9. Maheshinte Prathikaaram | Malayalam | Drama
Malayalam Film industry have mastered the storytelling of a common man in day to day life, and Maheshinte Prathikaaram is the testament of it. The genius of the film lies in the fact that characters are driven by the commoner human conscience that renders the profound depth to the character and emotional thrust to the overall story. The lead protagonist, Mahesh -played effectively by Fahad Faasil- has his life going awry. It hits the rock bottom when Mahesh is hit by a loafer on the trivial issue which did not concern him in the first place. Mahesh vows not to wear slipper until he takes the revenge and beat that loafer. Maheshinte Prathikaaram relies more on the emotional stance of the characters rather than the story in itself.
8. Aligarh  | Hindi | Drama
"You people are so obsessed with the word 'Love'. At least try to understand love. It's a beautiful word. If you're making it sounds like a dirty word.. then I have a problem with this." Aligarh is an agonizing poetry in motion about love at its unadulterated form. It is anchored by prolific actor Manoj Bajpayee's devastating performance. The film revolves around how Dr. Siras life is torn apart when he is caught making love to a man, and his constant struggle against every naive person who does not understand his love.  It is a heartbreaking film that brings out the unconsciously obscured conservative mindset of the educated society, the fallacy of love, media's circus for the discussion.
7. Iraivi | Tamil | Drama
Iraivi is an unconventional feminist film where we see repercussions of three shoddy men doing things men do, on the three women. Though the entire narrative is driven by the three men in the film, it is still primarily a film about the females and them being a collateral damage.Iraivi features earth shattering performances all around. Specially Surya S.J. as Arul is a revelation. There's not a single wrong note that goes into his work. All his alcoholic shamblings, random fits of anger and high-pitched ramblings on how films are being treated make him one of the most likable and vulnerable of the characters.  Vijay Sethupathi as Michael is again brilliant. His fear, disappointments, and pain all feel real. Bobby Simha who won a National award for Subbharaj's Jigarthanda doesn't get much to do in the first half. But instantly shines in the second half. All the women including Anjali, Kamalinee Mukherjee, Pooja Devariya all prove why this film is about them and not the men in question.
6. Raman Raghav 2.0 | Hindi | Crime Thriller
There's a strange smile that appears on your face as you watch Ramanna dismantling his victims in Anurag Kashyap's Raman Raghav 2.0. It's not because Kashyap somehow magically manages to justify the mystifying murders in his film, nor because he tries to ground you into rooting for his killing machine, but because the film jabs at that side of a human brain which has violence and anarchy all over its surface. Raman Raghav 2.0 is dark, delirious and stylistically delicious. It doesn't leave any stone unturned and is a true Kashyap film in all measures.
5. Udta Punjab | Hindi | Crime Drama
Set in the heartland of Punjab that is plagued with the rampant usage of drugs,  Abhishek Chaubey unflinching narrative takes a microscopic look at the entire drug epidemic. He weaves an engaging drama around the four divergent characters. The set condition in Punjab is desolating into one that doesn't seem to wake up from the overdose of snippets of drugs of all kinds and creeds. From people who work at general stores to rock stars who write involuntary anthems about how cool it is to intake worthless substances has gradually increased to a wholesome number. The film commutes on this very problem that is indecently ruining the youth of a state know as the land of the five rivers. But, the film is not just about the state or even the country. It is about a general idea which doesn't seem to help people in any way. The way Chaubey shows his vulnerable characters; some being forced to substance abuse, whilst some forcing themselves into it, makes it all the more authentic. 
4. Thithi | Kannada | Drama
Reddy has microscopic views of his characters which are originated from the roots of South Indian villages , and they fill up the screen with such honest performances in spite of the cast being comprised of non-professional actors(except for two), that the lack of a more complex resolution to the story's conflicts seems less of an offence. They are real, and they seem to not follow any script, rather real characters reacting and following their head and mind (if any).
Thithi packs a ton of amusing characters embroiled in a volcanic familial turmoil which shares the same gene as Anurag Kashyap's style characters minus the violent urges. The narration is funny, whimsical, and flows effortlessly out the screen.
3. Kapoor & Sons | Hindi | Drama
Kapoor and Sons takes a microscopic look at the foible of individuals and inter-personal issues with the dash of intrinsic humor. Recognizable characters and familial issues straight out of your own family or neighborhood render believability to the film. Kapoor and Sons is unlike many family dramas that have been shoved down our throat in the past.Kapoor and Sons' strength lies in its very relatable characters, familial problems that actually exist in society & perhaps our own families, and the fact that it never tries to rectify the flaws. The film quite strongly conveys that there is no solution to problems that can bring a flawed family together; instead, we have to accept them with their unsettling flaws.
Director Shakun Batra deftly carves out multiple conflicts without being melodramatic, or manipulating the character, sprinkling it with the right amount of humor to ease the impending tensions in the third act. The film does not rush into establishing the characters; instead, it gives the center stage to multiple characters and lets them flourish in their own space, like the pieces of a puzzle which, when assembled together, will make the imperfect family jigsaw perfectly complete.
2. Kaul- A Calling | Marathi | Drama
'Kaul- A calling' is an aggressive divergent thinking film that has nihilism & existentialism at its core done in highly unconventional manner. Kaul is a meditation on losing the sanity or attaining the moksha. A visceral philosophical experience that is haunting & horrific in equal measure which leaves you with spiritual ambiguity. He takes the audience for an adventurous ride that is nothing less than a nightmare in itself. This is a kind of a nightmare where complete submission to 'Kaul' will definitely invigorate metaphysical thinking. It will just give you an alternate perspective about how society has created the existential conundrum and seek social acknowledgment for being sane.
Aadish Keluskar's writing is flawless, cerebral and thought provoking. Aadish intelligently stitches mundane but evocative montages to create an eerie atmosphere that adds an extra challenging dimension to an exploratory audio-visual storytelling.Kaul will be celebrated as an unconventional film done right. It is a milestone film in Indian cinema which will have a cult status in the near future.
1. Visaranai | Tamil |  Thriller Drama
There is a scene in the film, where one of the police officers hit on the elbow of a dead body to straighten his stiff hand. You could hear the bone crunching sound. It's a trivial scene shown in the background. But that is the kind of a realistic detailing the film has. Visaranai is a powerful drama devoid of overdramatic moments. It's an example of poetic injustice done to human from within the system. Visaranai seems like a distant cousin of brilliant film 'Court'. Such films redefine cinema and reassure why we love cinema so much in the first place.  It is shocking, brutal, and a very honest attempt at filmmaking that needs to be seen & applauded. One of the finest script that has been deftly handled, a plethora of ironical & metaphors thrown that will disturb you & shock you. By the end, "Police are for the protection of common-man" will sound like a fairy tale.
I am hoping to watch these promising 2016 movies in the following year: Island City, Chauthi Koot, Aandavan Kattalai,Dhuruvangal Pathinaaru.