Iranian movies have always amazed me. With all the restrictions in place, they have still managed to create some of the most artistically dazzling films in the History of Cinema. While The Cow might have been the film that made the world notice their films, the man who should be credited with popularising the Iranian New Wave would be the genius named "Abbas Kiarostami." Martin Scorcese once said, " Kiarostami represents the highest level of artistry in cinema".
The Iranian new wave also saw the rise of auteurs like Mohsen Makhmalbaf, Majid Majidi, Jafar Panahi, and later Asghar Farhadi. These men acted as a guiding light for film-makers who were brimming with ideas but lacked the resources to give shape to their dreams. Here are the Top 10 Iranian Movies of Post Revolution Iran:
1. Close-Up (1990)
The World of cinema has always been fascinated by people who adore cinema. There have been multiple great films about films itself but none of them explores the love for cinema quite like Close Up. "I'm interested in cinema," says a man who tells a fellow passenger that he's a famous director. The rest of the film explores how one harmless lie could change the behavior of people around you and how your perception in the minds of the people changes with your role in society. Shot like a docu-drama, Abbas Kiarostami uses a lot of handheld cameras to give it a realistic feel; through the protagonist, he opens a can of worms about the way society deals with people from different strata and also celebrates the love for films.
2. Children of Heaven (1997)
Majid Majidi's strength lies in the fact that he has mastered the art of keeping things simple. There are no fancy camera angles or deeply rooted philosophies about love and life. Not many people understand kids and their relationship with each other like him, and that's what helps him conjure fairytale-like stories set in a conservative rural Iranian home.
Ali and Zehra are young kids from the poverty-ridden regions of Souther Tehran; coming from a poor family, they can't afford to buy new shoes for the kids. As Ali is returning with his younger sister's repaired shoe, he stops to buy vegetables, but on his return finds the shoe missing. The film follows the story of siblings as Ali tries to buy new shoes for his young sister without burdening his parents. It's a heartfelt film that teaches us compassion. Young Zehra isn't bitter when she finds her shoes with another poor girl. Ali is more interested in winning shoes for his sister than winning any race, and it's a film that doesn't wallow in self-pity and focuses on the beauty of relationships.
3. A Separation
The First Iranian film to ever win an Academy Award for Best Foreign, it's one of those rare Iranian Films that won both the FAJR Award (Iran's equivalent of the Oscars and endorsed by the Govt of Iran ) and the Academy Award. It was universally acclaimed and ended up topping most lists of Best Film of that year lists. The film deals with a couple who are on the verge of divorce.  They live with the husband's father and their daughter. The reason for the conflict is that the husband isn't ready to leave his father, while the wife wants to move out for the better future of her daughter.
The husband is forced to hire a woman to take care of his old father, and their whole life changes as the old father meets with an accident. Even though a drama, this film works best as a slow-burn thriller; with every scene, new facts keep getting uncovered. However, the brilliance of this film lies in how it pits a conservative and religious Iranian against a more liberal middle class of Urban Iran. In one of my favorite scenes, this woman realizes that the old man needs immediate help, but since he's a Male (hence Na-MAHRAM), she asks a religious scholar if it is fine for her to touch an elderly man to save him from possible death. The film uses Separation as some sort of analogy to show the deep-rooted resentment and difference in belief between the different sections of Iranian society.
4. Offside (2006)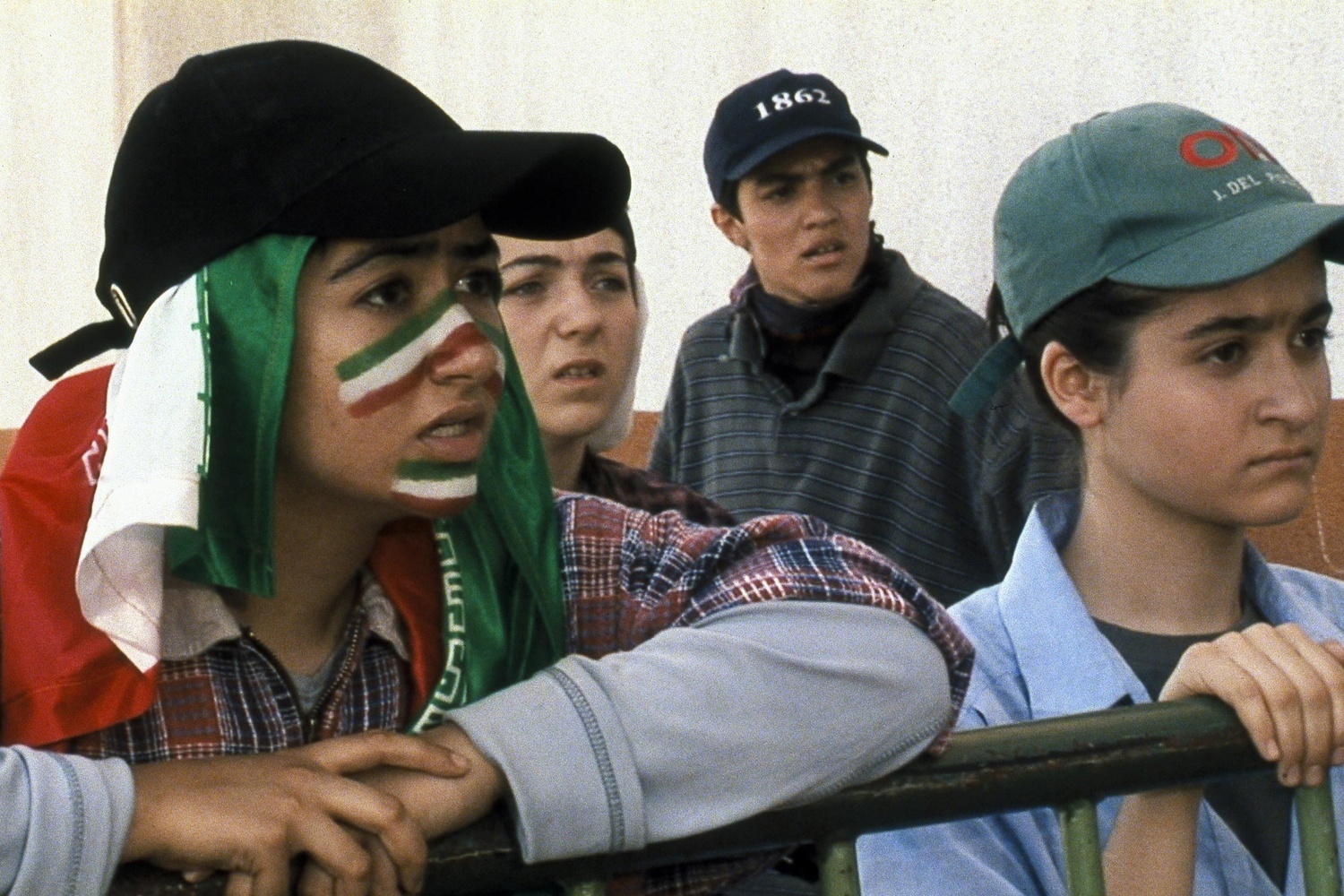 Jafar Panahi has always used his films as a political statement. Even if he doesn't attack the clergy or the Government directly in any of them, his films have always subtly attacked the institutions of his country. While making Offside he was so sure of the fact that his film would be banned that he sent the ministry a fake script to get the license. He even used his Assistant's name as the director. For the first time ever, he used digital video to have a smaller camera. It was a film which was inspired by his daughter who went to watch a game in the stadium.
Its a film about a group of young women (unrelated to each other) who masquerade as men to watch a Football game involving Iran. This issue has gained a lot of attention this year after the death of "Blue Girl" who burnt herself as she wasn't allowed in the stadium and as a result after 40 years finally today Iranian women were allowed to watch a game in a Football stadium. In this film, he uses Football as a backdrop to discuss discrimination and patriarchy in Iranian society.
Unlike most films like these, it doesn't show soldiers who stop them as some barbaric monsters. It shows how they're also tied by the system and at the end of the day, both genders and people on this and that side of the ideological divide enjoy the goals the team scores as much as others. Football is a great leveler and the stadiums should be open to all.
5. Taste of Cherry (1997)
Not many films have dealt with suicide as a concept as deeply and rationally as Kiarostami. His protagonist has lost all love for life and wants someone to bury him. He meets different people starting from a Young Kurd Soldier to an Afghan seminarist to a Turk Taxidermist (all minorities). He requests them to bury him if he's dead and take money in exchange, Everyone tries to show him a different perspective, but he's not interested in sermons.
What makes the film interesting is that at no point of time does the director explain the reason behind his unhappiness. In a conversation with the seminarist, he admits that suicide is a deadly sin. But in his opinion, it's no worse than being unhappy as unhappy people make everyone unhappy. It's a film that provokes existential questions. Should one be allowed to take his life? Is anything worth it? What is worse? A life full of unhappiness or death? The man comes across as rich as he's ready to pay a huge sum to just bury him. So, what made him so depressed? The protagonist appears convinced that his death is the only solution, but when a man finally decides to take up his offer, his apprehension is visible. The film has a polarising finale which should rather be seen, but even if we ignore that, its a masterpiece.
6. Ten (2002)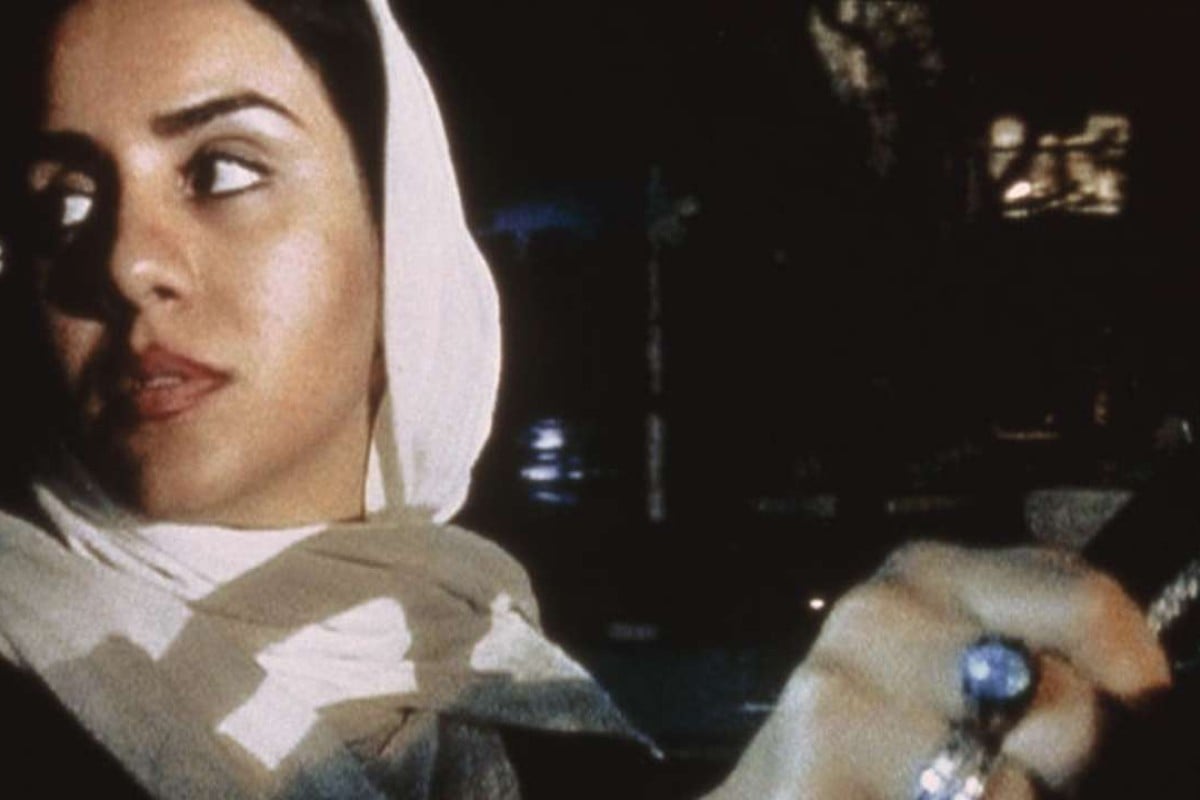 Once again Kiarostami displays his genius using his favorite two objects – A camera and a moving car to create a truly ingenious piece of art. In this film, a female driver meets 5 different people in 10 different episodes. In the first episode she picks up her son and for the first 17 minutes, the focus is just on the son. The son finds her selfish and a liar as she's getting a divorce from her father.
Next, she meets her sister and they discuss her marriage. Next, she meets a religious woman who goes to a mausoleum every day to pray and only desires to go for a pilgrimage. She has given all her money in charity and still seems to have a feeling of contentment. The next passenger is a Prostitute who is totally disgusted by society and their laws. That women's face isn't shown. She shows contempt for the system and questions the loyalty of men. In the next episode, she meets another woman going to the Mausoleum as she wants to get married to her lover.
In the next four episodes, she again meets her sister, her son(twice), and the woman who wanted to get married. He tries to present every side of the argument: while there is a Prostitute who hates society and religion, another woman finds her calling in faith, the third one is conflicted but still prefers to pray, even if even her lover fits the definition of men described by the prostitute. Interestingly other than the Young Kid – who hates his mother, and thinks his father should re-marry as his stepmother would be obedient, a good cook and won't be so outgoing. He insinuates that patriarchy is so deep-rooted that it starts at a young age. The film looks at various sections of society and presents their beliefs as a neutral observer caught in their conflicts.
7. About Elly (2009)
A group of friends visit an island on the Caspian Sea. They bring along the families with their kids. One of them brings with her the kindergarten teacher of her daughter as she plans to act as a matchmaker between her and her divorced friend. They all seem to be having a great time until Elly (the teacher) is asked to look after the kids playing near the sea and then in the next scene she disappears. It's unknown whether she drowned or left for Tehran, and that leads to a blame game between the friends. Secrets get unwrapped, old wounds resurface and then enters a man who says he was engaged to Elly.
It is an interesting film where an accident or an event leads to confrontations and conflicts. Once again Farhadi merges the genres of drama and suspense and creates an edge of a seat thriller. Much like his most acclaimed work – A Separation, the performances are constantly engaging, and this was possibly the last major film starring Golshifteh Farahani in Iran. And as usual, she's at the top of her game.
Related to Iranian Movies –  
8. The White Balloon (1995)
A young girl wants to buy a goldfish on Eid. She believes the goldfishes in her pond are very thin and unattractive. Her eyes are set on the goldfish she saw on a roadside shop. She keeps bugging her mother and eventually she gives in to her request. The cost of a Goldfish is 100. Her mother gives her a 500 Toman note and asks her to get the change back. On her way, she meets some snake charmers who hoodwink her and takes the money. But he eventually returns it. On her way to the shop she once again drops the 500 Toman note. The shopkeeper says he will reserve the fish for her and a good old foreign lady helps her find the money.
Eventually, they realize its stuck within the gutter and the rest of the film explores their attempts to get back the money, in their quest to take out the note they meet a shopkeeper, a soldier, and an Afghan balloon seller. They all try to help the little girl and her brother to take out the money. The beauty of this film lies in the world it creates. It's very vivid and gentle. Its populated by nice people who all try their best to help the little girl but beneath the layer of innocence, it always gives us a glimpse into the world of migrants. It's one of those films which always found its way to the television screens on Eid day in Iran.
9. Turtles can Fly (2004)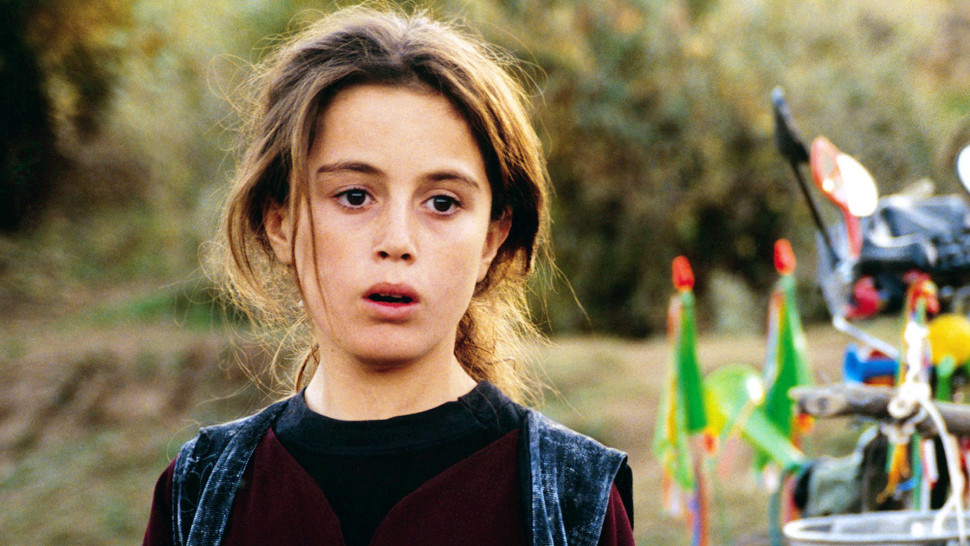 Bahman Ghobadi's film about Kurdish kids living on the border of the Iraq-Turkey border during the US Invasion is heartbreaking and deeply affecting. A 13-year-old known as Satellite for installing Satellites and dishes is the leader of his group of delinquent kids. He organizes clearing of minefields and is in love with a young girl who lives with her brother and young toddler. She's distressed and saddened by some events of her life and can't seem to get over them. As the film unravels we discover the relationship between the toddler and the siblings also and the story of her past trauma. It is a film that showcased the horrors of war and also showed us the plight of the Kurdish community.
Other Iranian Movies –  
10. The Lizard (2004)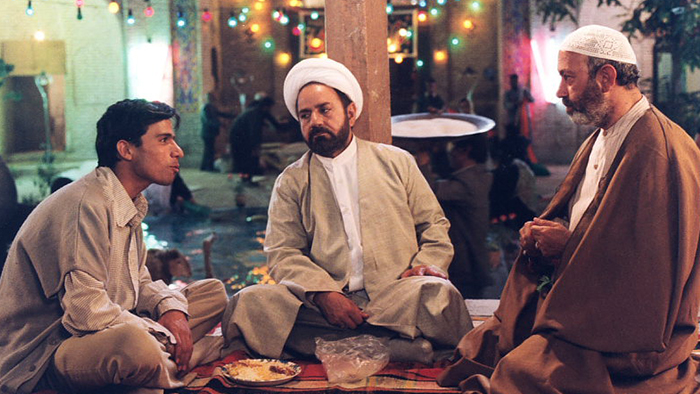 All the films that I have mentioned in this list are/were festival darlings. They won a lot of international awards and achieved a lot of fame overseas. The Lizard, on the other hand, was a mainstream Iranian Film released in theatres on Eid. It followed all the templates of a mainstream entertainer. There was a generous sprinkling of Comedy, drama and even an action sequence. But in spite of maintaining a facade of being an entertainer, this film satirized the religious clergy and the system far more than any other film.
It's a film about a guy who is popularly known as The Lizard as he can climb walls. He's a thief and has been jailed, in his attempt to escape from prison he hurts himself. A religious cleric is on the other bed, while the cleric goes to take a bath he escapes from the Hospital wearing the Religious man's clothes. He realizes that when he's wearing this suit, people tend to respect him more. When he's sitting in a taxi the police don't charge the driver for over-speeding. Police-Men are ready to drop him home and he gets the best seats in the Train. He reaches a village where he becomes their new Religious Guide. Interestingly for him, he doesn't even know how to offer Namaz and now he's leading the prayers and sermonising.
There are some extremely intelligent scenes. My favorite being the one where he realizes he has to lead the prayers and he says "Bismillah" and then just starts murmuring. Or when he's asked a religious question and he throws the question to other public – as if testing their knowledge. In one of the sequences, he sits on the Pulpit as a religious scholar and starts discussing Pulp Fiction like its some religious book. The biting satire of the film didn't go unnoticed and the film was banned after a few weeks.  But till then it had achieved cult status among Iranian film lovers.  It is a must-watch.
Iranian Movies Honorable Mentions: Colours of Paradise, Wind Will Carry Us, Through the Olive Trees, The Songs of Sparrow, Gabbeh, Safar-e-Kandahar, Ekhrajiha, The Salesman, Fireworks Wednesday, M for Mother, I'm Taraneh – 15 years old, Baran.