25 Most Memorable Movie Fathers of The 21st Century
The relationship between a father and his kids is strangely beautiful. Unlike the relationship you share with your mother, this is a pretty complex one. In one lifetime, the dynamics between you and your father keeps changing. Sometimes he plays an Authoritarian Teacher, on other days, he is a pal who is throwing balls at you. When you grow up, you two start behaving like acquaintances with little exchange of words until one day you see the wrinkles on your old man's face and realize that now is the time for role reversals. The Child becomes the father and the father becomes the child. Here's to the wonderful fathers, listing down 25 Most Memorable Movie Fathers of The 21st Century:
Paddy Conlon | Warrior [2011] | Played by Nick Nolte
In Gavin O'Connor's 'Warrior' Nick Nolte plays Paddy Conlon. An alcoholic, abusive father of two ex-fighters, seeking for some kind of forgiveness and salvation. The role is specifically strong and powerful because it echoes real close to what Nolte experienced in his real life. The raw, real energy that he brought to the screen made you vouch for him in spite of all the wrongs he might have done in the past.
Matt King | The Descendants [2011] | Played by George Clooney
Alexander Payne's 'The Descendents' would be a sad story of grief if it wasn't for his witty writing and George Clooney brilliant central performance as Matt King, a land baron trying to reconnect with his two daughters after a tragic loss hits them. Matt King is about a man trying to understand all the feelings that run through his head. The feelings that could make him a good father and a better human being.
Karim | The Song Of The Sparrows [2008] | Played by Mohammad Amir Naji
Majid Majidi's The Song Of The Sparrows is an unforgettable film for me. A father running through a field with a blue door is probably one my favorite images in cinema history, ever. Majidi's film is about Karim, an Ostrich-rancher who is fired from his job and had to go back and forth from his village home to the city of chaos in order to get his daughter a new hearing-aid.
Marlin | Finding Nemo [2003] | Voice by Albert Brooks
Andrew Stanton & Lee Unkrich's 'Finding Nemo' is a story about a father's journey to find his lost son. Marlin is a loving father, one who is too overprotective at times for his son who's curiosity to know the world gets the better of him. The film was about Marlin's struggle to investigate new and dangerous water to find his son. A beautifully animated ode to fatherhood.
Mr. Perlman | Call Me By Your Name [2017] | Played by Michael Stuhlbarg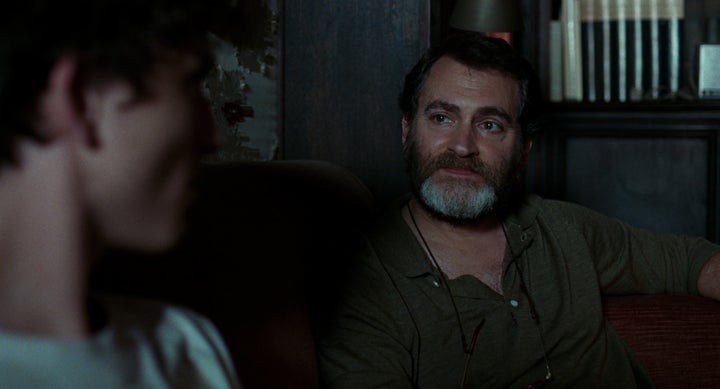 If you were not moved by Michael Stuhlbarg's little pep talk in the 2017 coming-of-age charmer Call Me By Your Name, I have only one question for you – Are you even human? Playing a historian who takes up a summer intern every year in his vacation home in Italy, Stulhbarg was calm, composed and incredibly mesmerizing while playing the dad to a confused 17-year-old on the cusp of understanding heartbreaks and all the simplicities and complications of first love. In doing so, he gave us one of the most amazing on-screen dads in any film ever. 
Big Daddy/ Damon Macready | Kick-Ass [2010] | Played by Nicholas Cage
Matthew Vaughn's  Kick-Ass features one of the better roles that Nic Cage has played in recent times. Playing the father to the amazing 'Hit-Girl', Big Daddy was not the usual daddies in the town. He was overprotective of his kid, neither did he care to tell her wrongs if they were any. Big Daddy is memorable because he is exactly the opposite of all the superhero movie dads.
Mike Sullivan | Road to Perdition [2002] | Played by Tom Hanks
Sam Mendes's Road To Perdition, was about Mike Sullivan, a loyal hitman who starts questioning his job,
loyalty
, and duty as a father when his son witnesses one of his killings. Featuring one of the best Tom Hanks performances till date, Mike Sullivan's transformation in this tragic tale is one of the high points as to why he makes it to this list.