Over the last thirty years, Hayao Miyazaki (and his company Studio Ghibli) have given us some of the greatest movies that the world of animation has seen. The Japanese animator and storyteller started his journey as a television director back in 1971 and since then has transitioned into one of the best-animated filmmakers the world has ever seen. Over the years, his imaginative, vibrant, and other-worldly cinema has been a treat for audiences and cinephiles alike. Scroll through his filmography on Rotten Tomatoes, and you'll not find any of his films that have been rated below 80%. It is a small sign of his worldwide stardom and how his movies have deeply impacted people around the world. We focus on his directorial efforts, which started with the caper film "The Castle of Cagliostro" in 1979 to the controversial "The Wind Rises" in 2014. Believe me when I say this; it is impossible to choose the best from his genius filmography, and that is why I have not ranked these films. So, let's have a look at the animated output from this legendary animator, and strongly hope that he comes back from retirement again and again!
1. Princess Mononoke (1997)
With "Princess Mononoke," Hayao Miyazaki attempted a more primeval and adult-focused animation. From the get-go, the film immerses you in a world beyond imagination with otherworldly creatures thrown in, along with splendid visuals. Miyazaki uses these elements to make a remark on real-world issues that are insightful and, at the same time, thrilling as well.
Princess Mononoke tells an epic story set in medieval Japan at the dawn of the Iron Age when Gods and Demons are locked in a struggle to take control of the unspoiled forest. The story follows Ashitaka, a young warrior who is cursed and banished from his village, after which he journeys to the forests. There, he meets the titular princess and falls for her while the war wages between humans and forest spirits. The concept of man vs. nature is not new to the film industry, but boy, has it been executed as well as it has been here by Miyazaki. Princess Mononoke is absolutely enchanting and breathtakingly beautiful and probably the finest impression of Miyazaki's visual creativity. Personally, my favorite Japanese anime of all time and one of the best-animated movies the world has seen till now.
2. Spirited Away (2001)
Acting as a variation on a classic fairy tale, "Spirited Away" takes the basic premise of Alice in Wonderland and mutates it into something fantastic, uncanny, and unique. It follows the story of Chihiro and her parents, who are turned into pigs while eating at a restaurant, and drift into an alternate universe where everything seems to be disguised as something else. The spoilt ten-year-old then takes a job in a bathhouse that is owned by a wizened old crone and pledges to end her parent's nightmare.
Odd and hauntingly beautiful, Spirited Away is a testament to Miyazaki's mastery as a storyteller that the coming-of-age narrative is never overshadowed by the magical realm with all its magic and menagerie of creatures. While capturing the moment of fresh-faced adulthood, Miyazaki and his hyper-detailed art uplift Spirited Away into a masterwork. It is this detailing that makes it a dazzling and gorgeous piece of cinema.
3. Howl's Moving Castle (2004)
Loosely based on the book by English author Diana Wynn Jones, "Howl's Moving Castle" is a treat to the eyes and a tremendous visual achievement. It tells the story of Sophie. A young milliner who has a spell cast upon her making her old. She then falls in love with a handsome, troubled wizard during a time of war.
This backdrop is what gives the film its unique structure (like many other Miyazaki films!). Hayao Miyazaki publicly stated that the film responded to the widely unpopular Japanese involvement in the Iraq War. It was also called 'the strongest anti-war statement' at the Venice Film Festival, where it debuted. But given all this subtext and the fact that this is not the weirdest or purest echo of the director's filmmaking, it is still one hell of a ride with all the fabulously imagined visuals (the design of the castle itself is stunningly convoluted), and some whacky and grotesque side characters.
4. Porco Rosso (1992)
This animated 1992 adventure introduces us to an unlikely hero: a portly, chauvinistic seaplane pilot with the head of a pig. Yes! you read it right, a pig! Once an ace fighter pilot, Porco/Marco abandoned the Italian military and now works freelancing. He makes his living as a bounty hunter based on an island in the Adriatic.
The film works admirably well as a depiction of a sort of Bogart-Esque cynical hero, who believes that he's only out for himself, but who gradually shows his heroic side via a series of adventures. Amidst all this, he meets an innocent and talented young female engineer Fio with whom he flies and gets entangled in an old rivalry with another pilot. The animation is delightful, colorful, and detailed, with the flying sequences in seaplanes exhilarating and providing a skydiving spectacle. Porco Rosso is a broad comedy with a melancholy edge, exploring themes of sorrowful masculinity and displaced heroes. It's solid Miyazaki, although he has reached greater heights both before and since this venture.
5. Kiki's Delivery Service (1989)
Kiki's Delivery Service immaculately fuses elements of fantasy and mild life crises into a children's story. It follows the titular Kiki – a young witch who has reached the age of 13 and is expected to leave her home and live on her own in another city as per tradition. Accompanied by her cynical cat Jiji, and with a wobbly hold of broomstick aviation, she winds up starting an airborne delivery service for a bakery and befriends and falls for a local boy who is crazy about aviation.
Kiki's Delivery service gently raises universal coming-of-age issues such as independence, insecurity, and sexuality. It is a little and probably one of Studio Ghibli's more simplistic films about a young girl learning to believe in herself and overcome her insecurities while finding a place in an unknown world. The film is downright charming and very sweet-natured, but it can sometimes come across as tedious: the conflicts are relatable but so internal that it feels a little undramatic in places, and while typically beautiful (not least in the stunning flying sequences), it doesn't come across as Hayao Miyazaki's most distinguishing feat of world-building.
6. My Neighbor Totoro (1988)
This might be Miyazaki's most iconic work to date. Partially because the character of Totoro, a giant, magical rabbit/cat creature, has become the de facto mascot for Studio Ghibli. My Neighbor Totoro is set in post-war Japan, in a rural village, and tells the story of two sisters, Satsuki and Mei Kusakabe, who, along with their father, move into a new house near the forest so they can be closer to their ailing mother. Readjusting to the unfamiliar surroundings, they encounter a host of cuddly forest spirits, invisible to grown-ups.
Totoro is a definitive work of imagination and might be the most genuine, lovable creation in movie history. The film, at times, feels like a delicate illustration of the atmosphere which captures the wonders of childhood with sweeping strokes. The design work on the magical creatures is nothing less than miraculous, and the magical realism tone is surreal, to say the least. This heartwarming family fantasy is a recommended portal to the rich, bright, hand-drawn universe of Miyazaki.
7. Castle in the Sky (1986)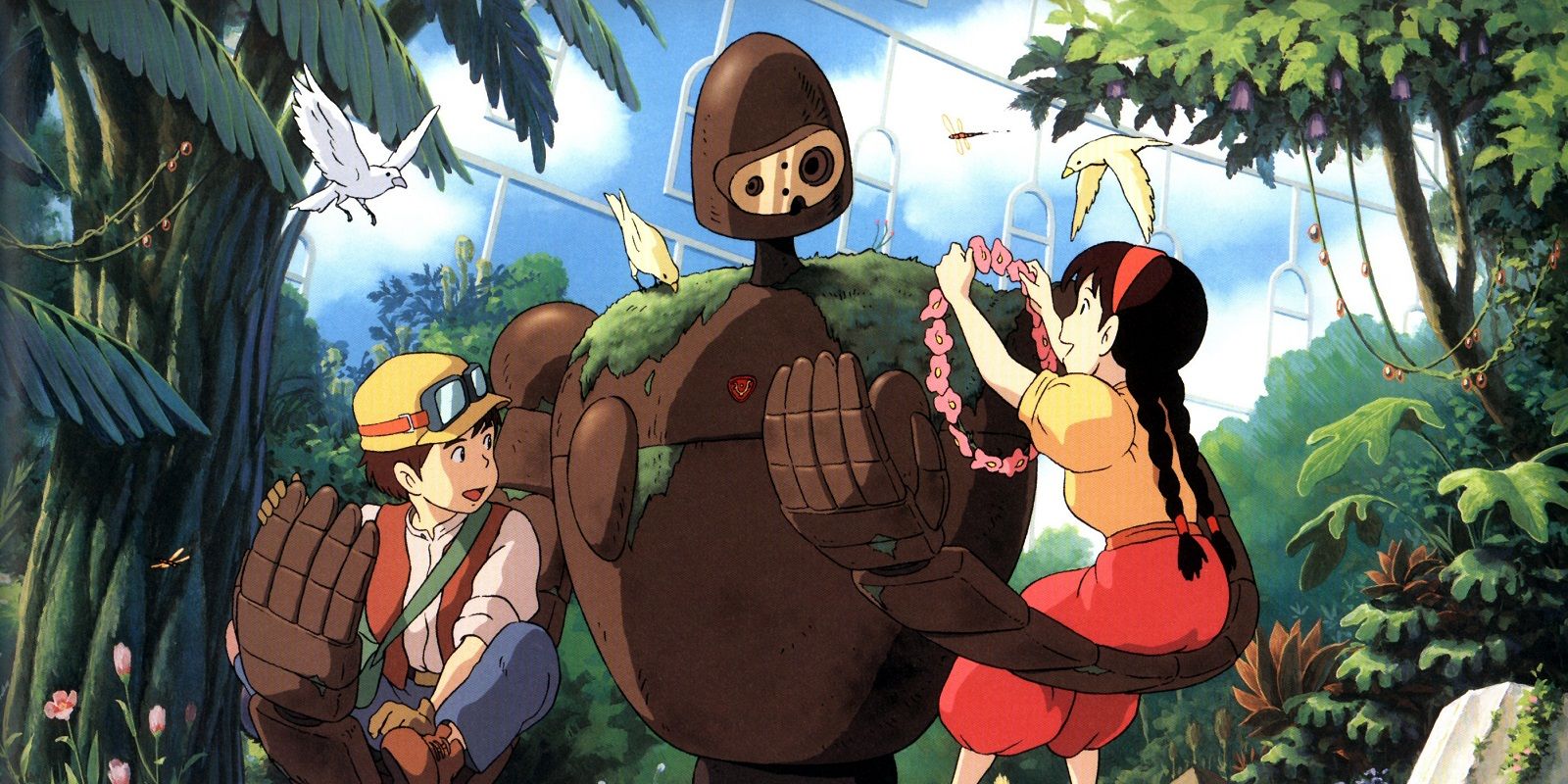 The first one from Studio Ghibli's kitty, "Castle in the Sky," is certainly Miyazaki's most rip-roaring action-adventure. One that competes with any present-day biggie for extravaganza and dazzling set pieces. The plot brings together a young girl, Sheeta, who has a magical amulet in her possession that allows her to float in mid-air, and Pazu, a boy in a small mining tower who's committed to taking to the skies and finding the legendary lost flying city of Laputa that his father once found. Together they outrun pirates and government thugs in airships to return the fallen highness Sheeta to her place in the sky.
Castle in the sky will remind you of many other space sagas with its fast-paced sequences and battles. Miyazaki goes full ballistic here with a heady mix of comedy, romance, and non-stop spectacular action scenes. A film that levels action and adventure with moments of introspection, and broad comedy with instances that are genuinely moving, it's a worthy and fantastic addition to Miyazaki's illustrious history.
8. The Wind Rises (2013)
The Wind Rises presents a relatively straightforward fictionalized biography of Zero fighter plane designer Jiro Horikoshi during World War II. With its bleak historical canvas and controversial subject matter, with many claiming that it sympathizes with a warmonger who built killing machines, the movie takes flight with its ambition and imagination.
The Wind Rises is more of a grown-up feature in contrast to the childlike joys of its predecessors like Ponyo and My Neighbor Totoro. Miyazaki doesn't try to whitewash the warfare executions of Jiro's creative designs and instead sticks close to Jiro's journey, which spans his dreams, his schooling, the trip to Germany, and his relationship with Nahoko. The director has spent his entire directing career articulating his feeling for flight as a romanticized experience full of wonder and awe. This film is a prime example of that. The Wind Rises would have acted as a fittingly bittersweet swan song for director Hayao Miyazaki (It was going to be the last film he would direct, but now we know How do you live? has been confirmed by Studio Ghibli and is under production! and will possibly release in 2023). Still, it is always good to have another one from him, right?
9. Nausicaa of the Valley of the Wind (1984)
Set in a post-apocalyptic landscape, poisonous gas and a creeping jungle with giant bugs threaten to wipe out whatever is left of humanity. The titular character Nausicaa is a free spirit who rides the sky and gets caught between the warring factions who are struggling for survival. "Nausicaa of the Valley of the Wind" pitches those themes and ideas which will become a trademark of Miyazaki's films: an environmental communique, a strong female protagonist, and hyper-detailed fight sequences.
This is Miyazaki's second feature as a director, but it is so sprawling and vividly imaginative that it feels something ahead of its time. There is abundant mythology to be found in the plot here, and it does concern the basic good vs. evil tone, but it is not depicted in the simplest of ways, given its moral complexity. Nausicaa of the Valley of the Wind is not only a splendidly done animated movie but an equally phenomenal piece of science fiction.
10. Ponyo (2008)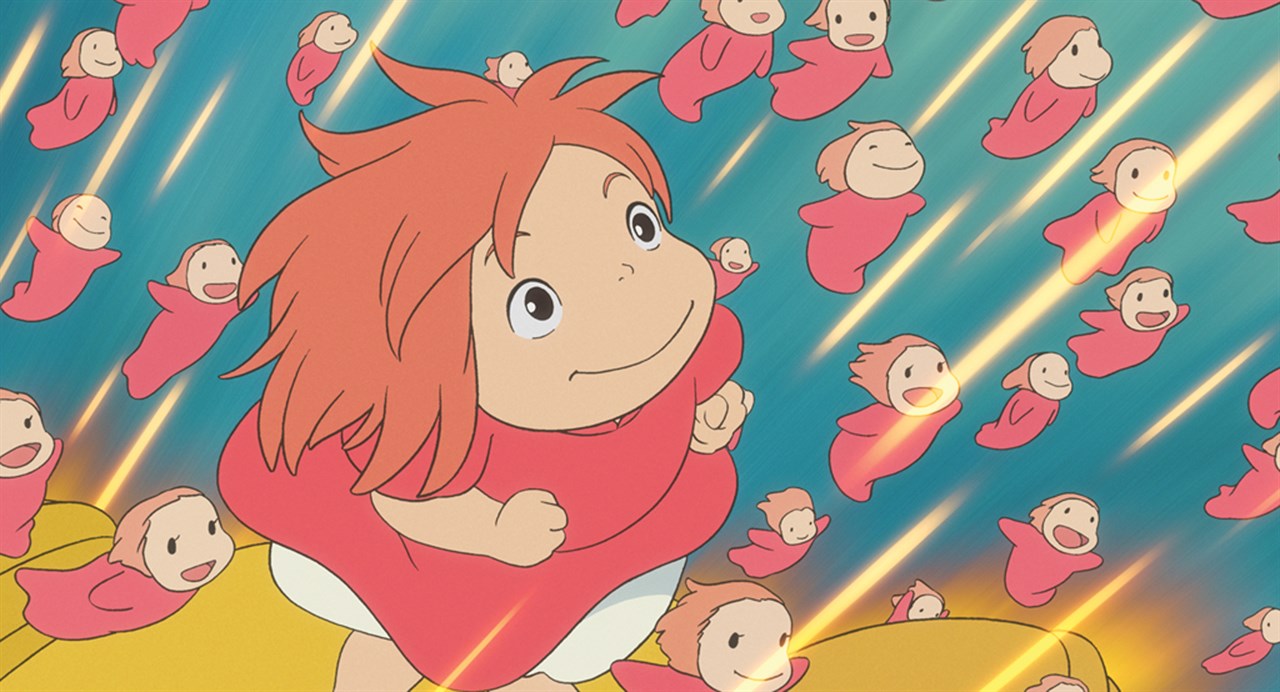 "Ponyo" with its poetic flow and fairy-tale tone, can be described as a fascinating and bizarre take on The Little Mermaid. Ponyo tells the story of Sosuke, a 5-year-old boy who finds a goldfish on the beach trapped in a jar. This goldfish is Ponyo, and she is a half-fish/half-human daughter of the sea. He befriends Sosuke and gains the ability to transform between a human and a fish.
With a simple narrative and other-worldly charm, Ponyo caters more to the younger audience, and mood and texture take the upper hand over the plot, as is the case with Miyazaki's films. The fluidity of his hand-drawn animation dazzles every time, and it's no different here. The undersea visuals are just gorgeous to look at, and coupled with Miyazaki's delightful eccentricity, it elevates Ponyo to the level of fantastical.
Special Mention:
It will be an insult to Hayao Miyazaki if I don't mention his first film on this list. Also, it is the only one remaining from his far-reaching and influential filmography of 11 films! The film's overstuffed narrative moves like clockwork and makes it sort of a forgettable cartoonish caper film but 100% entertaining, nonetheless. It is wildly imaginative and stylishly executed with some great action sequences (that first crackling chase scene is just the start). "The Castle of Cagliostro" sets the foundation of Miyazaki's works that will follow and gives us a glimpse of what the master of animation had in store for us.