The Best Netflix Original Movies of 2019: Netflix has long since been surrounded by controversy from both the representatives of the Hollywood and the viewers, with criticism going towards the content. Despite the hurdles though, the giant streaming service managed to stay afloat. In fact, 2018 has been a great year for Netflix, with Alfonso Cuaron's black-white drama Roma being nominated for the 91st Academy Awards, going on to win in three categories out of the 10 total nominations. Check out our list of the Best Netflix Original Movies of 2018 here. 
In the first half, the Netflix Original Movies content quality has been mixed. Dan Gilroy's highly anticipated supernatural thriller Velvet Buzzsaw, satirising artistic creation, and starring Jake Gyllenhaal, is a hollow and superficial mess that has an absurd narrative which only gets funnier as the supernatural element kicks in. Jonas Akerland's slam-bam action-thriller Polar, starring Mads Mikkelsen (popular for his role as Dr Hannibal Lectar in Hannibal) was disappointing as well.
Netflix picked many substandard movies for distribution. The worst would be forgettable and unfunny Romanian sex-comedy Oh, Ramona!. The Korean muddled supernatural thriller-horror Svaha: The Sixth Finger. Phoney throwback to 80s kid drama 'Rim of the world.'
So far, I found only a handful of the original content movies, to have worked for me. While I have hopes that Netflix will match the success of Roma, Private life and Sunday's Illness, within their content for the remaining two quarters, I would like to take a look at the movies I have loved so far, from 2019.
Here are the Best Netflix Original Movies of 2019 that I have loved.
Honourable Mention
I Am Mother | Grant Sputore | Sci-Fi Mystery
I Am Mother is a straightforward, linear but tense and intriguing, low-budget dystopian SciFi that examines the relationship between AI and a human. Even if it lacks the psychological heft of Ex Machina, the film explores the moral and ethical quandary of AI, the motherly figure, and Daughter (Clara Rugaard), and familial shifting dynamics.
The Perfection | Richard Shepard | Psychological Thriller
'The Perfection" is a curiously paced and ridiculously entertaining psychological thriller. It benefits more from the revelation of the twisted minds at work than it does from the narrative that is manipulative and preposterous. The concealed motive of this partly erotic and partly revenge piece keeps a perpetual tension without giving slack to think over its absurd subplot.
The well-chiselled aesthetics of campy horror and the psychedelic sound design, both add to the thrill. Read the complete review of The Perfection.
The Great Hack | Karim Amer, Jehane Noujaim | Documentary
Netflix documentary 'The Great Hack' focuses on the investigation of Cambridge Analytica, the infamous British data-mining firm that harvested raw data from Facebook to fuel the raucous and racially-charged campaign of Donald Trump in 2016 U.S. election, and also supposedly played a key role in pushing a pro-Brexit agenda in the UK.
It might not be a technically sound documentary but it is definitely an important one to come out this year. If you do not believe in preserving your data right, this gives a good insight into why you should start caring for it from now onwards. As Professor David Carroll rightly said, data rights should be the new human rights.
15. Furie | Le Van Kiet | Action
Le Van Kiet, popular for his stylized horror film Ngôi Trong Hėm (The House in the Alley) and  "Gentle", based on Dostoevsky's literary work, returns to his third project – Furie (Hai Phượng), a hyper-stylized, high octane martial art action film that shares the DNA with Taken (2008). Like Bryan Mills, Hai Phuong (Ngô Thanh Vân) is on a hunt to track down the kidnappers of her 10 years old daughter.
Furie could have been a game-changer in the genre of action thrillers revolving around kidnapped children and parent on a trail to get them back. But instead, Le Van Kiet plays it safe with the already tested template and giving it a matriarchal spin that works in its favour. Best suited for the television, Furie could not find better space than Netflix distributing it. Continue reading the review of Furie. 
14. Fyre | Chris Smith | Documentary

Fyre is an embodiment of ideas and lessons. You choose what you want to see, and importantly, learn, from it. It's a terrific character study of a person that swindles everyone from a young techie to smart investors, with his calm demeanour and charming personality.
He lies even when he is sinking, he is incompetent and an ignorant who makes Bernie Ebbers look mediocre. Even in the moment of failure realization, he won't own up.
The character is either overconfident about his ability, or a completely insane person. Chris Smith captures the failure quite beautifully, but the lingering horror of financial failure, due to the stubborn attitude of an egomaniac, makes it spooky. 
13.  Klaus | Sergio Pablos | Animation
Creating a goofy, endearing Santa origin story and giving it an emotional, fluffy arc that very well works within its realm, Klaus is a surprise, a good one, a mushy one, that never takes itself seriously and play it safe. It works. The charm works. As entertaining as the Klaus is, the socio-political subtext of the narrative is starkly real in the film. A secluded town on an island divided by hate, for no reason. No education, dilapidated houses, marginal living condition. All because a bunch of idiots derive the pleasure out of it. And no one questions them. Things changes when Jepper, a rich, good for nothing dude is posted as a postman. It's a good film that should be enjoyed for what it is despite all the mushiness.
12. All in my Family | Hao Wu | Documentary


"All In My Family" is an intimate and charming documentary on a subject that would make a good tragic plot. The director and writer Hao Wu is a Chinese born American who left China, as his conservative family and society struggled to understand homosexuality as a normal living state.
Hao Wu isn't interested in showing the uproar and emotional hassle, and how he recuperated after coming out to his parents, and how his parents embraced him as a gay. Rather, he weaves a delightful, often funny, and moving account of him expanding his family: having surrogate kids and introducing his husband to the family on Chinese New Year. 
11. Dolemite Is My Name | Craig Brewer | Comedy
'Dolemite is My Name' is unadulterated, rambunctious fun, and hugely entertaining from start to end. It's bold and irresistible. Eddie Murphy owns the screen as if there's no tomorrow. It's an underdog story of a resident MC trying to find a space in stand-up comedy. It's a story of a passionate artist who just wants to be heard and seen, and he chooses cinema as a medium to express himself. It's a celebration of a life propelled by cinema. Watch Dolemite is My Name on Netflix.
10. Knock Down The House | Rachel Lears | Documentary
In what could be the most redefining and inspiring moments, Alexandria Ocasio-Cortez tries to console Democrat candidate Amy Vilela and says, "It's just the reality that in order for one of us to make it through, hundred of us have to try."
That is precisely what the whole movement was about: challenging the incumbent Democrats, who have taken their position for granted over the years, and who have played according to the industrialists funding rules.
The challengers seek to make heard the voices of both the working class and the women in general, who have been held as pawns in American Political History, and so the success of this movement would redefine the rules of politics.
Rachel Lears weaves a stimulating and inspiring documentary. She fleshes out the confidence and vulnerability of all four candidates, along with their personal arcs which would connect with everyone, irrespective of political ideology. As AOC said, they were not there to make a statement, they were to win. 
9. High Flying Bird | Steven Soderbergh | Sports Drama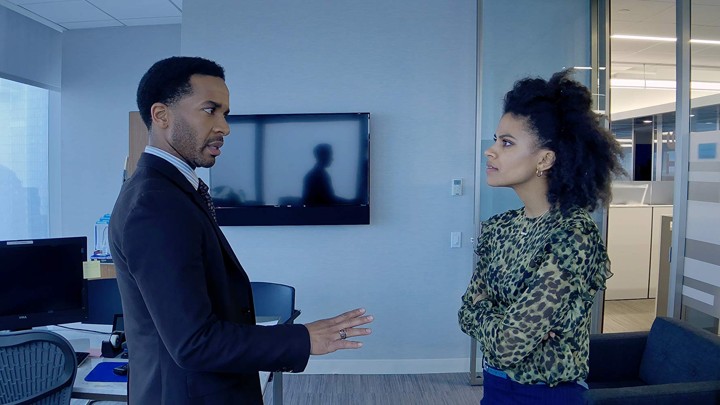 After being fired from 'Money Ball', which was a back-office sports drama, Steven Soderbergh internalizes Aaron Sorkin's masterful writing and directs a micro-budget Netflix film on iPhone.
High Flying Bird is a taut, chilling film that moves at a breakneck pace, and keeps the audience in the grip of the unravelling layers, connected in its bigger scheme. After a lockout between the NBA and the athletes, another sort of game is played, outside the field, and it puts the mechanics of player management on display.
8. The Edge of Democracy | Petra Costa | Documentary
Brazilian documentarian Petra Costa's complex and cautionary Netflix original documentary, The Edge of Democracy (2019) addresses the imperceptible yet persistent erosion of democracy in her native country. Petra Costa is the maker of two lyrical documentaries ('Elena' and 'Olmo & the Seagull') which astoundingly blurred the lines between fiction and non-fiction.
While her previous two documentaries are a very intimate portrait of insecure women, with Edge of Democracy she takes a sweeping look at the controversies surrounding Brazil's contemporary politics. At the same time, Costa also observes how the current paradoxes in Brazilian politics seem to 'run through her family', since her parents were radical political activists dissenting against the military dictatorship (1964-1985), whereas her construction firm-owning maternal grandparents were part of the oligarchic system. Read the complete review of The Edge of Democracy Netflix.
7. The King | David Michod | Drama
David Michod's Shakespearean adaption of Henry IV Parts 1 and 2 and Henry V, categorically weaved together with a coming of age tale is a straightforward drama. The emotional nuances, psychological depth and political motives are kept subtle in the narrative that it almost feels non-existential. Timothee Chalamet is impeccable in his understated performance as Henry V.  Chalamet's arc seems a linear graph, but, in fact, it is so layered and governed by an individual's selfishness and corruption. Robert Pattinson and Joel Edgerton are terrific in their small roles.
6. Paddleton | Alexandre Lehmann | Comedy Drama
Paddleton, the sophomore feature film of cinematographer turned director, Alexandre Lehmann, is brimming with bittersweet, poignant moments, and a deadpan conversation that carries existential philosophy, as seen through the lens of pessimism.
Like Blue Jay, Paddleton is a two-hander, about Michael (Duplass), and his neighbour Andy (Romano), who lives above him in a shabby pea-size apartment.
Avoiding the sentimentalism the genre tropes, and without spicing up the plot with any major conflict, Paddleton is one of the best Netflix Movies of 2019 that promises a better future for American Indie cinema. Read the complete review of the film – Paddleton [2019].
5. The Two Popes | Fernando Meirelles | Comedy Drama
In the backdrop of  Vatican leaks scandal that rocked the Catholic Church in Vatican City, Fernando Meirelles crowns a character study of an Archbishop Bergoglio [played by Jonathan Pryce] and Pope Benedict XVI [played by Anthony Hopkins]. He takes us in their amusing, often riddled with existential and spiritual crisis, journey to showcase their vulnerable humane aspect that is often ignored in films. A pope-mance between two individuals who can't get along with each other are pushed to resolve their personal difference for a better future of Catholic Churches. Laced with two incredible performances and dash of organic humour, The Two Popes is one of the best comedies of the year.
4. Soni | Ivan Ayr | Drama
After receiving a standing ovation at the 75th Venice International Film Festival and travelling to several other film festivals, Netflix picked up Soni and distributed it as their Netflix Original Program.
Soni is a micro-budget drama that smartly constructs the narrative around two women police officers, seeking to highlight the deeply rooted patriarchy and insufferable hierarchy that widens the gender gap.
It addresses heavy topics, ranging from gender prejudice and sexual harassment to the power distribution on different levels. Ivan Ayr avoids theatricals and sensationalism, and roots the film in a realistic milieu, further solidified by the two moving, nuanced performances that have already gone unnoticed this year.
3. The Irishman | Martin Scorsese | Gangster Drama
It's a wet dream for any cinephile to see Martin Scorsese in his usual element, but taking a less travelled path, and making a gloomy, elegiac gangster drama that reflects regrets and poor choices with an underlying mournful tone to it. The sprawling narrative is rich in detail, enthralling and awe-inspiring, and the dream cast makes it impossible to even blink once in its 210 mins running length. The last hour of the film is cathartic and moving in a way no other Scorsese film is. 
2. Alles ist Gut | Eva Trobisch | Drama
'Alles ist Gut' aka 'All Good'/'All is well' is artfully restrained, incredibly acted and masterfully edited. In her debut feature film, the film-maker from East Berlin, Eva Trobisch, weaves a mature narrative with a psychological complexity that leaves the audience distressed.
Aenne Schwarz's performance is nuanced, deftly observed and intricately behaved. She gets into the skin of the character and owns through the movie, right to the incredible and ambiguous close up at the end. Trobisch uses observational language to examine Janne.
Her approach on the complex subject is intimate and elementary, and therefore, it strikes much deeper in the conscience of the audience. Continue reading the complete review of Alles ist Gut.
1. Marriage Story | Noah Baumbach | Drama
It will be difficult for any other Netflix Original Movie to better 'Marriage'. It is not only the Best Netflix Original Movies of 2019 but also the best movie of 2019 (so far).
Noah Baumbach reimagines Kramer vs Kramer having the soul of Woody Allen's writing but still, it's very much Baumbach's film. Ironically titled, Noah, implicitly examines what makes the marriage work in the first place explicitly observes the absurdities and ugliness of it falling apart. If marriage is the first step towards divorce, is divorce an end of a relationship?