Here are the 10 films that made it to our 12th edition of our 'HOF-Men Recommend' Series. You can check out the 11th Edition here.
1. Bob Le Flambeur | Director – Jean-Pierre Melville
The influence of Jean-Pierre Melville's Bob le Flambeur can be traced in almost every heist film, particularly in Ocean's series. It would not be wrong to attribute the inception of French New Wave to Melville which is often crowned to Godard. Melville sketches the character of Bob – the gambler with humanistic values, rather than making him a straight-faced monotonous villain in the narrative. He gradually raises the stake for Bob by making his character accessible for emotional connect and then push him in the twisted conflict towards the end that reveals more about Bob's nature as a gambler.
2. Paddleton | Director – Alexandre Lehmann
The sophomore feature film of cinematographer turned director, Alexandre Lehmann's "Paddleton" is brimming with bittersweet and poignant moments and deadpan conversations that carry existential philosophy, seen through the lens of pessimism. Like Blue Jay, Paddleton is a two handler, about Michael (Duplass) and his neighbor Andy (Romano), who lives above him in a shabby pea-size apartment.
Alex and Mark Duplass's script is devoid of any sentimental plot proceedings or any major conflict infused inorganically to spice up the plot. The writing is mostly driven by laid back and impassive conversations splashed with humor to conceal the real emotions. The emotional subtexts are strong even in the most tragic act of the film. 
3. Harakiri | Director – Masaki Kobayashi
The irony Kobayashi constructs in the film is tragic; the peace in Japan has rendered samurai's unemployed, leading to selling off everything they have earned. They are outcasted in the absence of a master. Masaki Kobayashi weaves an ethical and moral dilemma of a ronin bounded by who finds himself in a helpless situation that ultimately leaves him with an option of harakiri – a ritual suicide by disembowelment. The black & white granular photography brings out the emotional deft of characters to a tangible form and compels you to take part in Tsugumo's journey, governed by Bushido Code, that ends on a bittersweet note.
4. The Red Circle | Director – Jean-Pierre Melville
Melville creates crime milieu where emotionally detached and inscrutable men exist on either side of the fence. Men who smoke to live and dress up to breathe. Corey, Vogel, Jansen and Mattei are part of the same canvas who follows different trajectories in life but end up together in the red circle. Le Cercle Rouge is a contemplative crime drama that has been stylishly executed. Melville goes for minute detailing in constructing one scene after another, discarding dialogue expositions, he believed in the grander visual expositions – mis-en-scene.
The muted colors painting wintery Paris, laconic dialogues, and men in trench coats riding cars and carrying guns are woven to the perfection in one of the most thrilling heists that have influenced the future film-makers.
5.  La Strada | Director – Federico Fellini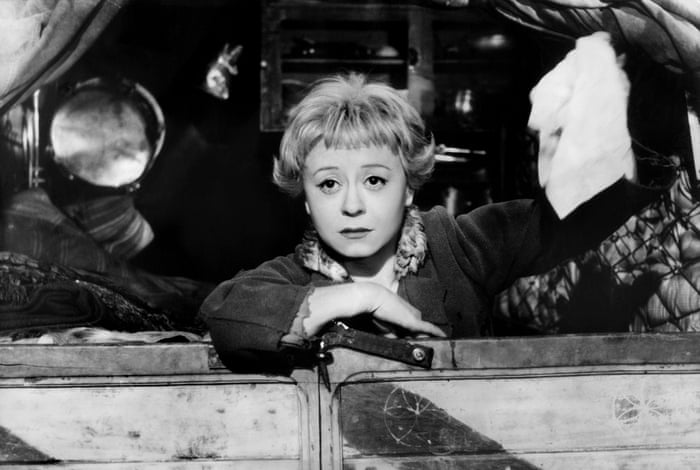 Overly simplistic nature of the narrative focuses on the deceptively simple human emotions which is very much part of "Masina" humanity. Masina gives an endearing performance, perhaps better than in "Nights of Caribia", your heart goes out for her whenever the smile fades away from her face. There are not a wrong single note Masina hits while embodying the naive, harmonious and kindhearted Gelsomina.
However, the second act, though offers poetic parables about human relationships, it doesn't add anything to what has already been established. And the main conflict is introduced quite late, in its third act, that takes the film in the depth of human mistakes and their dire consequences.
6. Kes | Director – Ken Loach
Kes,  adapted from the novel "A Kestrel For A Knave" by Barry Hines, narrates a tormented and heart-wrenching story of a young boy Billy, who is constantly bullied at home and school. He finds solace in the companionship of a Kestrel he christened as Kes. His dedication in manning Kes gives an anchor to Billy for going on with his life. David Bradley's performance as a useless bloke who daydreams, steals and read comics cuts deeper than a knife. One of the most soul-stirring performances I have ever seen.
7.  Absurda | Director – David Lynch
An unsettling and psychedelic nightmare, 'Absurda' is a typical Lynch short film that is abstruse and yet intriguing for 2.5 mins length. Four friends in a theatre ask projectionist to play the film to learn that they are part of the film. As the scissor cut the beam of projected rays, Absurda slips into a trippy dream sequence that soon turns into a Kafkaesque element of horror. Watch it here. 
8.  Kotoko | Director – Shinya Tsukamoto
Kotoko, directed by cult director Shinya Tsukamoto, is one of the most unnerving psychological horrors about a soul grappling with alienation and volcanic rage who descends into despair without any redemption. Kotoko unleashes its horror on a seashore. A calm frame capturing a young girl dancing freely to a creepy tune. An anticipation killing inside. And then the scene cuts to a long shot looking at the infinity of the sea while we hear a loud scream. The year is 2011 when the tsunami hit Japan in the worst possible manner. It might not be clear what purpose the scene serves but upon digging below the surface, it connects well to the preceding events. 
9.  The Sweet Hereafter | Director – Atom Egoyan
"The Sweet Hereafter" is one of the most emotionally devastating & complex dramas that never give any simple answers. It asks its audience to vicariously get into the psyche of characters and analyze them, which is painful, and then conclude the reasoning for their state. The screenplay in itself plays like a puzzle which makes it quite difficult to keep up with any character. What makes even more difficult than the audience needs to keep shifting their already built empathy from one character to another character. 
10.  Body Double | Director – Brian De Palma
You either admire Brian De Palma for crafting masterful tense sequences and honing a distinct audio-visual style narrative or a clear hack who derived the ideas from Alfred Hitchcock and spiced it up with violence and sex. Body Double is no different, he definitely derives the elements from Rear Window and Vertigo and constructs a drama about a struggling actor's paranoia that drives him to the edge. The scene of Craig Wasson, the struggling actor, chasing after DSheltonhleton is unnerving and thrilling to say least, the ace in the hole that every Palma film has. Not to forget, the hilarious but violent murder scene that pulls Craig in the paranoia is deftly constructed.