Like every year, the league of women directed films has gradually increased. In spite of being a male dominated industry, there have been some really well crafted, beautifully realized women directed films this year. There's not a single genre left untouched. Here are 15 films directed by women that range from the heart of realism to the seabeds of surrealism.
15. Tallulah | Director: Sian Hader.

Sian Heder's Tallulah is a sharply written character study of three women who accidentally understand the strangeness of their life, experiencing motherhood which laps around an unplanned kidnapping. The women in Heder's film are broken, messed up and have been victims of wrong decisions all their life. But they are also good people at heart. People who have a life that has lost its gravity but not it's reasons. Heder's subtle and refreshing writing makes these sad, vulnerable characters real and empathetic. There are times when the film succumbs to borderline melodramatic turns but they are sharply diverted with moments of real human tension and genuinely well-crafted emotional touches.
Read the complete review HERE.
14. Girl Asleep | Director: Rosemary Myers.
Rosemary Myers's Girl Asleep is about Greta who is new to her school in the Australian suburbs. What feels like a cutesy comedy about bullying and misbehavior soon turns into a surreal investigation of teenage angst, feelings, and confusions. Girl Asleep is a Wes Anderson-esque film featuring a Lynchian nightmare. In a matter of 20 odd minutes, Myers's film takes strange turns into fantasia but even when it just explores through your backyard it manages to raise important questions whilst fleeting out glorious answers thereafter. Myers's film is also a proper throwback to 70s aesthetics which feature a wonderful dance number to set you in the right groove.
13. Madly (segment – Afterbirth) | Director: Mia Wasikowska.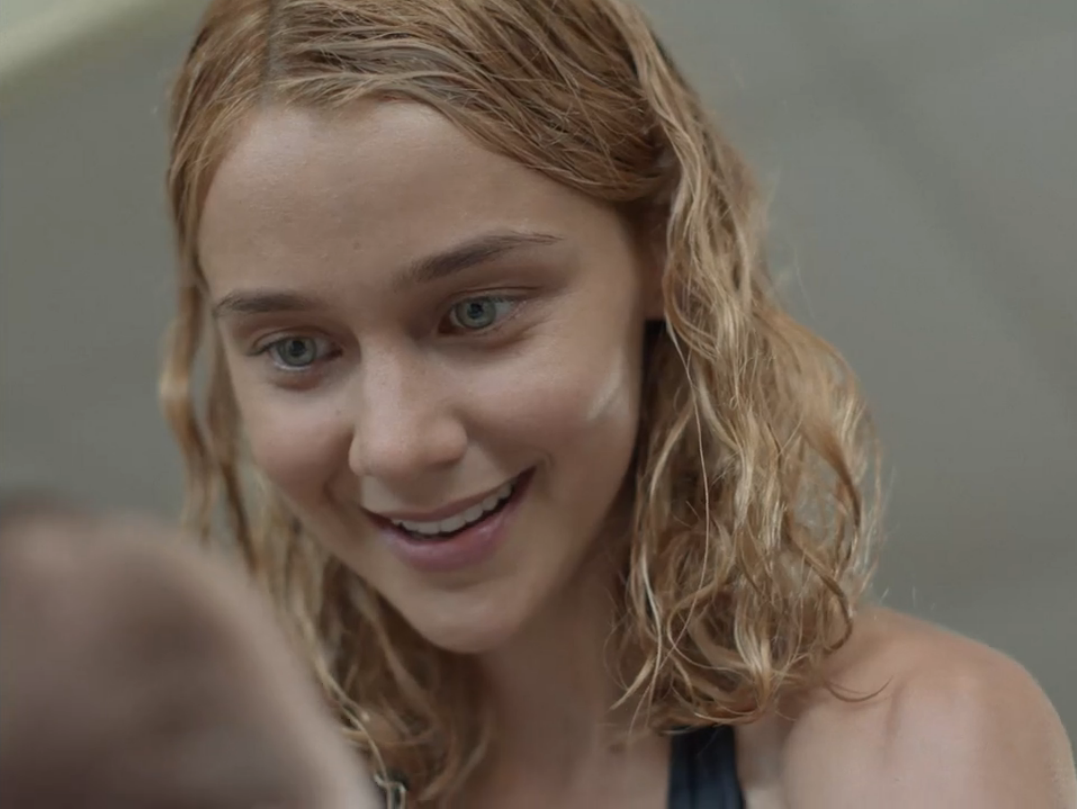 It's not exactly fair to have a segment of an anthology film in a list of full-length feature films but the more I think of it, the more I am intrigued by this short film in this diverse anthology film that shows 6 different short films about the strangest kind of love in the world. Afterbirth is the story of a woman whose love for her new-born child peeks her discrepancy to be a mother. Shot in generalized academy ratio, Wasikowska is so convincing behind the camera that you wonder what she was doing until now. The quirky, strange atmosphere that she manages to create in the short length of the film replicates the exact mood of ambiguity you need. She cleverly juxtaposes equally strange images giving the film the kind of newness you expect from someone with a bright future.
12. Embers | Director: Claire Carré.
Embers is a post-apocalyptic story where the entire human race has succumbed to mass amnesia. Their memories are bound to be lost with the passage of small fractions of time. Following a group of vignettes, Claire Carré's film explores deeply ambitious questions with great subtlety and acquisition. Embers follow a group of people trying to cope up with survival and wishes to understand human tendency in a world where everything seems temporary. It investigates human nature in the most prolifically imaginative way. While it doesn't seem to have a certain closure to everything it brims-up, Embers work because of its visual style and a singular narrative flow that brings every scattered thing together.
11. The Lure | Director: Agnieszka Smoczynska.
This is going to sound strange but Agnieszka Smoczynska's The Lure is a vampire-mermaid-musical where two sister-mermaids find themselves jobs to sing at a polish strip-club. What follows is a trippy musical journey of realizing ones footing in the world. Smoczynska's film goes from apprehensive to weird to weirder, but if you are willing to scratch your head or wiggle your fins there's an extremely haunting message to take away home. The Lure is a genre mashup that investigates the human in the animal and the animal in the human. The two sister represent two polar opposite entities where one allows herself to be transformed in order to be loved, while the other never oppresses the beast inside her just because she doesn't believe that she can be anything more than that. Agnieszka Smoczynska's film is a beautifully shot, extremely unique film about how a girl is seen in this world. It deserves more love in spite of its occasional incoherent ventings.
10. Things To Come | Director: Mia Hansen-Løve.
There's a certain rarity in every Mia Hansen-Løve film. The type of rarity that I have not come to terms with yet but I somehow truly appreciate. Things To Come is the story of a woman who is a philosophy professor and talks about the time in her life where everything that seems to be intact forever, starts falling apart. For a film that talks about someone's life getting devastatingly serious, Hansen-Løve brings a certain kind of pragmatic intimacy that is really endearing. Which not only makes this film about future being dark kind of liberating but also fills up the screenplay with real, subtle moments that doesn't follow any of the generalized, enigmatic takes on life.
9. Certain Women | Director: Kelly Reichardt.
The narrative in Kelly Reichardt's Certain Women moves at snail pace observing every little step in the lives of women who go on with their daily routine. It's an incredibly subtle, real and eloquent drama about ordinary people doing ordinary things to survive life. While two tales in Kelly's Reichardt's film feel thinly plotted, the real focus is not the script at all. It's a tale of her(os) who are not defined by their actions or success but by just being there.  With terrific performances all around, Kelly Reichardt's soul aim is investing her time into the life of people who don't do things to rain havoc but to go on with their existence which lies in the simple, poetic silences that are shared while sitting in front of one another, horsing around or driving through.
Read the complete review HERE.