Like every year, the league of women directed films has gradually increased. In spite of being a male dominated industry, there have been some really well crafted, beautifully realized women directed films this year. There's not a single genre left untouched. Here are the 15 Best Women-Directed Films of 2016 that range from the heart of realism to the seabeds of surrealism.
15. Tallulah | Director: Sian Hader.

Sian Heder's Tallulah is a sharply written character study of three women who accidentally understand the strangeness of their life, experiencing motherhood which laps around an unplanned kidnapping. The women in Heder's film are broken, messed up and have been victims of wrong decisions all their life. But they are also good people at heart. People who have a life that has lost its gravity but not it's reasons. Heder's subtle and refreshing writing makes these sad, vulnerable characters real and empathetic. There are times when the film succumbs to borderline melodramatic turns but they are sharply diverted with moments of real human tension and genuinely well-crafted emotional touches.
Read the complete review HERE.
14. Girl Asleep | Director: Rosemary Myers.
Rosemary Myers's Girl Asleep is about Greta who is new to her school in the Australian suburbs. What feels like a cutesy comedy about bullying and misbehavior soon turns into a surreal investigation of teenage angst, feelings, and confusions. Girl Asleep is a Wes Anderson-esque film featuring a Lynchian nightmare. In a matter of 20 odd minutes, Myers's film takes strange turns into fantasia but even when it just explores through your backyard it manages to raise important questions whilst fleeting out glorious answers thereafter. Myers's film is also a proper throwback to 70s aesthetics which feature a wonderful dance number to set you in the right groove.
13. Madly (segment – Afterbirth) | Director: Mia Wasikowska.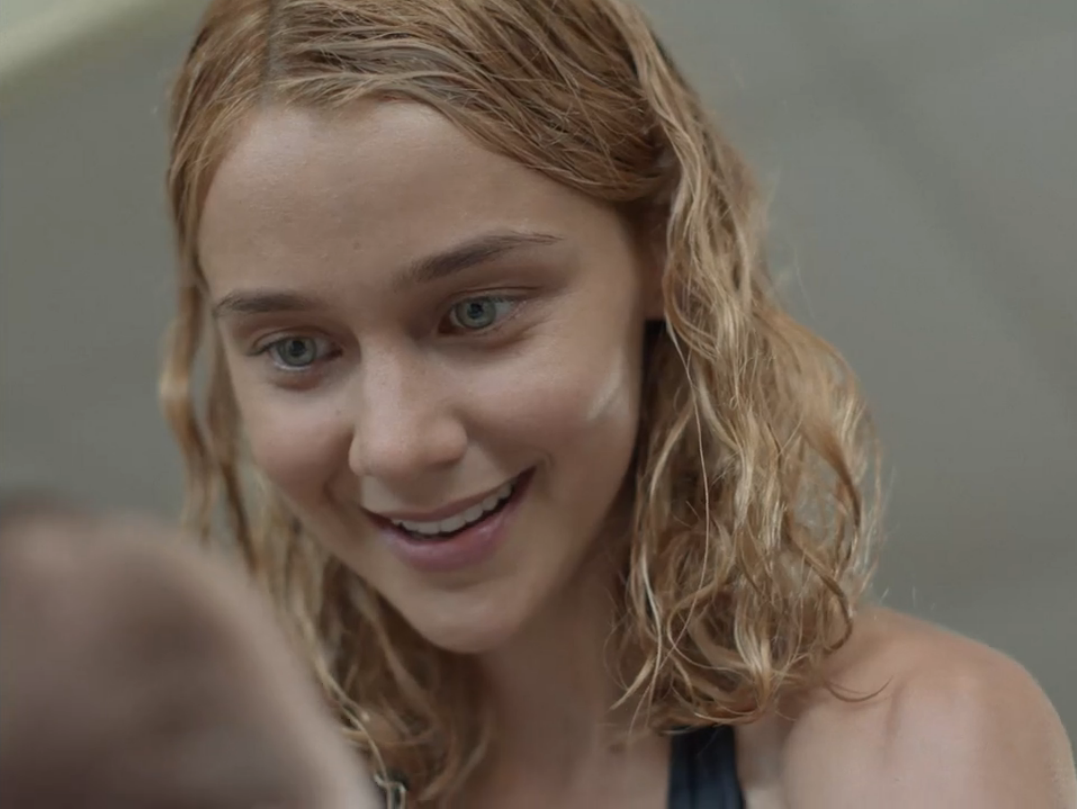 It's not exactly fair to have a segment of an anthology film in a list of full-length feature films but the more I think of it, the more I am intrigued by this short film in this diverse anthology film that shows 6 different short films about the strangest kind of love in the world. Afterbirth is the story of a woman whose love for her new-born child peeks her discrepancy to be a mother. Shot in generalized academy ratio, Wasikowska is so convincing behind the camera that you wonder what she was doing until now. The quirky, strange atmosphere that she manages to create in the short length of the film replicates the exact mood of ambiguity you need. She cleverly juxtaposes equally strange images giving the film the kind of newness you expect from someone with a bright future.
12. Embers | Director: Claire Carré.
Embers is a post-apocalyptic story where the entire human race has succumbed to mass amnesia. Their memories are bound to be lost with the passage of small fractions of time. Following a group of vignettes, Claire Carré's film explores deeply ambitious questions with great subtlety and acquisition. Embers follow a group of people trying to cope up with survival and wishes to understand human tendency in a world where everything seems temporary. It investigates human nature in the most prolifically imaginative way. While it doesn't seem to have a certain closure to everything it brims-up, Embers work because of its visual style and a singular narrative flow that brings every scattered thing together.
11. The Lure | Director: Agnieszka Smoczynska.
This is going to sound strange but Agnieszka Smoczynska's The Lure is a vampire-mermaid-musical where two sister-mermaids find themselves jobs to sing at a polish strip-club. What follows is a trippy musical journey of realizing ones footing in the world. Smoczynska's film goes from apprehensive to weird to weirder, but if you are willing to scratch your head or wiggle your fins there's an extremely haunting message to take away home. The Lure is a genre mashup that investigates the human in the animal and the animal in the human. The two sister represent two polar opposite entities where one allows herself to be transformed in order to be loved, while the other never oppresses the beast inside her just because she doesn't believe that she can be anything more than that. Agnieszka Smoczynska's film is a beautifully shot, extremely unique film about how a girl is seen in this world. It deserves more love in spite of its occasional incoherent ventings.
10. Things To Come | Director: Mia Hansen-Løve.
There's a certain rarity in every Mia Hansen-Løve film. The type of rarity that I have not come to terms with yet but I somehow truly appreciate. Things To Come is the story of a woman who is a philosophy professor and talks about the time in her life where everything that seems to be intact forever, starts falling apart. For a film that talks about someone's life getting devastatingly serious, Hansen-Løve brings a certain kind of pragmatic intimacy that is really endearing. Which not only makes this film about future being dark kind of liberating but also fills up the screenplay with real, subtle moments that doesn't follow any of the generalized, enigmatic takes on life.
9. Certain Women | Director: Kelly Reichardt.
The narrative in Kelly Reichardt's Certain Women moves at snail pace observing every little step in the lives of women who go on with their daily routine. It's an incredibly subtle, real and eloquent drama about ordinary people doing ordinary things to survive life. While two tales in Kelly's Reichardt's film feel thinly plotted, the real focus is not the script at all. It's a tale of her(os) who are not defined by their actions or success but by just being there.  With terrific performances all around, Kelly Reichardt's soul aim is investing her time into the life of people who don't do things to rain havoc but to go on with their existence which lies in the simple, poetic silences that are shared while sitting in front of one another, horsing around or driving through.
Read the complete review HERE.
8. The Love Witch | Director: Anna Biller.
The Love Witch is a technicolor trip through the alleys of the campy horror films of a bygone era. The film possesses the power to conjure you into its silky skin, seduce you into its embrace and then leave you for dead as you fall into its aura of sexiness. The Love Witch's incredibly striking feature is its self-awareness and one of the most simply put testaments of gender-politics. The film doesn't present a female character that screams for apathy. On the contrary, the film, which is Biller's supposedly autobiographical (take it as a joke if you may) sketch is based on the discrepancy between men and women. She investigates the very fact that relationships can be made and broken on the ground of small things and how difficult it has become to find that 'someone' who will stay without caring about anything more than who the person in front really stand for.
Read the complete review HERE.
7. The Fits | Director: Anna Rose Holmer.
Entering adolescence has never felt so magical. Anna Rose Holmer's bombastic first feature mixes magic realism, peeking into the world you want to be a part of. Even with its constraint narrative, you feel things change and take shape when you least expect them to. The Fits is a distant cousin of Carol Morley's The Falling. A film about mass-hysteria at an all girl school. In The Fits, Anna Rose Holmer beautifully captures the life of Toni, (Royalty Hightower) a tomboy whose interest is peaked by an all-girl dancing class near her own boxing gym. As she slowly feels a gradual change in herself, Holmer's focus doesn't move away from her and her trouble. Even though we understand her problem, Holmer doesn't forcibly make us sympathize with her which only makes her film feel even more authentic and powerful.
6. The Innocents | Director: Anne Fontaine.
The #6 entry on Best Women-Directed Films of 2016, Anne Fontaine's The Innocents is not a pleasing watch. Set in war-time Poland, the film is a powerful tale of sexual abuse on a group of nuns and how their own burden of faith almost crushes them into believing the devil and throwing out the angels in their own lives. It's a beautiful film that captures the value of sisterhood in a world that is brutally murdered by people who dance over coffins and dogs who are hungry even with pedigree in their mouths. Fontaine's film is absorbing because she has beautifully stitched every scene and every frame into existence. The way she explores shame, regrets, and obedience closely putting them in front of a will to live free makes the film stay with you for a long time.
5. Evolution | Director: Lucile Hadzihalilovic.

Lucile Hadzihalilovic's Evolution is a hypnotic tale of body horror set on a dystopian island. Where ghostly skinny women conceive boys without the help of men. Evolution is a hard film to follow. It sometimes feels like a feverish fable of motherhood in which sick boys begin to doubt their own existence, sometimes a creepy, atmospheric horror film that's about the vast existence of a human populous without the presences of the other sex, and most essentially a coming of age film about a small boy coming with terms with the strangeness of the world he lives in. Watching Evolution is truly unsettling and infuriating experience. It's an act of becoming one with the ocean, like an ink of innocence dissolving into the vast sea of angst. Evolution is the most beautiful nightmare, a perfect watch for curious minds who are willing to dive deeper to catch the red starfish.
4. Always Shine | Director: Sophia Takal.
While there are conscious references to the works of Hitchcock and De Palma, Sophia Takal's Always Shine can be best described as a virtual cross between Alex Ross Perry's Queen of Earth and Nicolas Winding Refn's The Neon Demon, all the way setting up a right foot on its own. Takal's film is a psychological thriller trapped inside a meta-slasher film, trapped inside a drama about women being wrongly conceived on the incredible canvas of the film industry. There's also a little bit of the identity crises that goes down when jealousy and failure take the front seat in one's life. The notion that Always Shine greatly presents is how a woman needs to be thin and beautiful and charming all at the same time. Where the actress side of a woman working in the film industry becomes too self-absorbed and self-conscious and all that comes out thereafter is just painful regret and vulnerability.
Read the complete review HERE.
3. American Honey | Director: Andrea Arnold.
Featuring on #3 of Best Women-Directed Films of 2016, Andrea Arnold's American Honey starts and ends with dives into two polar opposite mixes. One of them redeems you while the other makes you vulnerable. But, when the tables turn, isn't life all about finding solace in a small little cottage somewhere in the woods? With American Honey, Andrea Arnold (know for the indie wonder – Fish Tank) makes a bold narrative choice. Her camera mostly lingers into the inside of a van seamlessly providing us with a sense of belonging. You are there – struggling, exploring and trying to get to the point where you somehow gain enough moolah to live your dream. American Honey feels like documenting life in it's rawest form. It takes you on a journey of self-realization. A journey where there is no room for regrets, relationships and mostly – no room for latching onto something that makes you crawl when you can swim and be a part of the ocean called life.
Read the complete review

HERE

.
2. No Home Movie | Director: Chantal Akerman.
Acclaimed documentary filmmaker Chantal Akerman's No Home Movie is profoundly heartbreaking and almost unbearably sad. It's a final testament that the late film-maker pays to the love of her life – her mother. Shot almost inside her mother's apartment, No Home Movie chronicles the final months of the life of Natalia Akerman (a holocaust survivor). Even though the documentary features real intimate and personal conversations of Akerman's own life, the universality that the film possesses makes its an incredible piece of art. Closely muxed with moving & still images of barren trees & long static shots of a desert, the film only feels more and more absorbing even with its abstractness. No Home Movie is a film that each one of us secretly wishes to make. Something to hold on to, something to make the love remain and something that fuels and brings down the loneliness that sets within.
1. Toni Erdmann | Director: Maren Ade.
Toni Erdmann works amazingly well if you slide yourself into its grilling array of metaphors. The absurd and quirky humor pushes us into a sugar rush of emotions once your get your thinking cap on and put your hands around this film that can easily handcuff you and never let you go. Toni Erdmann is about a father and a daughter. About those forgotten moments of joy that build us into the people we are and about those familiar relationships that constantly remind us of being our own 'people', while not leaving the self behind. Maren Ade's idea of presenting her deconstruction of life can be a comedy to some, a life lesson to others and simply a gimmick to most of the people. For me, Toni Erdmann is a film that tells me to be happy, embrace the loneliness and never let the fire inside die.
Read the complete review HERE.