Three decades after The Simpsons changed the game for animated shows for adults, the 2010s were incredibly rich years for the genre. Looking back on the decade, many of the best and most popular shows produced were animated, changing the perception of cartoons exclusively for children. The adult animated series has seen a major makeover over the years.
When TV first became a serious competitor to the cinema in the 50s, animated shows were primarily used for comedy and were aimed at young audiences, and therefore, were cheaply produced. It wasn't until the 1970's that Hanna-Barbera started to put more value into their shows, still keeping them family-oriented nevertheless with classics like The Jetsons and The Flintstones.
The 1990s was the renaissance period of the genre, bringing many darker and more mature shows targeting adult audiences. South Park, Beavis and Butt-Head and King of the Hill are just a few of the shows that set a new standard for adult animated series. With that, however, came the notion that adult-oriented cartoons were distasteful, dirty and juvenile.
From the 2000s onwards, the animated TV went through another phase of self-discovery. From rotoscoped shows to cross-genre, the adult animated series has successfully challenged and broken out of its stereotypes, proving itself to be a highly dignified and respected genre as worthy of praise and acclaim as comedy or drama. With the 2010s coming to an end, it's time to highlight the best adult-oriented animated shows of the last 10 years:
1. Rick and Morty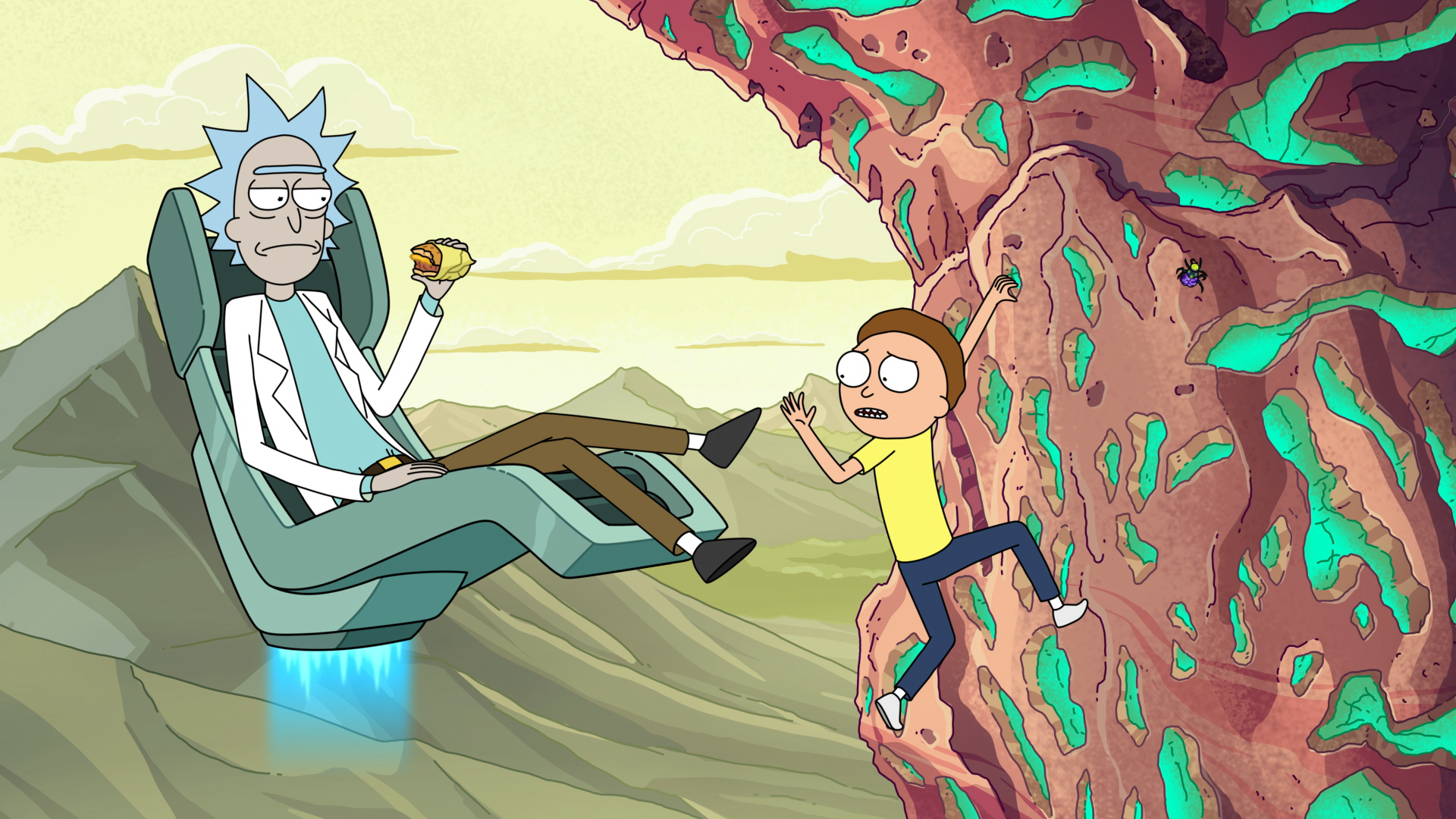 'After having been missing for nearly 20 years, Rick Sanchez suddenly arrives at daughter Beth's doorstep to move in with her and her family. Although Beth welcomes Rick into her home, her husband, Jerry, isn't as happy about the family reunion. Jerry is concerned about Rick, a sociopathic scientist, using the garage as his personal laboratory. In the lab, Rick works on a number of sci-fi gadgets, some of which could be considered dangerous. But that's not all Rick does that concerns Jerry. He also goes on adventures across the universe that often involve his grandchildren, Morty and Summer.'
Why watch it: originally developed as a short film that parodies the Back to the Future movies, Rick and Morty, like the iconic trilogy, relies on heavy science fiction and domestic life to be successful. Exploring the Multiverse Theory, wormholes and carbon-based life forms, as well as family dynamics and dysfunctionality, the show appeals to both sci-fi enthusiasts and family sitcom fans. The hit Adult Swim series hilariously covers some relatable themes like going through adolescence and divorce, all of which are intercepted in the intergalactic misadventures of the titular characters.
Stream/Watch Rick and Morty on Netflix
2. BoJack Horseman
'A humanoid horse, BoJack Horseman – lost in a sea of self-loathing and booze – decides it's time for a comeback. Once the star of a '90s sitcom, in which he was the adoptive father of three orphaned kids (two girls and a boy), the show was the hottest thing around, then suddenly, was canceled. Now 18 years later, BoJack wants to regain his dignity. With the aid of a human sidekick and a feline ex-girlfriend who is his agent, he sets out to make it happen. But Hollywood is vastly different from those days, and getting used to stuff like Twitter may take some time. This first animated series from Netflix – with plenty of references to sex, drugs, and alcohol – is not for the little ones.'
Why watch it: featuring talking animals and R-rated jokes, BoJack Horseman might look like your average sitcom but once diving past that surface, it doesn't take much to realize the show is actually a character study of the self-loathing, alcoholic, narcissistic BoJack. By expanding the narrative viewpoint of the supporting characters, the postmodernist series denies us the existence of objective truth of the characters, subverting the story-telling structure to several points of view and thus creating a more complex, neutral narrative. Tackling existentialism, mortality, loneliness, and nihilism, BoJack Horseman highlights that we can never know if there is or is not a "real" outside our human experience.
Stream/Watch Bojack Horseman on Netflix
3. Bob's Burgers
'Bob Belcher is a third-generation restaurateur who runs Bob's Burgers with his loving wife and their three children. Bob believes his burgers speak for themselves and isn't afraid to offer a variety of off-beat creations. Bob's wife, Linda, supports his dream but is becoming sick of the slow times, as the restaurant is constantly in danger of going out of business. The main competition to Bob's Burgers is a busy pasta joint located across the street that is run by Bob's nemesis, Jimmy Pesto. Despite the challenges, which include consistent harassment from Linda's ex – a health inspector – Bob tries to keep the grill sizzling.'
Why watch it: family values seem to be lacking in most of the family sitcoms around, especially in the animated ones, but it's the one ingredient that makes Bob's Burgers a winning recipe. The Belchers, a family of real people who aren't perfect but who care for each other, preach socially and politically correct morals to their children and viewers alike. Through sibling dynamics, active parenting, a failing business and a unique sense of humor, Bob's Burgers creates three-dimensional character personalities and fleshed-out backstories that prove that family love can be both a comedic quality and a valuable moral.
4. Archer
'The suave, confident and devastatingly handsome Sterling Archer may be the world's greatest spy, but he still has issues with his friends and colleagues who live to undermine and betray one another. Whether set in 1940's Los Angeles, the jungles of South America or the dangerous islands of the South Pacific, Archer is an animated comedy that spans time and place to navigate Sterling, Lana, Malory, Cheryl/Carol/Charlotte, Cyril, Pam, Ray and Krieger's misguided misadventures that range from attempting to save the world from nuclear disaster to selling illegal narcotics to Colombian cartels.'
Why watch it: using the standard setup of a workplace comedy, where subversively unlikeable characters play off bawdy, reference-heavy humor, rapid-fire dialogue meta-comedy, and interaction-based drama, Archer stands up for exploring the theme of global espionage. Inspired by OSS 117: Cairo, Nest of Spies (2006) and The Pink Panther franchise, the show also heavily references the James Bond movies whilst also constantly mocking the clichés of the genre. Produced using limited animation and taking its visual style from mid-century comic art, Archer addresses hopelessness and a wide spectrum of society and the human condition through unique character-based jokes, catchphrases, and running gags.
Stream/Watch Archer on Netflix
5. Tuca & Bertie
'This animated comedy series explores the friendship between the two 30-year-old bird women who live in the same apartment building. The buddy comedy features cocky, carefree toucan Tuca and anxious, daydreaming songbird Bertie as they live their lives in the metropolis of Bird Town. The former roommates separate when Bertie moves in with chipper architect Speckle and Tuca moves upstairs from them. Tiffany Haddish and Ali Wong voice the titular characters on this animated show that is decidedly not for kids.'
Why watch it: in this Time's Up era where women are rightfully taking up space across genres, Tuca & Bertie is the show about female friendship we deserve. Deeply rooted in the women's experience, the introvert-extrovert dynamic of the titular characters gives voice to different female perspectives, embracing all women and their lives. Its surreal style and innovative animation allow important but dense topics such as immobilizing social anxiety, fear of commitment, the rigors of sobriety, past trauma and sexual assault to be explored in a lighter note. Using animals to bring women forward highlights the sensitive and funny side of this gem of a show.
Stream/Watch Tuca & Bertie on Netflix 
6. Animals
'HBO's decidedly adult animated comedy series ventures into the nether regions of Earth's least inhabitable environment, New York City, which is home to a motley crew of downtrodden creatures. Whether it's lovelorn rats, gender-questioning pigeons or aging bedbugs in the midst of a midlife crisis, the awkward small talk, moral ambiguity and existential woes of non-human urbanites prove remarkably similar to those of humans. Created by Phil Matarese and Mike Luciano – who voice many of the characters – and produced by Jay and Mark Duplass ("Togetherness"), the series features such guest voiceover artists as Eric Andre, Jessica Chastain, Rob Corddry, Horatio Sanz, Molly Shannon, Ellie Kemper, Marc Maron, Wanda Skyes, Cobie Smulders and Jon Lovitz.'
Why watch it: originally thought of when creators Phil Matarese and Mike Luciano saw a couple of pigeons across from their office window and began speaking from their point of view, Animals flew high and gained its wings on HBO. With its deadpan approach and crude animation, the series has a bit of everything to please everyone: social satire, surreal live-action interludes, off the wall comedy, deep-cut big-screen homages, and a post-apocalyptic parallel narrative. Unfortunately, it only lasted three strangely delightful seasons before HBO sent Animals off to live on a nice farm upstate.
Stream/Watch Animals on Hotstar
7. F Is for Family
'Set in the 1970s, this animated raunchy comedy is inspired by the life of stand-up comic Bill Burr, who is a co-creator and executive producer of the series. Burr also voices the character of Frank Murphy, a short-tempered veteran who lives in the suburbs with his wife, Sue (Laura Dern) and their three children. Frank, who works at an airport, has a penchant for shouting and profanity-filled rants. The series celebrates all things 1970's, including the lifestyle, the music, and all sorts of other nostalgic details.'
Why watch it: in this quintessential homage to the 1970s, the world is presented as it actually was back then; messy, rotten and dangerous. It was a time when political correctness, helicopter parenting, and indoor smoking bans weren't the norm just yet. With its confrontational, participatory style, F Is for Family has been flying under most people's radar, but its irreverent portrayal of a disillusioned working-class American family relies heavily on the things we love about sitcoms: the slapstick, the gross-out, the insane and the shocking. Focused on being realistic to the time period's mentality, the series is an examination of domestic life in the '70s, featuring three dimensional, quirky characters that make the family dynamics feel more realistic.
Watch/Stream F for Family on Netflix
8. Big Mouth
'Even for a cartoon character, going through puberty isn't easy for a young person. Andrew is learning that first hand as he experiences the nightmare that is growing up in this animated series geared toward adults. Along for the ride are friends Nick and Jessi, who develop a budding romance along the way. The comedy veterans who lend their voices to Big Mouth include John Mulaney, Nick Kroll, Maya Rudolph and Jordan Peele.'
Why watch it: it's very rare for a TV show to tackle teenage hormonal changes realistically and it's even rarer for an animated series to do so, yet Big Mouth knocks it out of the park. Full of depth and imagination, the show portrays kids coming of age and the relatable awkwardness that is involved in the process of growing up. Using sardonic, raucous, intellectual humor to be realistic and upfront about the biological changes we all go through in life, Big Mouth is a liberating opening for a more honest dialogue about taboo topics in our society, such as puberty, hormones, sexuality, and self-discovery.
Stream/Watch Big Mouth on Netflix
9. Love, Death & Robots
'This collection of animated short stories spans several genres, including science-fiction, fantasy, horror, and comedy. World-class animation creators bring captivating stories to life in the form of a unique and visceral viewing experience. The animated anthology series includes tales that explore alternate histories, life for robots in a post-apocalyptic city and a plot for world domination by super-intelligent yogurt. Among the show's executive producers is Oscar-nominated director David Fincher.'
Why watch it: described as a "love letter to nerds" by executive producer Tim Miller, this anthology series explores intense adult themes, often coated by a dark sense of humor. Covering topics ranging from an alternate history, objectification and redemption to nostalgia and youthful idealism, while also featuring striking gore and sexuality, Love, Death & Robots is an example of diversity in both story and style. It's varied animation methods that range from photo-realism to classic hand-down and stop-motion styles benefits the show in terms of detail, complexity, and realism. A fresh take on sci-fi, Love, Death & Robots is a bold step into the bright future of adult animation.
Watch/Stream Love, Death & Robots on Netflix
10. Disenchantment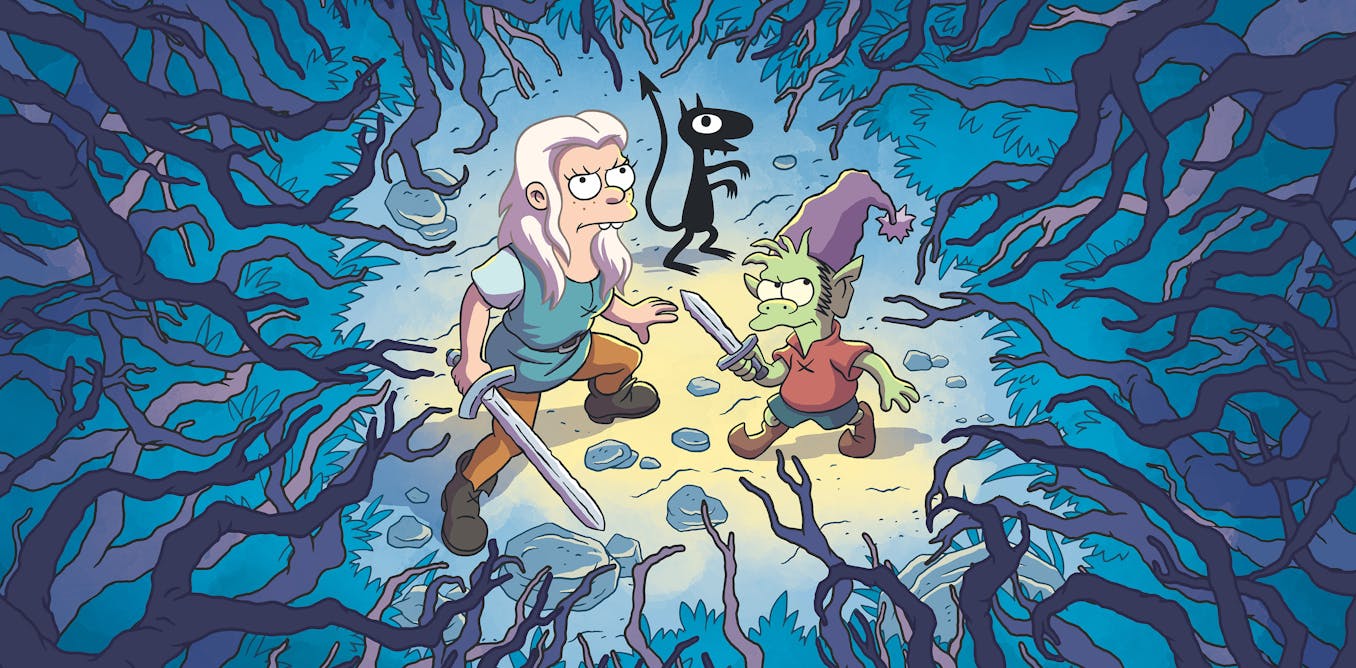 'After tackling modern times with "The Simpsons" and the future with "Futurama", producer Matt Groening steps into the past with "Disenchantment". The animated fantasy series geared toward adults takes place in the crumbling medieval kingdom of Dreamland. It follows the misadventures of hard-drinking young princess Bean, her feisty elf companion Elfo and personal demon Luci. The oddball trio encounters the likes of ogres, sprites, imps, trolls and human fools along the way. The voice cast includes veteran voiceover artists such as John DiMaggio, Billy West, and Maurice LaMarche.'
Why watch it: Branded as 'The Simpsons meets Game of Thrones', Disenchantment is like what an R-rated Brave (2012) would look like in an alternate universe. Set in medieval times, the show spends plenty of time exploring the background and the setting. The continuous, contiguous story arc really helps the viewer get invested in events of the show, making the characters more likable and relatable as they go on. The series also breaks genre expectations by having disenchanted, alcoholic princess Bean as the protagonist, which brings a much-needed feminist perspective to the fantasy genre.