Now that we're finally done with the awards season, let's get real. 2018 proved to be another marvelous year for cinema. Diversity was the central theme around which the awards season revolved, at times to great merit, others annoying. The general sentiment of the cinephile world was laced with a sense of unjustness and politicization of choices. The Academy came under heavy scrutiny for their shocking choices and rightly so. The trends in voting beseeched to deceive, with great promise of a tectonic shift just false hope. Despite the rather dampened spirits, we present our top picks of the best male performances of 2018. Here's to this beautiful art form that keeps us alive and kicking! Happy reading!
HONORABLE MENTION
Namdev Bhau in Namdev Bhau: In Search of Silence
Dar Gai's indie-comedy about a man in search of complete silence envelopes the feelings that millions harbor in today's fast-moving life. Through Namdev Bhau, Gai represents the suffering and growing tiredness of people who have fallen prey to the accepted idea of "a happy life". Bhau's day, like almost every other person, begins with noise, is spent drowned in it, and ends with it. Finally fed up of his current existence, Bhau packs up his things an leaves for the majestic hills of Ladakh.
On his journey going off the grid, Bhau finds a young traveler, whose innocence precludes a tragic family event unbeknownst to him. Gai gauges public attention by channeling the contemporary preoccupation of living an ascetic lifestyle. Her simplistic ideas revolve around a talented non-actor, Namdev Gaurav, who instantly impresses in his on-screen debut. With almost no dialogue and no technical requirements, Namdev becomes Gai's vessel of exploring the tedious, messy world of ours and the consequences of not internalizing peace.
Michael B. Jordan in Black Panther
Black Panther took the world by storm. The superhero movie instantly became the talk of the town and successfully carried the Oscar buzz for almost a year. Apart from its representation of Afrofuturism, Black Panther also saw the rise of a formidable anti-hero, Killmonger, whose place in the MCU will always be one of high stead. Brought to life by Michael B Jordan, Killmonger is a fascinating character that encompasses almost all issues of relevance in today's times. Jordan's Killmonger vibrates with raucous energy and steely determination to right the wrongs that were committed against his family. The towering physique is matched with an insatiable and wild drive for revenge that is characteristic of Killmonger's bloodlust.
Read the Complete Review of Black Panther
15. John C. Rilley in The Sisters Brothers
In the modern day, classic Westerns have become a thing of the old. Hollywood's gold bird was perhaps the most dominant genre in the olden days and was truly the belle of the ball. With The Sisters Brothers, 2018 sees a resurgence of this century-old format. Jacques Audiard assembles a magnificent cast and empowers them with a hard-hitting and gritty story to produce a largely overlooked masterpiece. John C. Reilly, often deluded in the background in supporting roles, shines in his newfound responsibility. His chemistry with Phoenix, who is typically himself, is the foundation that Audiard builds this edifice of betrayal, adventure, and pure action on. Reilly's restrained self is a scene stealer in many cases. His exquisite transition of emotion and conviction in reactions makes his one of the best performances of the year.
14. Charlie Plummer, Lean on Pete
Lean on Pete saw Andrew Haigh make a welcome return to screen after his critically acclaimed feature, 45 Years. Starring Charlie Plummer and Steve Buscemi, Lean on Pete take us into the backstage world behind the glamor and thrill of horse racing. A wondrous teenager finds employment with an old handler, who lets him a racehorse bound for the slaughterhouse. Charlie forms an unbreakable bond with Lean on Pete and in his companionship, traverses the vast Western landscape in search of his long lost aunt. Plummer comes in fresh off his success in Ridley Scott's All the Money in the World. Plummer divests his character from falling for conventional ideas about a Westerner boy and instead places his efforts in linking Charlie's instincts with that of the story. Haigh's humanist depiction of love and trust enhances Plummer's impactful performance and etches his name as a major future star.
13. Lakeith Stanfield in Sorry to Bother You
Stanfield shines in Riley's directorial debut. As innovative as the film is, it is the ferocity of its performances and the relevance of its subject-matter that make it a truly remarkable effort. Loosely inspired by Riley and millions other's personal experiences with blatant racism, Sorry To Bother You makes worthy efforts to integrate its hard-hitting social commentary with humor and mature storytelling. Although much can't be said for the latter, Stanfield and crew ensure that the movie is bereft of any dull moment. Sorry To Bother You is almost like that euphemism that you know is in effect and at play, but you can't really avoid.
12. Daniel Kaluuya in Widows
Steve McQueen's refined thriller flick was wrongly overlooked at the awards season. With a powerful ensemble and a taut, nervy storyline, Widow has all the makings of a successful film. Although it is nominally held back by a relatively weak third act, Widows is a masterful effort. The standout performer in the film is Daniel Kaluuya, who stole headlines with Jordan Peele's Get Out in 2017. Kaluuya plays Jatemme, the hardened and street-smart enforcer with no sympathy for the world. He breaks through the conventional construct of his character to fashion a menacing and villainous entity who is destined to be remembered in acting classes whenever the word 'inhumane' would drive a discussion.
11. Willem Dafoe in At Eternity's Gate
At Eternity's Gate is a dazzling, dreamy, and a highly hypnotic work that flies with Van Gogh's spirit, his yearning for art and art only. The restless camera movements and the color palette wants you to stick your eyes on the film till the end as if you are gazing at a wonderful painting for the first time, with wonder and sheer astonishment of a two-year-old. Dafoe is the driving force of the movie who inhabits Gogh's character with irresistible charm and passion. His wonderous and diligent gaze takes him far away into his own fantastical world every time the camera tries to get close. Dafoe's follow up to 2017's The Florida Project's vexed Bobby is a sensational, dreamy-eyed genius who redefined the contours of art for centuries to follow.
10. Ben Foster in Leave No Trace
The world was surprised and heartbroken when Foster couldn't score a nomination at the 2017 awards for Hell or High Water. His rebellious, free-spirited Tanner Howard was a happening mix of Kikuchiyo's raw, animalistic instincts and Bond's lady charm. In Leave No Trace, Foster completely divests himself from his previous works and delves deep into his character, Will, an uptight single father whose rudimentary upbringing of his daughter leaves the two to the whims of their new lifestyle after their isolated existence is uprooted. In Thomasin McKenzie, Foster finds an able companion, one with whom he fashions a melancholic and loving relationship that is the heart and emotion of this soulful drama. Foster's act derives much of its emotional resonance from director Debra Granik's sincere script, that carves time and space for Foster to revel and shine in.
9. Richard E Grant in Can You Ever Forgive Me?
Marielle Heller's inspirational biographical was one of the year's sleeper hits. With almost no buzz around it, the film managed to become a part of the conversation with its endearing performances and Heller's deft direction and honesty to the true anecdotes it is based on. Just like the film, seasoned actor Richard Grant proved to be a surprise package and unraveled a performance that was in equal parts humorous and wildly charming. Grant strikes a perfect balance between his fictional character's overt sexual expression and his emotional brevity. Along with McCarthy, Grant creates a wholesome and fearless on-screen duo that matches the bold extravagance of Bonnie and Clyde and the understated rebellion of Benjamin and Elaine.
8. Joaquin Phoenix in You Were Never Really Here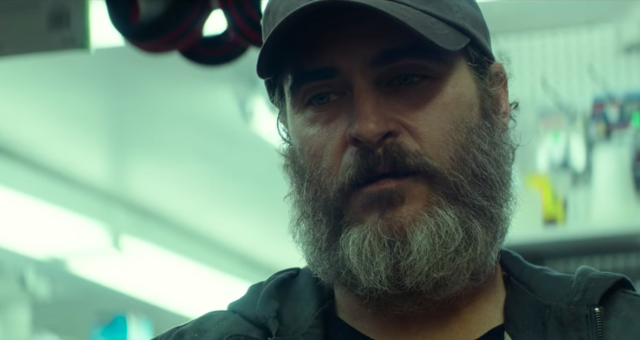 Phoenix is arguably the best actor of his generation. Having never won an Academy award (unfortunately coming up against DDL in 2013), Phoenix lets his complex characters and intense performances speak for themselves. With Lynn Ramsey's You Were Never Really Here, Phoenix steps into the shoes of a suicidal protagonist, whose discord with life and himself stand second to a more pressing persuasion: the life of a little girl. Joes' murderous rage unfurls with an understated representation of violence, a conscious decision by Ramsey that is wildly effective. Phoenix engineers every detail, every idiosyncrasy of his character with such precision and emotion, you inevitably get drawn into his world. The film's nervy pace aggrandizes Phoenix's resonating performance without ever relying on quick cuts or fastened narrative building. This is a performance that will leave you weeping and hollow inside with a jarring sense of optimism and hope.
7. Mahershala Ali in Green Book
Green Book (along with Bohemian Rhapsody) was a convoluted biographical drama that brunt the scourge of people. The 'white savior' narrative found no sympathizers – Well, apart from Academy voters, which almost put the incredible performances in the movie to the sword. Mahershala Ali's emergence as a star man certainly found legs with Green Book. Ali's effeminate body language might seem generic and weary at first but gradually develops as an ingenious representation of power and suppression in the movie. His poignant and deeply affecting portrayal deservedly took home the Academy award and with that our broken hearts.
6. Adam Driver in BlacKkKlansman
Adam Driver's surprise nomination at the Oscars came as a shock to many. The connotations really, though, were positive and nothing else. A hugely talented actor, Driver's debut nomination came from his beautiful performance in Spike Lee's BlacKkKlansman, an eye-opening biopic about a black police officer who infiltrates the KKK. Despite the unwanted politicization of his character by Lee, Driver makes sure the purpose behind drafting him in the story doesn't go in vain. Largely relegated to the background, Driver shines in his sparse moments of glory, carrying enough spark throughout to support the cause.
5. Ryan Gosling in First Man
One of my personal favorite of the year was Gosling's act as Neil Armstrong in Damien Chazelle's hypnotic and melancholic First Man. America's political frivolities shrouded the movie in controversy and inevitably ended its chances of deservingly ruling the awards season. The biggest outrage of all has to be Justin Hurwtiz's snub at the Oscars, with the Harvard graduate not even securing a nomination. Setting aside every other complaint, let's talk about Gosling's portrayal of Armstrong.
Chazelle's First Man is not a retelling of the moon landing but an exploration of the suffering before that. It delves into Armstrong's intimate moments with his family, his deepest insecurities about his family and the tragic loss of his child, and the cost of success he has to bear. Gosling shows prodigious restraint and maturity in playing Armstrong. His act is convincing enough to allow viewers to access how Armstrong felt and how others around him did. With the moon constantly the focus of his attention, Gosling shows unshakeable resilience and an appetite for going the extra mile to go to achieve the unimaginable. First Man will be remembered as not an account of the event itself but the sacrifice that went into making it happen.
4. Bradley Cooper in A Star is Born
For a movie that has been made four times, A Star is Born does quite well. A film that started off as Bradley Cooper's dream project, A Star is Born crystallizes into a heartwarming story about love and heartbreak brought alive by sensational performances. Cooper leads the charge, being involved with the writing process and starring and directing the film. In an almost Clin Eastwood-esque manner, Cooper nails every aspect of his involvement, especially the acting part. The familiarity of the story and the predictability of the end don't stop the viewer to immerse into this dreamy world. Cooper's charm and unprecedented musical talents pull this performance into the elite sphere of the year's best.
3. Ethan Hawke in First Reformed
Has the Academy ever been fair to Ethan Hawke? You already know the answer. It is a modern travesty that Hawke hasn't won an Oscar with the kind of performances he has under his belt. His simplistic style and overtly banal characters might have drifted the attention of the voters away from him, but bring us as viewers close to him as possible. His performance as Revered Toller met a similar fate in 2018. In Paul Schrader's relevant and contemplative First Reformed, Hawke plays a man caught between two worlds: his faith and the changing world. Schrader's seminal protagonist seems like a spiritual companion to his other creations before, hugging loneliness and antipathy to channel violence. Hawke's resolute performance is thundering and burns with great passion and longing. Although Toller doesn't have the flair of either Bickle of LaMotta, Hawke's craft makes Toller's chagrined self a wonderful and provocative role model for people today.
2. Brady Jandreau in The Rider
Chloe Zhao's moving cowboy drama centers around a prodigal rider whose path to success is impeded by a life-threatening injury. His longing to go back to where he belongs becomes the central thematic arch of Zhao's narrative that is splendid and insightful in its exploration. Placed in the film's unique naturalistic visual landscape, Brady contemplates his choices and their consequences. Jandreau portrays Brady with immense sincerity and effectiveness. His suffering isn't brought by overdone theatrics or undercooked emotions but by a subtle intelligence and nuanced maturity that truly subrogates the viewer in Brady's conundrum. Zhao's aching protagonist will undoubtedly be remembered as a compassionate, humane cinematic creation that actors will long hope to emulate.
1. Jim Cummings in Thunder Road
Indie films often house some of the most overlooked performances of the year. In 2016 it was Adam Driver's immeasurably humane portrayal of a bus driver in Paterson, in 2017 it was Sam Elliot's towering performance in Hero. 2018 gave the honors to Jim Cummings, who adapted his own short film, Thunder Road, to produce a refined and insightful character study that was in equal parts deeply afflicting and vaguely humorous. His portrayal of Jim Arnaud, a dyslexic police officer coming to terms with turmoil in his personal life with his mother's tragic demise and custody battle with his wife, stands out as a hard-hitting reflection of human vulnerability. Just like our vast spectrum of moods that change every second of the day, Cummings paints the canvass of his character with an unpredictable spontaneity that is both charming and contemplative. Almost all awards conveniently overlooked this gem of a film that is ably shouldered on Cummings' masterful performance. Be sure to check this one out!