10 Essential Japanese Silent Films
"This list is an attempt to highlight some of the best silent films from the Japanese film industry."
The silent-era cinema was truly one of the most creative eras in cinema; it's a commitment to narrate stories, convey ideas, and establish a whole range of visual vocabulary (despite the technological limitations) is a marvel. However, silent cinema is often regarded with condescension; as simply a primitive form of film-making. Such misconceptions could be eradicated after just experiencing a handful of silent-era masterpieces. And it is important for movie-lovers to look beyond the non-stop mediocrities the streaming platforms offer and embrace the unique artistry of silent cinema.
This list is an attempt to highlight some of the best silent cinema in the Japanese film industry. It's clearly not a comprehensive list since many films from the era are lost or not widely available (or existing beyond my limited knowledge). It's rather a simple effort to share my love for the early Japanese cinema.
1. A Page of Madness (1926) | Director:  Teinosuke Kinugasa
Teinosuke Kinugasa was one of the most important Japanese silent film-makers, whose independent works embrace the European film movements of the 1920s and Soviet formalism (including the montage theory). Mr. Kinugasa was often credited as the foremost Japanese film-maker to have perceived cinema as a distinct art form. Several critics also championed his works for having crossed cultural boundaries and reached the international audience. Although Kinugasa entered the film industry in the early 1920s, it was the silent avant-garde horror, A Page of Madness ('Kurutta ippegi', 1926) that cemented his reputation as a seminal artist.
Set inside an insane asylum, the film revolves around a man (a retired sailor) who takes the janitorial job in the place to be with his insane wife. The details of the plot, however, aren't easily discernible due to the fact that there are no inter-titles. But A Page of Madness is highly fascinating from a technical viewpoint alone. From its impressive range of cinematography tricks to astoundingly invoking the world of mentally ill (full of eye-popping psychedelic/surreal sequences), the film is hailed for the audacity of its creator's vision.
Watch the A Page of Madness Full Movie Here
2. Crossroads (1928)  | Director: Teinosuke Kinugasa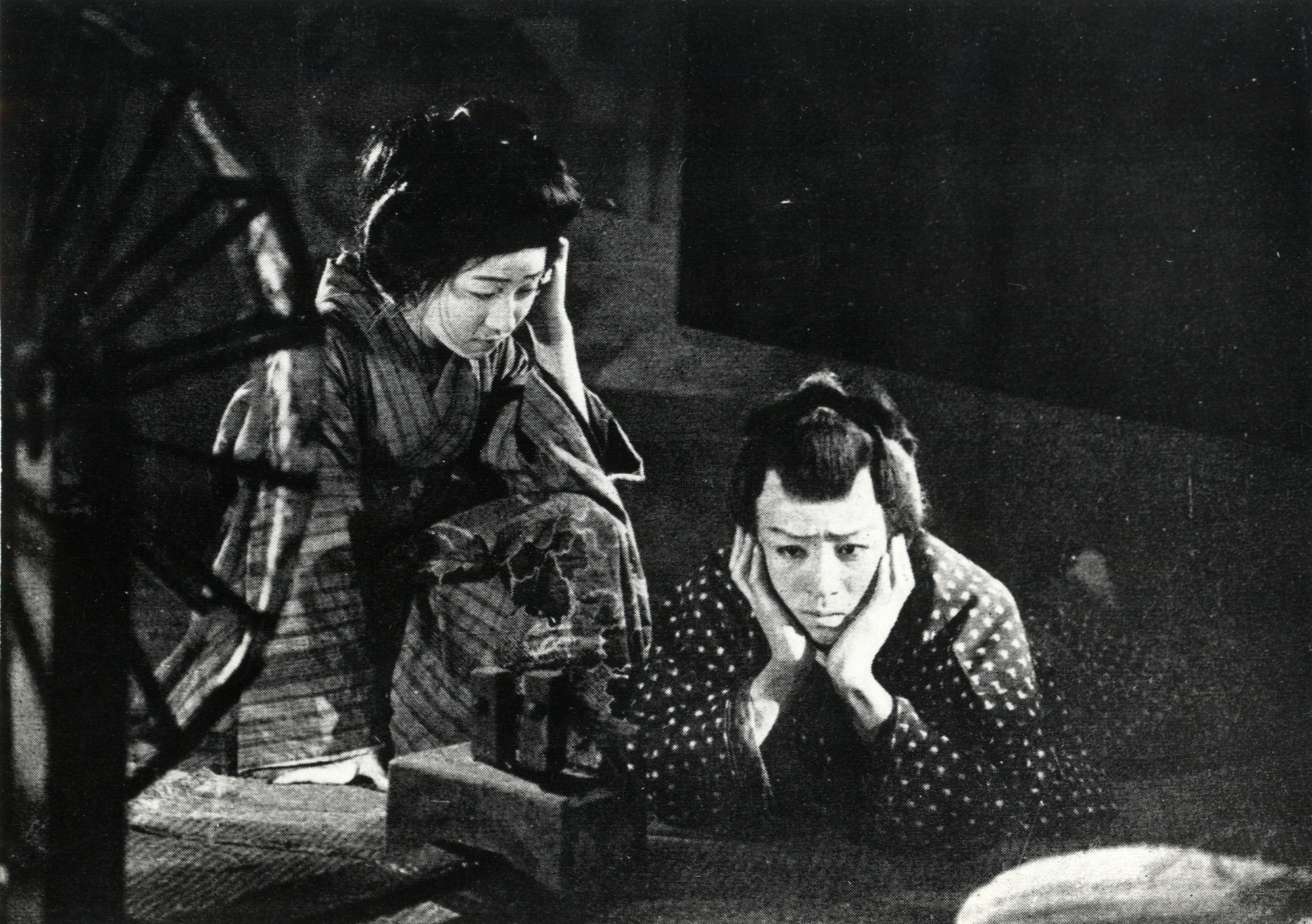 The self-financed 'A Page of Madness' pushed director Teinosuke Kinugasa into a despondent financial situation. In the two years gap, before embarking on his next artistic, independent project, Crossroads ('Jujiro', 1928), Kinugasa was part of many commercial productions. Jujiro is a drama set during the Edo Period at Tokyo's pleasure quarters. It focuses on the unrequited love of a young man (Rikiya) who is publicly humiliated and temporarily blinded by an old rival.
Once again the fantastic visual sensibility of Kinugasa enlivens this story of vengeance and love. The mood-setting atmospheric lighting (influenced by German Expressionism) astutely helps to bring out the gloomy mental state of the characters.
Also similar to Japanese Silent Films – Watch Crossroads Full Movie Here
3. Tokyo Chorus (1931) | Director:  Yasujiro Ozu
Tokyo Chorus ('Tokyo no korasu') was Ozu's 22nd film that's often extolled as a bittersweet family drama on the struggles of a Tokyo-based family. The film's protagonist Shiji Okajima (Tokihiko Okada), in the opening sequence, is shown as a foolhardy high-school student, giving a tough time to his teacher. Post-graduation, Okajima works in an insurance firm and takes up the duties of a caring family man (a wife and three children). The recklessness he expressed in school days is now replaced by a sense of idealism, which actually costs him his job. Okajima complete deflation of his ego and education about modern salary-man life occurs when he later meets the same teacher.
Tokyo Chorus was one of Ozu's early films where you could experience his unobtrusive directorial presence and other trademarks (like static camera and grounded shots, etc). The sappy comedy tone (for eg, Okajima confrontation with the hard-headed boss) is although an imitation of Hollywood silent comedies of the era, Ozu expresses serious social themes and familial tensions in his own unique way.
4. I Was Born, But… (1932) | Director:  Yasujiro Ozu
In this family drama masterpiece, you could perceive Ozu freeing himself from the influence of Hollywood silent film-makers (Ernst Lubitsch, Harold Lloyd, etc) and experimenting with a unique mise-en-scene, which later became his film-making signature. I Was Born, But… ('Otona no miru ehon – Umarete wa mita keredo') unfurls from the perspective of two little brothers — Keiji (Tomio Aoki) and Ryoichi (Hideo Sugawara) – who has freshly moved with their mom and dad to the suburbs.
Their father (Tatsuo Saito) is a salary-man who is happy to have been offered the managerial position and live in the same neighborhood as his boss. But the boys' feeling of pride about their father is breached when they understand the reality of their family's social standing. This is a charming little film with a remarkable visual pattern that mostly sees the social hierarchy from the children's viewpoint.
5. Passing Fancy (1933) | Director: Yasujiro Ozu
Although the father-son relationship takes the center stage in this silent Ozu film, the father isn't the disciplinarian like in Ozu's later films. The freewheeling single dad named Kihachi is played by Ozu regular Takeshi Sakamato, who works at the brewery to give his boy (Tomio Aoki) a decent education. The illiterate father, however, has a weakness for the sake and fancies a destitute yet beautiful girl named Harue. And soon a love triangle develops since Harue likes Jiro, co-worker, and friend of Kihachi.
As usual, one can't ignore the subtlety with which Ozu directs this simple story about working poor. The director's unique visual sensibility creates a portrait of a poor working-class neighborhood and depicts their economic woes in a mix of a comedic and somber tone.
Related to Japanese Silent Films – Watch Passing Fancy Full Movie Here
6. Apart From You (1933) | Director: Mikio Naruse
Mikio Naruse's films often focused on the misfortunes of working-class women, particularly geishas who work at low-end bars, succumbing to whims of men. Apart from You ('Kimi to wakarete', 1933), cited as a critical breakthrough for Naruse, contains all the familiar themes which the film-maker profoundly dealt with in the later part of his career (1950s & 60s). The simple plot revolves around two geishas – one middle-aged (Mitsuo Yoshikawa) and the other young (Sumiko Mizukubo) – who struggle to come to terms with the humiliation faced in the line of work and within the family.
The middle-aged woman, Kikue has a rebellious young son named Yoshio (Akio Isono). He resents her for the work she does. The younger girl Terugiko uses the camaraderie she has developed with Yoshio to make him see his mother's sacrifices and travails. Naruse's elegant staging clearly saves the narrative from wallowing in melodrama. His direction accumulates the smallest details to effectively construct an everyday portrait of the impoverished people. The nuanced performance of the beautiful Mizubuko also serves as the emotional fulcrum of the narrative.
7. The Water Magician (1933) | Director: Kenji Mizoguchi
The Water Magician ('Taki no Shiraito') is one of the few surviving silent cinemas of Mizoguchi (the director made his debut a decade before, making five to ten films a year). The film tells the story of a 24-year-old Taki (Takako Irie), a famous water juggling performer, who is part of a traveling carnival. Taki falls in love with the penniless carriage driver Kinaya (Tokihiko Okada). She supports her lover and provides him money to finish his education at law school. However, the waning popularity of her act at the carnival forces Taki to take desperate measures in order to fund her lover's dream.
Self-sacrificing female characters are a key feature in Mizoguchi films, even though these characters are developed with more depth and nuance in his later masterful works. Nevertheless, the brilliant imagery here shows Mizoguchi's penchant for poetic framing.
Related to Japanese Silent Films – Watch The Water Magician Full Movie Here
8. Japanese Girls at the Harbor (1933) | Director: Hiroshi Shimizu
Even though relatively unknown in the West like his contemporary Yasujiro Ozu, Hiroshi Shimizu had a long and successful career in Japan, directing some of the most stylistically brilliant character studies in Japanese cinema. Japanese Girls at the Harbor ('Minato no nihon musume') is a simple character piece about a pair of school girls (Sunako and Dora), living in the seaside town of Yokohama. They are best friends and are attracted to a handsome young man from the same area.  Despite a thin narrative, Mr. Shimizu's mise-en-scene (that is decidedly modern for its times) manages to subtly evoke the characters' yearnings and their stifled existence.
9. Every-Night Dreams (1933) | Director: Mikio Naruse
This silent cinema shares the narrative and thematic threads of Naruse's previous film, Apart From You. The protagonist is a poor, strong-willed woman (Sumiko Kurishima) who works as a Ginza bar hostess to raise her little son. Her deadbeat husband has left them a few years before. The single mother although doesn't like working at the bar actually proves to be quite good at the job. Her life is disrupted when her husband reappears. Every-Night Dreams ('Yogoto no yume') was one of the most stylistic works among Naruse's silent-era films, as we witness here the heavy use of dramatic zoom-ins and montages. He perfectly attunes to the increasingly distressing situations the central character finds herself in; the wordless yet meaningful glimpses sharply conveys the woman's mental state.
10. A Story of Floating Weeds (1934) | Director: Yasujiro Ozu
As Donald Richie wrote, "Yasujiro Ozu, the man whom his kinsmen consider the most Japanese of all film directors, had but one major subject, the Japanese family, and but one major theme, its dissolution." In this silent classic, Ozu explores the itinerant life of an aged traveling actor who reconnects with his long-ago mistress and meets his now-grown college-going son. The son doesn't know the actor is his dad and only calls him 'uncle'. The actor's current lover, embittered by his antics, conceives a plan to destabilize the son's life. Although the plot sounds off like a loud melodrama, Ozu imparted marvelous nuances to his characters.
The breakneck pace of early Ozu silent cinema is completely replaced here with carefully composed static shots and low angles. The film-maker revisited the same premise in 1959, which only deepened the narrative structure, thanks to Ozu's more stream-lined disingenuous visual style and his deft handling of post-war themes.