The 15 Best Male Performances of 2018
10. Ben Foster in Leave No Trace
The world was surprised and heartbroken when Foster couldn't score a nomination at the 2017 awards for Hell or High Water. His rebellious, free-spirited Tanner Howard was a happening mix of Kikuchiyo's raw, animalistic instincts and Bond's lady charm. In Leave No Trace, Foster completely divests himself from his previous works and delves deep into his character, Will, an uptight single father whose rudimentary upbringing of his daughter leaves the two to the whims of their new lifestyle after their isolated existence is uprooted. In Thomasin McKenzie, Foster finds an able companion, one with whom he fashions a melancholic and loving relationship that is the heart and emotion of this soulful drama. Foster's act derives much of its emotional resonance from director Debra Granik's sincere script, that carves time and space for Foster to revel and shine in.
9. Richard E Grant in Can You Ever Forgive Me?
Marielle Heller's inspirational biographical was one of the year's sleeper hits. With almost no buzz around it, the film managed to become a part of the conversation with its endearing performances and Heller's deft direction and honesty to the true anecdotes it is based on. Just like the film, seasoned actor Richard Grant proved to be a surprise package and unraveled a performance that was in equal parts humorous and wildly charming. Grant strikes a perfect balance between his fictional character's overt sexual expression and his emotional brevity. Along with McCarthy, Grant creates a wholesome and fearless on-screen duo that matches the bold extravagance of Bonnie and Clyde and the understated rebellion of Benjamin and Elaine.
8. Joaquin Phoenix in You Were Never Really Here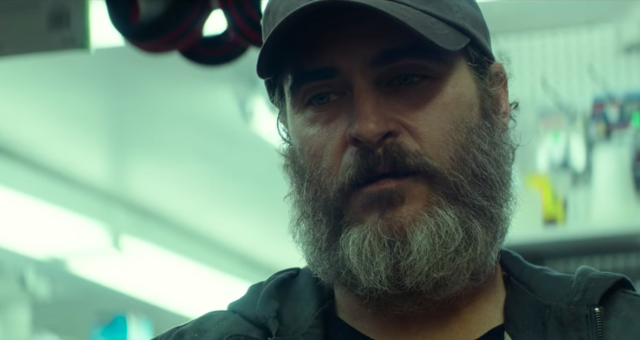 Phoenix is arguably the best actor of his generation. Having never won an Academy award (unfortunately coming up against DDL in 2013), Phoenix lets his complex characters and intense performances speak for themselves. With Lynn Ramsey's You Were Never Really Here, Phoenix steps into the shoes of a suicidal protagonist, whose discord with life and himself stand second to a more pressing persuasion: the life of a little girl. Joes' murderous rage unfurls with an understated representation of violence, a conscious decision by Ramsey that is wildly effective. Phoenix engineers every detail, every idiosyncrasy of his character with such precision and emotion, you inevitably get drawn into his world. The film's nervy pace aggrandizes Phoenix's resonating performance without ever relying on quick cuts or fastened narrative building. This is a performance that will leave you weeping and hollow inside with a jarring sense of optimism and hope.
7. Mahershala Ali in Green Book
Green Book (along with Bohemian Rhapsody) was a convoluted biographical drama that brunt the scourge of people. The 'white savior' narrative found no sympathizers – Well, apart from Academy voters, which almost put the incredible performances in the movie to the sword. Mahershala Ali's emergence as a star man certainly found legs with Green Book. Ali's effeminate body language might seem generic and weary at first but gradually develops as an ingenious representation of power and suppression in the movie. His poignant and deeply affecting portrayal deservedly took home the Academy award and with that our broken hearts.
6. Adam Driver in BlacKkKlansman
Adam Driver's surprise nomination at the Oscars came as a shock to many. The connotations really, though, were positive and nothing else. A hugely talented actor, Driver's debut nomination came from his beautiful performance in Spike Lee's BlacKkKlansman, an eye-opening biopic about a black police officer who infiltrates the KKK. Despite the unwanted politicization of his character by Lee, Driver makes sure the purpose behind drafting him in the story doesn't go in vain. Largely relegated to the background, Driver shines in his sparse moments of glory, carrying enough spark throughout to support the cause.