If mediocre films like 'A Star is Born', 'Bohemian Rhapsody' and 'Vice' get nominated at The Academy Awards 2019 and a feel-good charmer "Green Book" can get the golden lady for the Best Picture, we really know how bad the American films have faired in 2018. It wasn't difficult to assemble the 15 best English language films of 2018 which I have listed below.
Honourable Mention
Lean On Pete | Andrew Haigh |

RT 91%



15. Spiderman: Into The Spider verse | Peter Ramsey, Bob Persichetti, Rodney Rothman | Animation |

RT 97%
SpiderMan: Into The Spider-Verse is one of the most fun experiences I had this year. The most imaginative and frenetic animation that amps up the scale and sprawls in multi-verse smoothly. That constantly shifting animation style to suit each spidey is a masterstroke. And the opening credit in itself is a work of a genius.
The animation is glorious and close to what comic book nerd would love. The narrative is thick, puzzling and layered but served deliciously for their fans to comprehend and appreciate it. It would be tricky to explain the plot but you can guess the spectrum if you have the alternate universes, and each of them has one Spiderman. Even when the drama feels excess, the witty humour and dazzling action scenes make up for it.
14. The Endless | Justin Benson, Aaron Moorhead | Sci-Fi |

RT 93%
Director duo Justin Benson & Aaron Moorhead have worked on all the film for over six years, and now they return to expand on the space-time mythology they created in their debut film- Resolution. It will be advised to see Resolution before the theme expands abnormally to consume your mind.   It is their "Primer (2002)" at the shoestring budget with a high concept sci-fi horror that would leave the audience scratching their heads. The Endless sees the two brothers returning back to the cult to realise that future and past co-exist in the present and reality could bend either way. If you are confused by the end of it, join the club.
PS: If you are a fan of German series Dark, then you must see The Endless.
13. The Favourite | Yorgos Lanthimos | Comedy Drama |

RT 93%
Yorgos Lanthimos has carved a niche for himself that sees him blending the absurd metaphorical narrative with a satire on social behaviour. His latest film, The Favourite is his more direct and intimate film on greed and power that brings out the toxic behaviour of their protagonists without realising them. It is densely written, and the film is as cold and emotionally charged as both the cousins trying to win the heart of the Queen. Read our complete review of the film here. 
12. Private Life | Tamara Jenkins | Comedy Drama |

RT 94%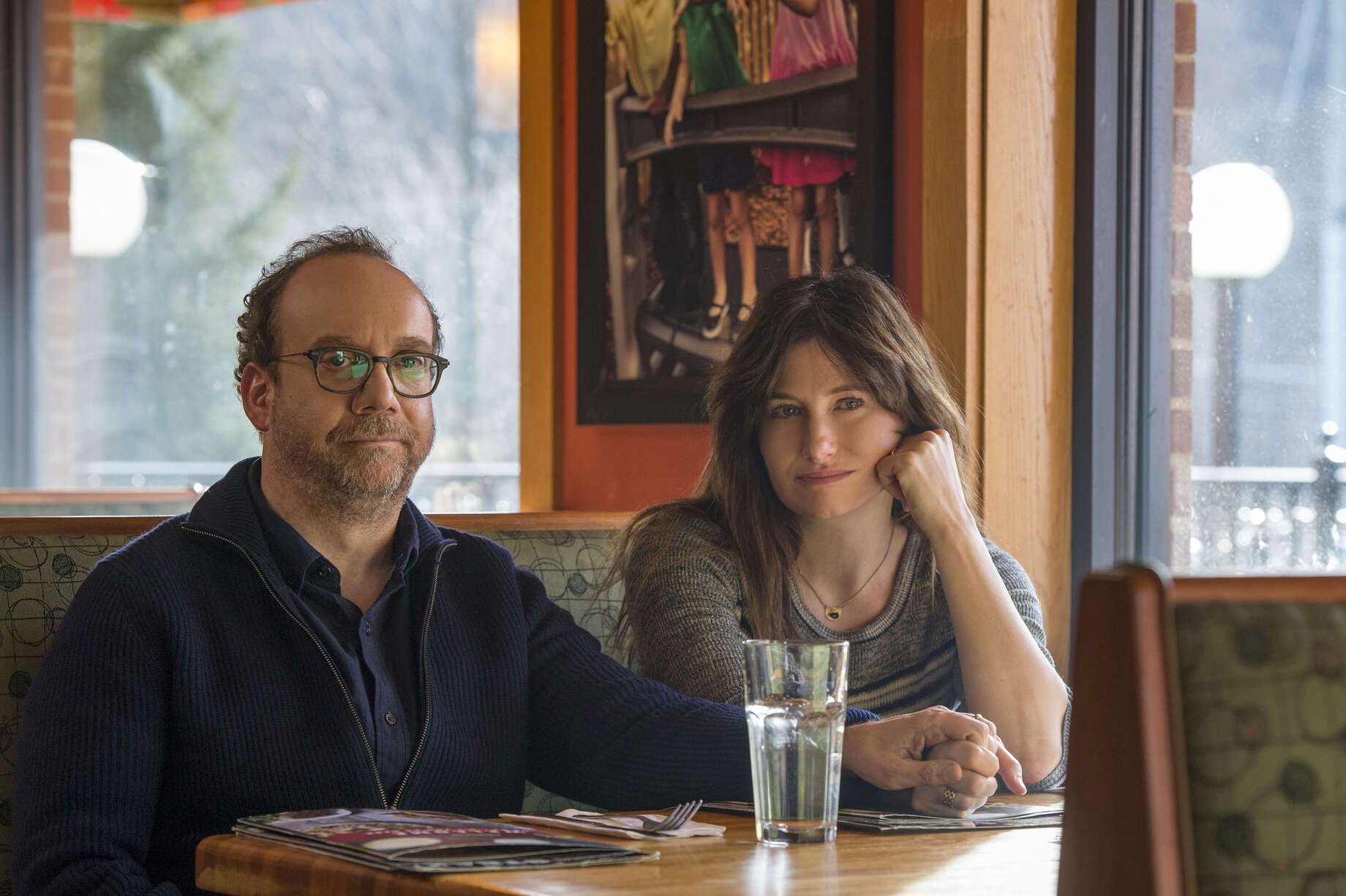 After eleven years of her last film 'Savages' that dealt with the family dynamics of estranged siblings with their father suffering from dementia, 'Private Life' is yet another winner from Tamara Jenkins. A middle-aged couple desperately trying to have a baby goes through an awkward, often hilarious, turn of events that has a strong undertone of melancholy. Kathryn Hahn, a New York literary author and Paul Giamatti, a former off-Broadway theatre director, a couple in the throes of infertility, undergoes gamut of emotional resonance, and as the fears and insecurities regarding having the child penetrate their life, it starts showing cracks in their married life. It is the most well-written screenplay of the year that went unnoticed by Academy members.
11. Mandy |

Panos Cosmatos

| Fantasy Horror |

RT 91%
Available on Rent/Buy/Shudder on Amazon US
It's a riot of alluring visuals, an orgy of violence and electro music. Mandy pits Cage against murderous cultist hippies in this surreal bloody horror film. It's a gory musical nightmare. It's a terror of Rock and roll. Mandy is a death trip on acid.
It's a classic revenge story. It could be a story of a man rising to become a Jesus. Or a man falling in the pits of hell. It could be a story of a Jesus who lost everything and now free to do anything, so he beat the shit out of the guys responsible for it.
10. Madeline's Madeline | Josephine Decker | Psychological Drama |

RT 88%
Josephine Decker's 'Madeline's Madeline' is the most frustrating and equally disorienting sensory experience that would be impossible to summarize unless you take the film at its face value. There can not be one single interpretation to it, as the film sits in your mind and you peel off each layer, the film becomes a multifaceted self-exploratory object. It's a singular meta-exploration of an impulsive and reckless girl, Madeline (played by Helena Howard perfectly to the teeth), who finds her spirit more accommodating in the physical acting theatre than the world outside of it.
But Decker isn't just interested in artistic catharsis, she goes beyond what meets the eye to carve an artistic expression out of confounding personal and familial conflicts. In a way, she embodies herself in the character of Madeline and the theatre director, Evangeline (played remarkably by Molly Parker), as if she explores her artistic vision through the character of Evangeline and finds liberation in Madeline's rebel.
9. Mission Impossible: Fallout | Christopher McQuarrie | Action/Thriller |

RT 97%
While the plot might sound ridiculously funny at times and "usual", what makes it immensely watchable and hoot worthy is Tom Cruise performing death-defying and breathtaking action sequences like a renowned ballerina dancer, Diana Vishneva, gracefully performing ballet on ice. It makes all CGI infected superhero films look like a cancerous clown. It's like having your favourite scrumptious pancake from the oldest joint with lots of maple syrup and some ricotta. And yes, it has a fierce background score that makes the action scenes go up one notch. Loved how they cut some slack to the usual spy agent routine and push him in the grey area of morality, rendering emotional heft, without overstaying.
8. Relaxer | JOEL POTRYKUS | Fantasy Drama |

RT 69 %
An allegorical fart in the face of GenX who have challenged themselves to not look away from the small screen in their hand. 'Relaxer' is a showdown between sacred level 256 of PacMan and a man-child. It's a story of a man sitting on a sofa and attaining nirvana.
It's a castaway on the gamer sofa. Relaxer is a story of tasting the delicious pizza slice after nothing is left, the earth is probably doomed, and capital has turned into ashes. It's also a story of a nerd gamer who would eat cartridges, faeces, and crow in order to fulfil the rules dictated by his knockabout elder brother. It's also a metaphorical story of an American bourgeois trapped in a capitalist dream. Read our complete review of the film.
 7. BlackKklansman | Spike Lee | Comedy/Drama |

RT 96 %
Available on HULU
Spike Lee holds no punches in retelling the absurdly funny and chilling true story ( "based upon some fo' real, fo' real shit") of a black man infiltrating "the organization." "You never use that word," one member coldly informs. BlacKkKlansman takes a routine cop buddy genre, blend it with the dash of the horror-inducing tirade, self-reflecting perspective and ironical comedy that is borderline absurd, and rub it all in the supremacist's white ass.
6. The House that Jack Built | Lars von Trier | Comedy/Horror/Thriller |

RT 58%
Lars von Trier is both – Jack and Verge – in his most provocative and polarising film to the date – The House that Jack Built. Just to get the idea on how the critics are divided, we don't need to go far but look at the Metacritic score that ranges from 0 to 100, and that is rare to achieve. Lars von Trier, in a cold blood, creates art, he builds a house using every ounce of human empathy and disgust spread across five delicious killing stories. Read what Jack and Verge have to say about The House that Jack Built.
5. Who Are We Now | Mathew Newton | Drama |

RT 95%
Drenched in hopelessness, "Who we are now" is a torrenting rain of despair, with each passing second, the ruptured clouds of hope get darker & turn blue. There is not even a moment of respite, not a moment of joy in the lives of characters, no silver lining, it's a contest of who suffers the most.
Life gets complicated for both the leading characters, it gets messier, deafening silences warms the day, and nights are burdensome. Director doesn't provide easy answers for both the characters. But he ends the film on a note that is heart-wrenching but equally hopeful that there is, after all, something good left in the society. Even if that demands a sacrifice that could alter the course of life. You can read the complete review of the film here.
4. Minding The Gap | Bing Liu | Documentary |

RT 100%
Available on HULU
Minding the Gap is a semi-autobiographical film as Bing Liu comes in the foreground of the camera to have his skin in the game. He recounts his life, along with his two friends, from care-free adolescence to a troubled adulthood.
The film delves into all kinds of complicated issues buried just below the surface, as well: masculinity, alienation, the pressures of early adulthood, growing up in violent homes, an experience that Liu also shares. By the end of the film, I found myself choking up. Their acceptance at the end of who they really are really hit me hard. It invigorated a kind of a feeling that rarely I am in touch with.
3. First Reformed | Paul Schrader | Thriller |

RT 93%
Paul Schrader's ' First Reformed ' follows a spiritual collapse of a pastor in the wake of his son's death. And his crisis of faith deepens when a radical environmentalist raises a question cutting in the religious belief even deeper.
First Reformed is heartbreaking and equally frightening. While the unsettling narrative landscape is painted in muted colour, giving no hopeful cracks on the wall of despair. Paul even further intensifies the pain employing a 1:1 (box type) aspect ratio, giving no breathing room to the characters, and making it look claustrophobic. Read our review of the film here.
2. You Were Never Really Here | Lynne Ramsay | Thriller |

RT 89%
You were never really here is an art-house master-class in aesthetical and elliptical storytelling, where the sound seamlessly blends with the visuals to form a compelling narrative, reminiscent of Nicolas Winding Refn's Drive.
You were never really here is a multi-layered story having subtexts that are difficult to grasp. Although, the blurb makes it look like a straightforward story. Ramsay never gives out straightforward answers. Instead, she leaves the breadcrumbs of the puzzles to throw us in an ambiguous state so that as a viewer we are not only watching the film but slowly we become part of the narrative to fully comprehend it.
1. THE RIDER | CHLOÉ ZHAO |

DRAMA |

RT 97%
The Rider is an astonishing work of art, blending the real-life people with a fictional story, thus it blurs the line between fiction & non-fiction. It delves deeper into the consciousness of humanistic values and creates an intimate story; Chloé Zhao has a sharp instinct to gauge an impulse. She has complete control over the complex blend of human emotions that defines an individual's relationship with himself, animals and society.
The Rider is criminally overlooked film of the year that needs your immediate attention. It captures the American dream & masculinity with utmost honesty that is rare to find in the American cinema. It's a beautiful elegy that finds silence threatening and patience rewarding. You can read the complete review here.