15 Must-See Coming Of Age Films Of 2016
8. The Fits | Director: Anna Rose Holmer.
Entering adolescence has never felt so magical. Anna Rose Holmer's bombastic first feature mixes magic realism, peeking into the world you want to be a part of. Even with its constraint narrative, you feel things change and take shape when you least expect them to. The Fits is a distant cousin of Carol Morley's The Falling. A film about mass-hysteria at an all-girl school.
In The Fits, Anna Rose Holmer beautifully captures the life of Toni, (Royalty Hightower) a tomboy whose interest is peaked by an all-girl dancing class near her own boxing gym. As she slowly feels a gradual change in herself, Holmer's focus doesn't move away from her and her trouble. Even though we understand her problem, Holmer doesn't forcibly make us sympathize with her which only makes her film feel even more authentic and powerful.
7. Take Me To The River | Director: Matt Sobel.
Take Me to the River cages you into an eerie and uncomfortable atmosphere which doesn't really reveal what's going on under the surface. Dirty, disturbing and unpredictable, Take Me to The River is probably the smartest indie film I've seen all year. It uses its minimal setting to create a claustrophobic web of secrets. Matt Sobel has created a nightmare that doesn't open all its cards and the ambiguity or the open-ends just calls for even weirder thoughts. Take Me to the River is essentially a coming of age story that truly terrifies you with an experience you wish to wash off.
Read The Complete Review Here. 
6. The Edge Of Seventeen | Director: Kelly Fremon Craig.
Kelly Fremon Craig's The Edge Of Seventeen feels like a John Hughes film. What makes it great is the fact that it spreads its terrific writing over an array of characters that are stripped off from the generic high-school-cliche, as she gives them all a sense of enlightenment. Following Nadine on her self-loathing journey of teenage angst, Kelly Fremon Craig's film investigates how hard it is to be a teenager. The film is not completely ridden off from the bumpy seen-before dialects but they are cleverly coated under the wrap of a profound knowledge of human nature and the human connection. The director clearly has a great understanding of how people act and thankfully her film doesn't over-gloss the drawbacks with technological smartness that has gotten into almost all teen films these days.
5. Evolution | Director: Lucile Hadzihalilovic.
Lucile Hadzihalilovic's Evolution is a hypnotic tale of body horror set on a dystopian island. Where ghostly skinny women conceive boys without the help of men. Evolution is a hard film to follow. It sometimes feels like a feverish fable of motherhood in which sick boys begin to doubt their own existence, sometimes a creepy, atmospheric horror film that's about the vast existence of a human populous without the presences of the other sex, and most essentially a coming of age film about a small boy coming with terms with the strangeness of the world he lives in. Watching Evolution is a truly unsettling and infuriating experience. It's an act of becoming one with the ocean, like an ink of innocence dissolving into the vast sea of angst. Evolution is the most beautiful nightmare, a perfect watch for curious minds who are willing to dive deeper to catch the red starfish.
4. Everybody Wants Some!! | Director: Richard Linklater.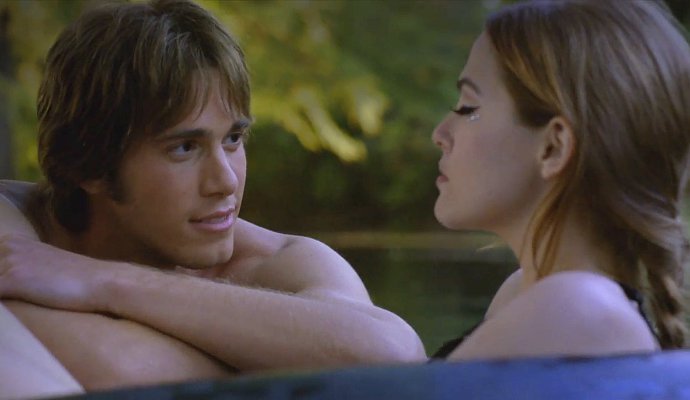 Linklater's spiritual sequel to Dazed & Confused is as important a film as the second film in the Before Series. Not because it continues the story but it shows how important and fun college life is. Not only to every single person on the planet; but to Linklater himself. Everybody Wants Some is basically about half a dozen jocks and their super-party-like lifestyle. These characters are not likable, but as you go back to college and remember those proud people who played for the university; you only remember them to be complete assholes. Linklater turns these assholes into characters who use their arrogance not only to define their personality but also as a carrying force in their competition called life. Linklater's film is a funny, intelligent ode to growing up.
3. American Honey | Director: Andrea Arnold.
Andrea Arnold's American Honey starts and ends with dives into two polar opposite mixes. One of them redeems you while the other makes you vulnerable. But, when the tables turn, isn't life all about finding solace in a small little cottage somewhere in the woods? With American Honey, Andrea Arnold (know for the indie wonder – Fish Tank) makes a bold narrative choice. Her camera mostly lingers into the inside of a van seamlessly providing us with a sense of belonging.
You are there – struggling, exploring and trying to get to the point where you somehow gain enough moolah to live your dream. American Honey feels like documenting life in it's rawest form. It takes you on a journey of self-realization. A journey where there is no room for regrets, relationships and mostly – no room for latching onto something that makes you crawl when you can swim and be a part of the ocean called life.
Read The Complete Review Here.
2. Swiss Army Man | Director: The Daniels.
Swiss Army Man is a tender, funny and deeply moving coming of age film. It basically jabs into the dead side of every single one of us – the soul. So when we meet the corpse, i.e Manny he is just something which is repulsive (farting and being dead) but slowly we do get to know that he is a multi-tasking tool (much like a Swiss Army Knife). The Daniels are basically telling us that all the answers that we are looking for are inside us. We know when someone wants to reject us, we know why we are alone and we also know that life is still worth living with all the dirt in the world. They want you to fall in love with yourself. They want you to embrace what you are, even if you are someone who farts out loud or likes to dress up every once in a while.
Read The Complete Review Here.
1. Moonlight | Director: Barry Jenkins.
Barry Jenkins's Moonlight is tender and powerful. All the emotions are carried over to you in a series of subsequent gaze while the gaps between words never seem to fill the vacuum they create. As heartfelt and real as Moonlight is, it's equally poignant and poetic. Moonlight is a subtle investigation of a character's motivation to find love. It's about the constant struggle to find oneself while trying to fit right into the body we are supposed to be in. It's about not succumbing to being a product of the environment but rather being a product of yourself.  It's about going past all the heartbreaks, questions, and complexities that bring you down and finally being able to find the voice you need and the listener who listens.
Read The Complete Review Here.