The 50 Best Films Of 2016
If I could describe 2016 in three words it would be – Poetry, grief and terror. The three recurring themes rans through almost all of the films on this list. They came in different forms, shapes and sizes and had different meaning for everyone out there. I personally went beyond my conventional film watch capability and tried working my way through every possible cinematic marvel I could get into. Out of around 200 films that I witnessed here are my 50 favorites.
35. Take Me To The River | Director: Matt Sobel | Language: English.
Take Me to the River cages you into an eerie and uncomfortable atmosphere which doesn't really reveal what's going on under the surface. Dirty, disturbing and unpredictable, Take Me to The River is probably the smartest indie film I've seen all year. It uses its minimal setting to create a claustrophobic web of secrets. Matt Sobel has created a nightmare that doesn't open all its cards and the ambiguity or the open-ends just calls for even weirder thoughts. It is essentially a coming of age story that truly terrifies you with an experience you wish to wash off.
Read The Complete Review Here.
34. Aloys | Director: TOBIAS NÖLLE | Language: Swiss German.
Soaked in a Kaufman-esque sense of magic realism, Tobias Nölle's Aloys is a hypnotic take on modern alienation. Following the life of Aloys Adorn, a private investigator who is recently grief-stricken by the death of his father, Aloys chronicles his life when a mysterious phone call disturbs his so-called solitude and forces him to blur the lines between the real and the imaginary. With wonderfully framed images, production design, and understated performances, Tobias Nölle presents a brilliant character sketch of loneliness & escapism in a world that seems like a party only till it lasts.
33. I, Daniel Blake | Director: Ken Loach | Language: English.
Ken Loach's I, Daniel Blake breaks you with every passing minute. In this incredibly subtle & beautiful drama, Ken Loach puts the struggle & sadness that the British working class goes through. There's a scene in Loach's film where a girl (also a mother) breaks down in a food bank because she hasn't eaten in days to fill the bellies of her children. It's a beautifully understated scene where Loach brings out utterly heart-breaking human emotions in people and his viewers alike.
Read The Complete Review Here.
32. Julieta | Director: Pedro Almodóvar | Language: Spanish. 
Pedro Almodóvar's Julieta is about guilt, about love, about loss and everything that happens when things are lost in absolutely terrible moments of silence. Being a director who rightfully focuses on visual appeal, Almodovar's film uses past and present with shades of blue and red. With both the colors matching the incredibly stunning costume design and grandeur production design which insinuate long-used Almodovar elements of death, the nature of its cause and the aftermath. Much like Volver, in Julieta too Almodóvar's main focus in again on the entirely debatable and emotionally draining relationship between a mother and a daughter and what makes the relationship take a wrong turn on the road to being guilt-free.
Read The Complete Review Here.
31. Krisha | Director: Trey Edward Shults | Language: English.
Trey Edward Shults's debut feature Krisha is an investigation into the internal turmoil. The kind which makes you incredibly disjointed from anything that concerns your own self-being. The kind that wrecks you into two people. One of which needs to be sympathized with and the other has gone too far into the ditch and cannot be brought back to life. Shults uses the happy occasion of thanksgiving to portray how the titular character has gone past functionality. How all her tries are beyond vain, and how, sometimes people need to unravel the ugly truths about themselves, even if it results in total self-destruction.
Read The Complete Review Here.
30. Kapoor & Sons | Director: Shakun Batra | Language: Hindi.
A dysfunctional family drama that has its heart in the right place. Shakun Batra's Kapoor and Sons is one of the most real, relatable, family films I have ever seen. There are times when you feel you are on the screen acting out, loving, hating and abusing fate, luck and everything that comes along. More than what it tells you, Batra's film works because of the characters. The people who inact them are cardboard cut outs of the commercial anti-cinema, yet they manage to feel real in their ordinary self. It's endearing, heart-warming and miles away from the sugar-soaked entertainers that have unreal situations and unreal people at their center.
Read The Complete Review Here.
29. Hell or High Water | Director: David Mackenzie | Language: English.
David Mackenzie tackles multiple, well-rounded characters with a great affection for their desires, desperations and their drive to do wrong things for the right reasons. There are no villains here, just individuals who do wrong to make things right. With a surprising amount of humor, depth, and style, Taylor Sheridan (Known for Sicario) has penned a script that oozes substance even when it is just a heist thriller on the surface.
Read The Complete Review Here.
28. Staying Vertical | Director: Alain Guiraudie | Language: French.

A man sodomizes, then euthanizes an elderly man in front of his baby as progressive rock holler in the background. That's just the tip of the iceberg in Alain Guiraudie's absolutely bizarre, offhand surrealistic trip through a series of undefined goals and weirdness. The protagonist in Staying Vertical is a distant cousin of Kramer from Seinfeld. The film starts with him trying to pen-down a screenplay and goes down territories that even God wouldn't imagine. To account the weirdness in Staying Vertical, Guiraudie has a therapist who lives on the other end of a boat ride. She uses veins to cure what is wrong with Leo's personality which even he doesn't understand. There are wolves, sexual encounters that don't make sense and to top it all – There's an instant cut to a live childbirth.
27. La La Land | Director: Damien Chazelle | Language: English.
La La Land injects enough love into a dying genre that wasn't willing to make its dream come true. With dazzling visuals and beautiful set design, Damien Chazelle's passion project came out in the world breaking millions of hearts and winning them, all together. Plucked, played and danced around a blooming love story, La La Land is about dreamers and heartaches, about art and jazz, about failures and sacrifices. It's about you, me and everyone who wishes to be lifted into the sky when the gravity's amiss & smile or cry as the love walks away.
Read The Complete Review Here.
26. Aquarius | Director: Kleber Mendonça Filho | Language: Portuguese.
One of the most intense and powerful performances of 2016 came from Sofia Braga in Aquarius. Kleber Mendonça Filho's film is a terrific character study of a music critic. Amidst all the music, philosophy and progressiveness lies a drama about boundaries and colonialism. It's about respecting one's privacy and will to live in something that is more than just a home. Aquarius is a film about things, their value, and their essence. From the old dusty record on the shelf to memories of stolen times, Aquarius leaves us with a staggering climax that talks about ownership and sentimentality.
25. Right Now, Wrong Then | Director: Sang-soo Hong | Language: Korean.
Every filmmaker has a story to tell but isn't all stories his stories a version of the first one? Sang-Soo Hong's quietly imperfect Right Now, Wrong Then restarts at half point – wronging all the rights and righting all the wrongs. It's a film that tells us that honesty in storytelling can have it's own interpretations. While some of us wish to fulfill our fantasies with every cinematic marvel that we witness, some of us look out for a more realistic, more sincere take on what life and interactions are meant to be. Right Now, Wrong Then told me that we can correct the stories we feel are totally banal and fake and then turn them into reality.
24. The Wailing | Director: Na Hong-Jin | Language: Korean.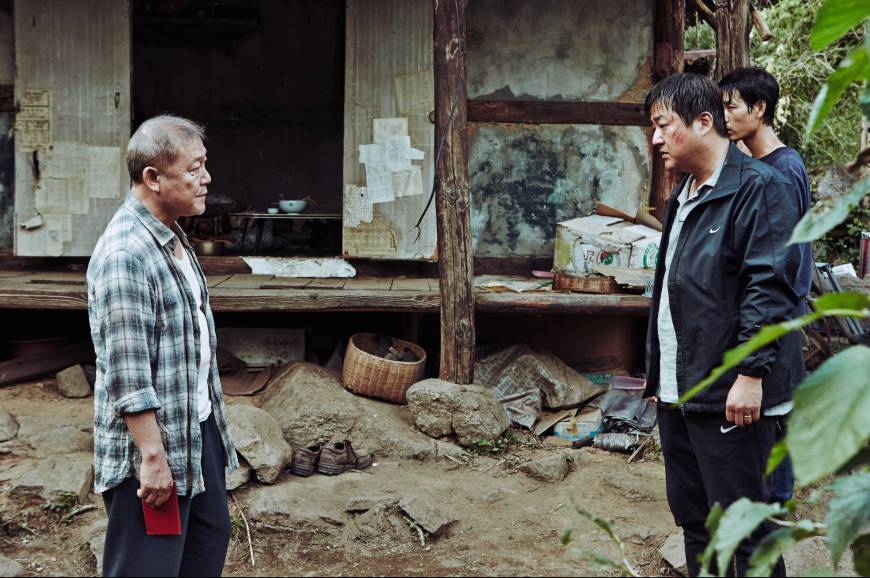 Who is the savior? Who is the victim? Who is the God? Who is the devil? Who is the ghost? Who is the stranger? What is a trap? What is the road?Hong-jin Na's The Wailing is an inquisitive questioning of moral dilemma. A dark, visceral ghost-tale. One that mixes genres of buddy-cop comedy, an exercise in investigation, exorcism, cannibalism and some more isms to its endless thematic heft. The film has an absolutely terrific buildup that slides creepy, haunting and nightmarish atmosphere around your eyes. It has the power of hallucinating you into believing all the deceptions it keeps throwing your way. While the last leg, smirks on your face with gimmicks thrown in to shock you to the bone, The Wailing still stands afloat with it's long-lasting and impressive dismantling of mythical troops.
Read The Complete Review Here.
23. Endless Poetry | Director: Alejandro Jodorowsky | Language: Spanish.
Endless Poetry dances, sings, plays, dicks-around, fucks, loves and lives Poetry. It is a fantastic piece of work that uses its cinematic independence to resolve a meta-journey. When Mr. Jordowsky comes up and narrates his own tale you love him, hate him, take a spiritual journey through amnesia lane while being fascinated at every melodramatic turn. The film is full of brimming energy and the self-reflectiveness makes it all the more whimsical and vibrant. This 2nd leg of the biographical sketch witnesses an array of characters and their journey through time and space. As the dead march on, the living are still churning out pages that are worthy of all the cinematic boners you can ever have.
Read The Complete Review Here.
22. Nocturnal Animals | Director: Tom Ford | Language: English.
Tom Ford's Nocturnal Animals is a remarkable film. A cluster-fuck of neo-noir, neo-melodrama & small, untainted pieces of melancholia soaked under bloody tendencies. An exercise in visceral, deeply rooted regrets and cold, calculative paranoia of complex emotional confusion. Framed, reframed and showy, Nocturnal Animals goes beyond past and present, reality and fiction, emotions and feelings and ambiguity and clarity. Brimming with cinematography that you can feel on your nose, and a heart-pounding score that delves you into its deeper, unexplained layers- the film doesn't leave your head. It slowly crawls into your flesh, sits inside until you are completely relaxed and then rips into the darkness leaving you with your own breadcrumbs.
Read The Complete Review Here.
21. No Home Movie | Director: Chantal Akerman | Language: French.
Acclaimed documentary filmmaker Chantal Akerman's No Home Movie is profoundly heartbreaking and almost unbearably sad. It's a final testament that the late film-maker pays to the love of her life – her mother. Shot almost inside her mother's apartment, No Home Movie chronicles the final months of the life of Natalia Akerman (a holocaust survivor). Even though the documentary features real intimate and personal conversations of Akerman's own life, the universality that the film possesses makes its an incredible piece of art. Closely muxed with moving & still images of barren trees & long static shots of a desert, the film only feels more and more absorbing even with its abstractness. No Home Movie is a film that each one of us secretly wishes to make. Something to hold on to, something to make the love remain and something that fuels and brings down the loneliness that sets within.
Click Here To See The Complete List Of The 15 Best Women-Directed Films Of 2016.